Are you looking for an eco-friendly option for your commute? Seeking an off-road adventure? Or perhaps you simply want to cruise. Whatever your motive may be, the Jasion EB7 Folding Fat Tire Electric Bike steps up to the plate.
This Jasion electric bike works well for commuters – it sports a 500W motor and 5 pedal assist modes – and works well for the off-road adventurer with its full suspension build and capable tires.
Size
Weighing in close to 59 lbs. the Jasion EB7 Folding Fat Tire Electric Bike, is compact and can easily be stored in vehicles, closets etc. when folded down into its most compact dimensions of 36" by 29" by 21". When unfolded and ready for use the bike expands out to 68" by 25" by 47". Jaison has dialed in this folding process for its end users.
We were thoroughly impressed with how easy this bike was to put together, and could imagine how riders in a hurry would appreciate the simplicity of this task.
Rider Recommendations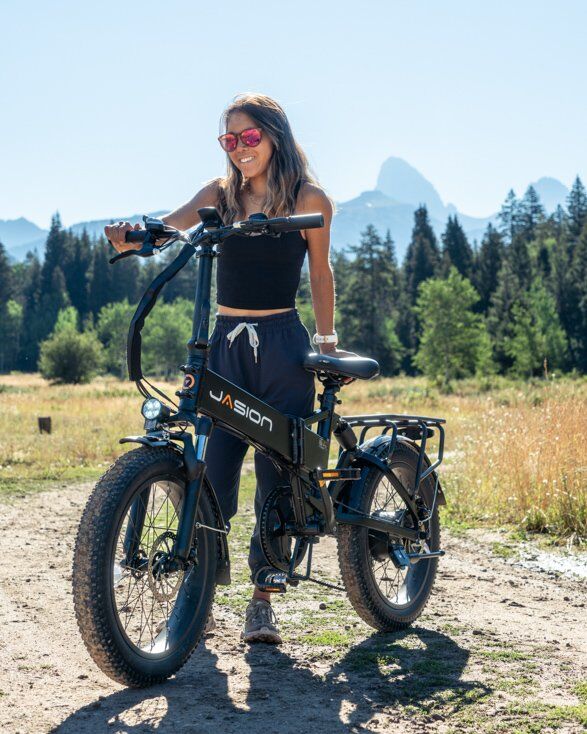 The Jasion EB7 Folding Fat Tire Electric Bike is recommended for riders up to 300 lbs. and ranging anywhere in height from 5'2' to 6'2". I am a rider on the shorter end (measuring just shy of 5 feet) and was still able to comfortably ride this bike with a quick adjustment to the seat.
The only words of caution I would throw out to riders on the shorter end of the spectrum would be that the distance between the handlebars and seat can be a stretch for shorter arms.
Tires
The Jasion EB7 Folding Fat Tire Electric Bike was lightweight yet still capable of riding over any terrain and boats 20" by 3" tires. The ride rode well on singletrack and dirt wells and it handled potholes and medium-sized rocks like a champ. With fatter tires and full suspension the rider is ensured a smooth ride.
500W Motor
The Jasion EB7 Folding Fat Tire Electric Bike is powerful and has a 500W motor capacity. After spending time getting the feel for the bike and its 5 different modes of pedal assistance it became apparent that this bike was speedy. The ranges of speed across varied terrain and quick acceleration going uphill were truly remarkable.
If you need to walk the bike across a busy street or "no-bike" zone the Jasion EB7 Folding Fat Tire Electric Bike is able to assist with the task in "Booster" mode. Seriously, Jaison has considered it all.
Handling
The turning radius is the only real complaint I have against the Jasion EB7 Folding Fat Tire Electric Bike. While it was difficult to maneuver the bike in tight spots, the bike made wider turns and adjustments well (though the bigger tire size allowed me to ride straight over smaller obstacles).
The bike comes with a mudguard which makes it helpful when riding in muddy places and makes this bike a good commuter bike regardless of weather.
Features
The Jasion EB7 Folding Fat Tire Electric Bike has a couple of features riders are sure to write home about. The large gear rack has ample room for groceries, work supplies and any outdoor gear. The bike also comes with a mudguard making it a go-to option in any condition.
The display screen on the bike is perhaps my favorite; information such as pedal assist level, battery, speed and distance traveled are available as you ride. You can even charge your phone while riding as the screen has a built-in USB port!
Overall Impression
The Jasion EB7 Folding Fat Tire Electric Bike ($1,099) was built with the consumer in mind and is both convenient and versatile. The EB7 Electric Bike is a great fit for someone looking to save space while having fun on all terrain.
The 20" by 3" tires are lighter than the standard fat-bike tire, and while it won't replace your high end mountain or gravel bike, it is a great option for those looking to travel the distance with a little assistance.
Jasion E-Bike Discount Code: MIKE
Related Articles: