Expand your mind brah, expand your mind… Jones Snowboards brings a new board to the quiver being dubbed as the Jones Mind Expander.  Available in solid and splitboard models. Jeremy Jones the mastermind behind Jones Snowboards teamed up with surfboard shaper Chris Christenson to create a surfy powder board.  Find out what I liked about the Jones Mind Expander Splitboard, what can be improved and who this board is designed for in my review below.
Surf Inspired Rocker Shape
Too many brands try and talk surfing, whether it be snowboard brands, ski brands or just about anything in the outdoors.  It's once again cool to be "surfy" the funny thing is anyone that surfs clearly see through this BS marketing.
That being said when I heard Jeremy Jones once again teamed up with surfboard shaper Chris Christenson to create a new Surf inspired Rocker profiled snowboard/splitboard being dubbed the Mind Expander, needless to say, I was interested.  Especially since Chris and I learned to surf at the same place in southern California, the old Seal Beach River Jetty.

The unique rocker profiles set the Jones Mind Expander Splitboard apart from just about every other splitboard on the market.
Just like a surfboard when you weigh the tail (back foot) of the Jones Mind Expander Splitboard, the nose of the board wants to come up. If you thought riding powder in the past was easy with all the new rocker profiles over the past decade, you haven't seen anything yet. The Jones Mind Expander is literally impossible to sink, always wants to go fall line and is incredibly quick at returning to center after railing huge turns. Just look at how much the nose naturally planes above the surface.
So what more do you need?
When going downhill, in deep snow the Jones Mind Expander Splitboard easily goes where you want it to.  Heading to AK this year to do some heli laps and want to be extra surfy, this board would work.  Even the splitboard model.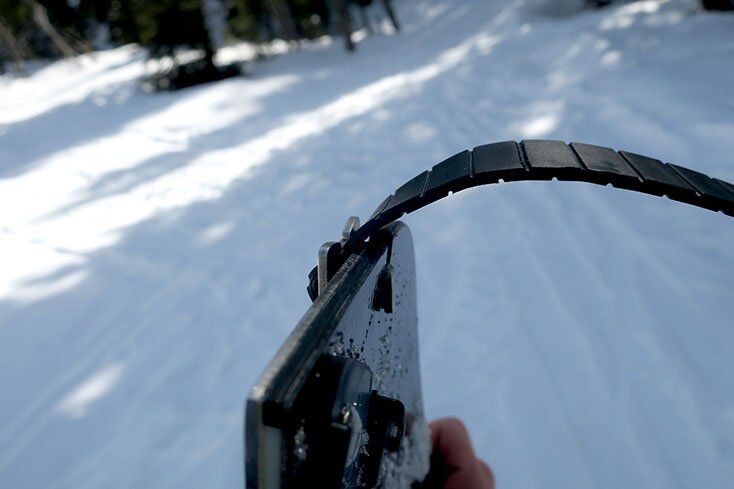 One of the neat things about Jones Snowboards is their skins.  Jones has been working with Pomoca for years and understands the need for reliable skins first and foremost.  When you use Jones Skins with a Jones Splitboard the skin/board interface is unbeatable.  Jones cut out notches in the back of their splitboards that when used in conjunction with their skins locks into place with a little metal clip.
The cutout notches really allow the skins to stay on your board for longer tours.
What Can Be Improved?
The board rips on the way down, sort of sucks on the way up.  Most of the day splitboarding is spent touring, not riding.  I seem to say this in every review…  With the Jones Mind Expander shape the splitboard is super wide on the skin track, especially on the inside edges in tour mode due to the big Spoon 3.0 construction and blunted nose.  That splitboard material has to go someplace, and when split in half takes up a ton of space.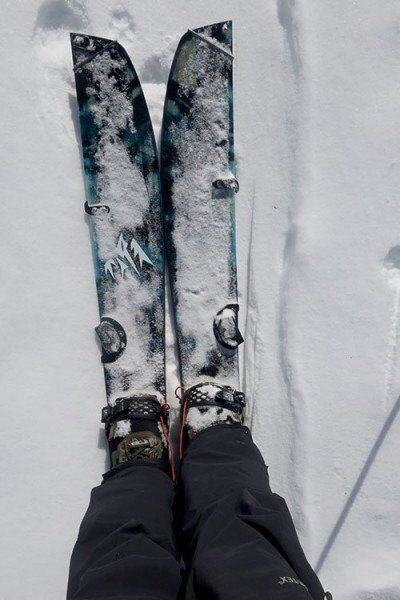 In ski mode, the boards are so wide that they literally touch one another on the skin track. Clank, Clank, Clank…  Did Jones Snowboards make a ripping powder board in the Mind Expander and then jump a little too quick to cut it in half for a splitboard? My guess is yes, as touring on this setup really takes some extra leg power, finesse, and overall patience.
Overall Impression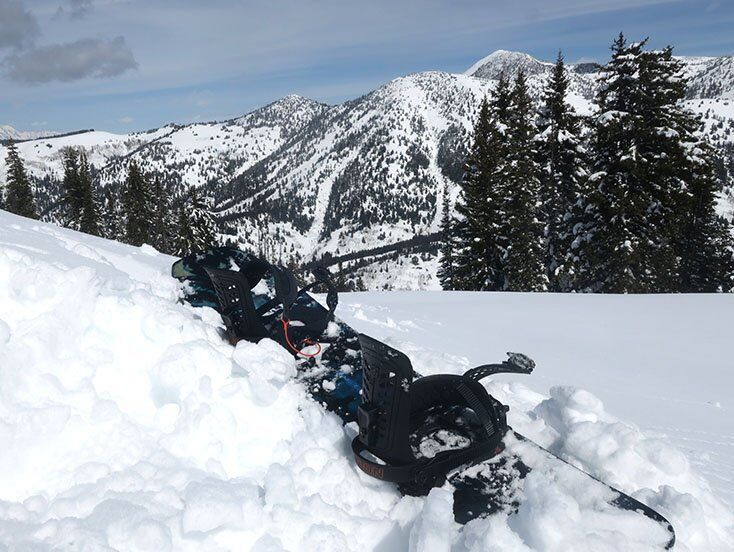 Looking for a resort board to shred pow and rip around the entire hill that you can split from time to time?  Go with the Jones Snowboards Mind Expander Splitboard. If you plan to split more than 10 days a year check out some of the other splitboards in the Jones line.
With a surf-inspired shape and carbon stringers in the board, the Mind Expander can easily suck of chunder reducing vibration from the board through your feet.  While this is not actually surfing, riding the Jones Mind Expander Splitboard ($849) is pretty darn close.
If you surf, you will appreciate this board.  The same goes for anyone that has ever dreamed about surfing. Best of all, you may even find yourself getting barreled in deep snow this winter when you strap into the Jones Mind Expander.
Jones Mind Expander Splitboard 2019 is Available in 2 sizes: 154cm – 158c
Related Articles: