The K2 Marauder Splitboard is incredibly solid on the way uphill with its camber dominate profile.  On the way down if you can handle the camber the board excels, especially in light density snow.
K2 Marauder Profile
The K2 Marauder Splitboard is camber dominate with slight rocker at the tip and tail for added performance in deep snow.  With this no-frills profile this splitboard tours exceptionally well.  It could be the combo of the factory cut K2 – POMOCA Skins.
The camber dominant profile on the K2 Marauder Splitboard combined with the directional shape and the stiff BAP wood core is nothing to take lightly.  The sort of rider that will appreciate this splitboard rides hard, likes bigger boards and for the rest of us, the K2 Marauder seems to be easiest to ride in light snow. All in all one of the top splitboards that you can find for the skin track.
POMOCA Skins
One of the best features of this splitboard is how the skins actually connect with the base of the board via tip hooks, vs traditional skin that only sticks to the base of your board.
Mounting bindings to this K2 Splitboard is simple and fast thanks to K2's Split Track. If you have used the Burton Channel System in the past, this system will seem very familiar.  My recommendation though is to always carry an extra Split Track insert with you especially when traveling as they have been known to pop out of the board when changing bindings out.
I tested this board with the Union Expedition Splitboard Bindings.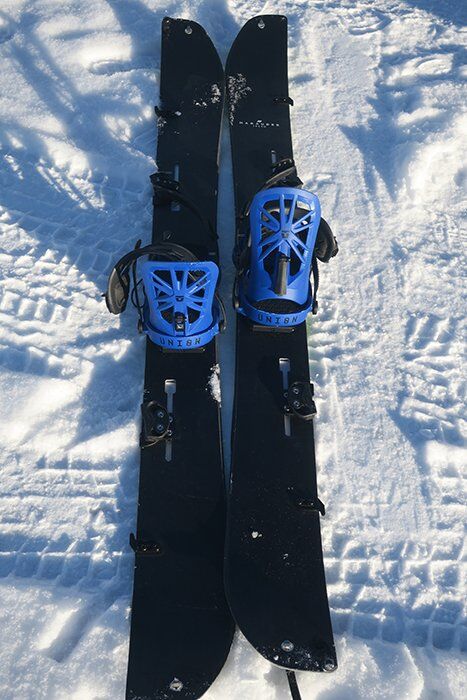 Other cool things about this board and a lot of splitboards on the market are new top sheets designed to shed snow. K2 uses the Snowhobic Topsheet that seems to do a good job of stopping snow from accumulating on the top sheet. When it's super cold snow will still stick, this tech works best when the sun comes up and the snow has additional moisture to shed.
Out of the box, the K2 Marauder Splitboard package is a killer deal.  You get the board, custom factory cut skins, pucks to mount your bindings and all the normal splitboard hardware comes attached (tip and tail and board connectors).  So all you need to do is buy a pair of bindings, take an avalanche course, get the gear, partners and your off.  It's that easy..
Overall Impression
The K2 Marauder Splitboard Package ($899.99) is available in a huge size run from 147 all the way to 166w.
K2 is starting to make its mark on the splitboard scene as of late, clearly, the brand is listening to consumers wanting a solid board for the up. And something to blast through powder on the way down.
Related Articles: