The Klymit Maxfield 2 Tent is a fairly light backpacking tent that packs down into a compact bundle when ready to go into your pack. The interior is on the small side, as expected, but far more comfortable as a complete tent than a tarp and poles minimalist design.
It has a spacious vestibule for all your gear and breathes well with clever ventilation.
Klymit Maxfield 2 Setup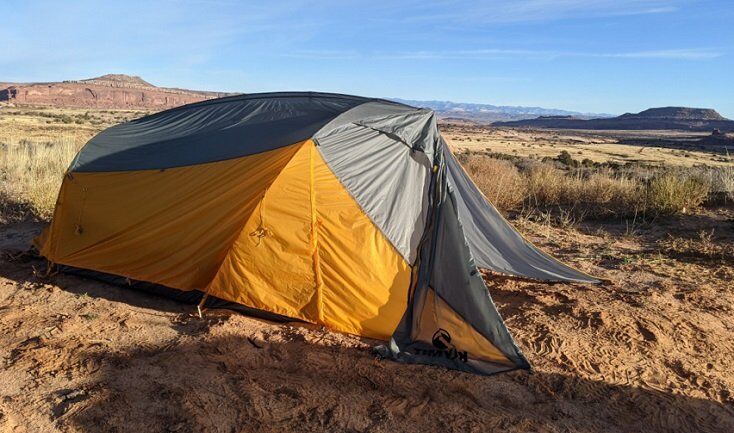 The Klymit Maxfield 2 Person Tent has all sorts of clever design which adds up to weight saving but is also moderately difficult to set up. Definitely practice before attempting in the dark and out in the elements. The base tent stretches over a pole system, which is all connected by a bungee. That part is hard to mess up.
Stretching the tent over these poles is the part that gets tricky, especially solo. It is color coded but the tent has no structural integrity to it until you manage to stretch the two main clips to hold up the spine. Doing this in windy conditions would be rather challenging. The tent does not stand up on its own even once you insert the metal skeleton, for that you will need to add the stakes and preferably the rain fly, so skipping on the stakes to save weight is unlikely even in perfect weather conditions. You'll need at least 4 of them for the tent and 6 with the rain fly to minimally support the vestibule. Realistically, using the full set of stakes is recommended even with backpacking use.
Car Camping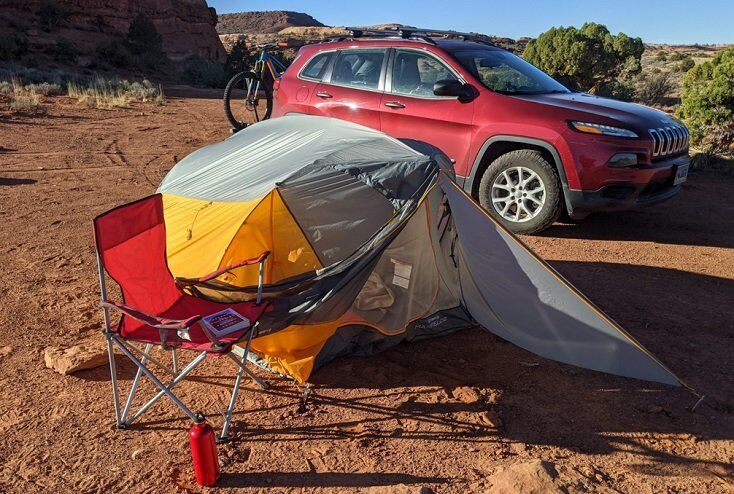 For car camping use, or in rough terrain, you will want to add a footprint as the floor material is just as thin as the rest of the tent. It is durable but all thin, nylon fabric has its limits. The arrangement of the clips to set up the tent is not entirely intuitive (as it's not meant to be, rather going for clever ways to save weight) so don't expect to just throw down at camp and figure it out without Google.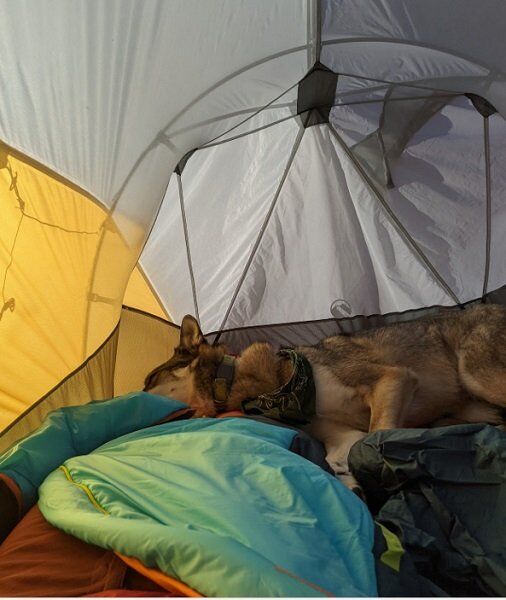 One thing to keep in mind is the entry and interior are on the minimal side for two people to enjoy comfortably unless they are expecting a backpacking expedition.
The tent packs down easily and rolls up into a small bundle. The take down is fairly easy with the bungeed, interconnected pole system.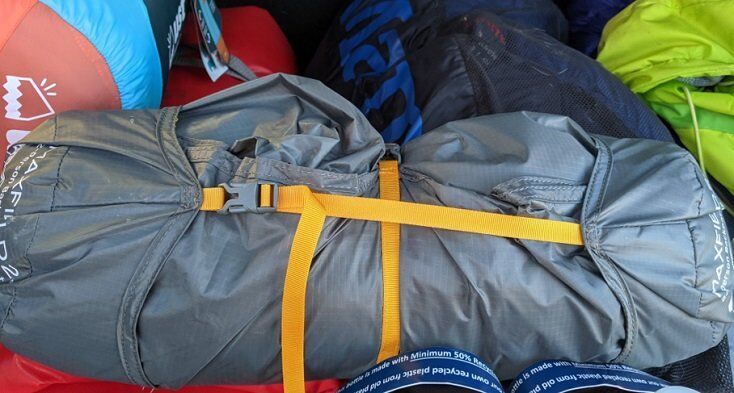 Klymit Backpacking Tent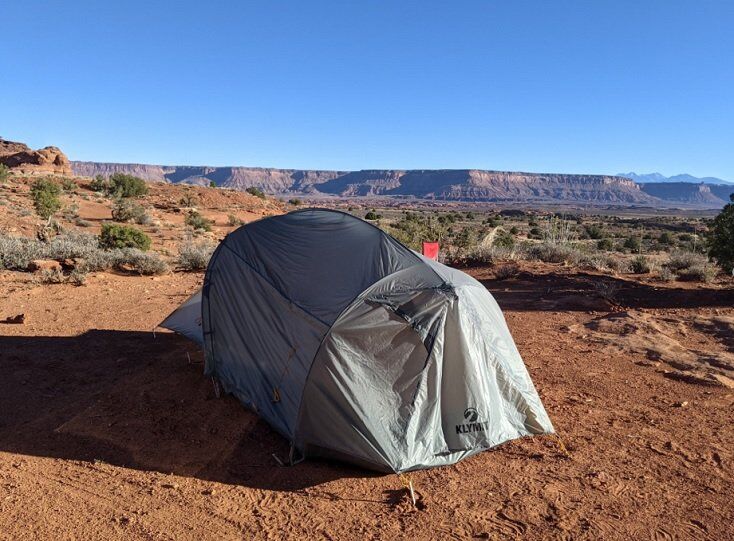 The Klymit Maxfiled 2 not an easy setup so it's not the most efficient tent for relaxed car camping or for one person to handle in poor weather conditions. The tent is light and once set up, is a sturdy shelter, with quality fabric and poles. There are minimal but effective little meshes and loops for gear inside the tent.
The vestibule is truly massive and can keep a lot of gear dry that would otherwise not fit in a backpacking tent. We can't vouch for marmots, snakes, squirrels and other critters that can mess with your stuff out there, but it will stay dry.
The tent vents well with three clever (and easy to overlook) little pockets that can be opened for ventilation so you don't wake up in a steam room of your own breath.
We did not test the Klymit Maxfield Backpacking Tent in high winds but the poles seem solid enough to withstand a fair amount of wind load, which you may encounter unexpectedly in the desert or in high alpine in the mountains. The whole set up once stretched and staked is sturdy. Staying attached to the ground is another matter, as the stakes are on the light and minimal side. There are also several handy cords already attached for stretching the rain fly even more effectively if you're on the techy side and didn't get enough brain work out assembling the main tent.
Overall Impression
The Klymit Maxfield 2 Person Tent ($419.99) is a nice, cost effective option if you're doing some backpacking with a partner and great for three season. I did find it was a little too involved for casual use, unless you enjoy a challenge once you get to camp.
Related Articles: