The new Kokatat Idol Drysuit adds another dynamic to choosing a drysuit for the river. After over 5 years of design they came up with only dry suit that has a waist zipper that doubles as a relief zipper, there have been many questions from fellow boaters. I got one answer, it works awesome!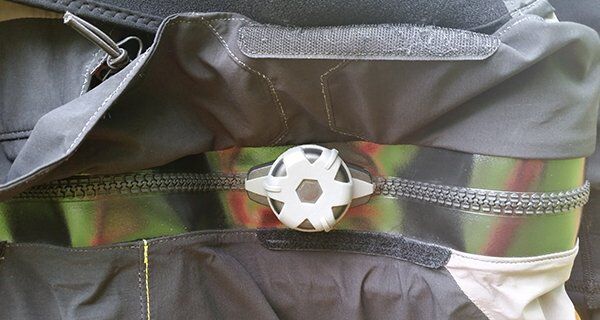 Kokatat Idol Drysuit Zipper
This is obviously what stands out on the suit. It is a waist zipper that connects the dry top to the dry pants. It doubles as a relief zipper also. The first 2 or 3 times you use the zipper, it can give you some problems. Once you figure out the technique, it is a breeze.
Instead of pulling the zipper when you start, I found if you feed it in and push, it works much better. After you get it all zipped there is a screw on the gasket that threads on and off with ease. Just unscrew the gasket and unzip partially and you are good to take a leak. I am a dude but this suit would work very well for the lady boaters that need relief.
I have about 10 days on the river with wearing the Kokatat Idol Drysuit and haven't felt any leaks. 3 of the days I was taking a Swiftwater rescue course where you are swimming a lot. The plus about this suit versus any other suit with a relief zipper is you only have one zipper. Having multiple zippers increases the chance of leakage. The screw-on gasket makes sure that you completely close the zipper all the way also. The important thing is to make sure you really snug up the screw on the gasket.
Pant Top Combo
I could see someone not completely tightening it and this would cause water to leak in. I have tried just the pants and they are like any other dry pant used alone, they will leak if used by themselves. The dry top by used alone integrates like any other dry top for kayaking and is bombproof.
Not having a zipper on the upper portion of the body is great. You have a more unrestricted feeling of movement for sure. The gasket on KakotatIdol waste is positioned on the side so you don't feel any sort of pressure point from it when bending over. The neck gasket was very tight on my neck but this is common for a new drysuit. It has stretched out and feels good at this point.
I liked the neoprene covers on the wrist and the neck gaskets versus hook and loop. The great thing is when your rigging boats, taking lunch, and such, you can just use the pants. Then when you're ready to get back in the water zip the top on and your ready. No more tying your arms around your waist and causing accelerated wear.
Kokatat Drysuit Sizing
I am 5′ 10" 170lbs and got the Large. The pants fit perfectly. The top seems to be on the tipping point for my chest size. It seems like the Kokatat Meridian Drysuit in size Large has a little more room in the chest. I like my dry suits snug but if you don't, I would get an XL if you are around the same size as me. The GORE-TEX socks fit my size 10 feet perfectly with room to put some beefy wool socks on the inside. More on the Kokatat drysuit sizing below:
Kokatat offers custom sizing and altercations on all their dry suits but it was nice to use their sizing chart and have it work accordingly for myself.
Overall Impression
I would say the only downside of the Kokatat Idol Drysuit is that there is a moving part. The screw-on gasket could wear and leak over time. It doesn't seem like that would happen for a long time or ever but it is possible I guess. With Kokatat's awesome warranty and customer service, there is little to worry about.
If anyone is on the fence about this suit, I would highly recommend it. The price is $1100+ dollars, it's the same price as all top-grade dry suits.
Kokatat comes through again with a super awesome product that deserves 5 out of 5 stars!
Related Articles: