I've used, and broken, a fair amount of trekking poles over my days but Komperdell's Expedition Pro Poles are beefier than any I'd ever had. This makes sense given the fact that, in an industry seemingly dominated by companies that relatively recently began making poles, Komperdell has been doing so for 100 years. But I didn't realize from first picking them up how amazing they'd actually be
Weight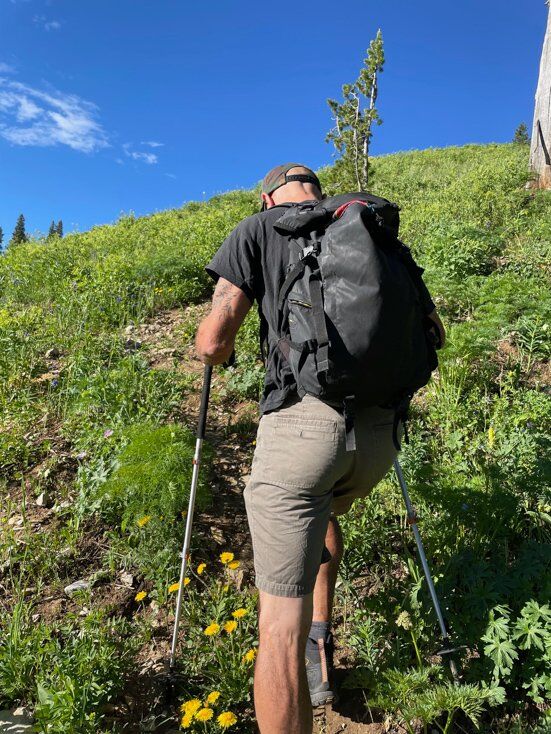 Poles can be one of the most important touring tools, especially when it comes to weight. When touring, you lift your poles over and over. And when descending, especially on a snowboard, you throw it in your pack. The Exp Pros weigh in at 260 grams, or just slightly more than half a pound.
The packed length is about 26 inches, which makes it perfect to fit in a pack, or in my case perfect to put in a snowboard bag. It can expand, though, to a little over 4 and a half feet of adjustable pole length.
Foam Grips
The touring 2-K Foam 450 grip is soft and sticky but also runs up and down the top of the pole, making it perfect for touring when you'll work your hand up and down around the handle. Plus there's the Powerlock 3.0, which adjusts the poles using their strongest lock of forged aluminum to dial in the size of the three sections.
Then there's the construction material: Titanal. It's an aluminum alloy mixed with copper, magnesium, zinc, and several other alloys. Basically it's a magical metal combining flexibility with strength and lightness, one often used in skis to make them amazing. It's from Austria. Same as Komperdell. But you probably want to know how I used it in places that weren't Austria.
Testing in Tetons and Iceland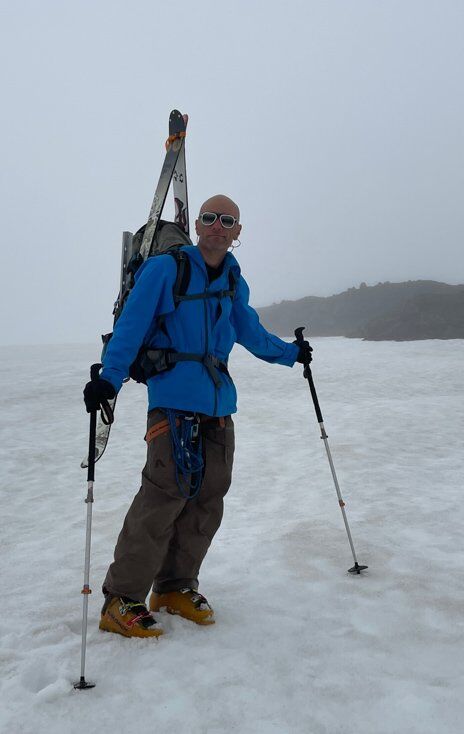 By the time I was trying out these Komperdell Trekking Poles, it was spring in the Tetons. Though that didn't keep me from trying them out in snow. My son and I hiked up Glory Bowl ridge on Teton Pass, with a fair bit of snow on the hike. The boy used the poles to help him get up, impressed with how well I could adjust it to his height. Then I used them for a hike up dry terrain, just to check out the poles. The Exp Pros follow the tradition of trekking poles in that they gripped into rock well for the up but minimized the impact on my knees on the way heading back down. Then I went to Iceland.
My dream for Iceland centered around a glacier ski in July with my son. So I packed the poles and lugged them across the Atlantic. Bouncing around through some of. The worst luggage handling since modern aviation began didn't result in even a scratch on the poles. Then I began my hike. We started off on a cat track from a glacier tour, hopping off onto a lava rock trail that skirted it. I went from snow to rock and dirt with any problem.
One time I lost my footing and thought I would fall but dug in the poles. They didn't bend at all. They felt stronger and firmer than basically any other touring pole I have. Then I skied back to the car and it handled all my pole plants on ice to slush to rock back down the glacier. It's like 100 years of Austrian exploration and innovation allowed them to make the greatest poles for venturing up the roughest type of mountain terrain you could ever imagine.
Overall Impression
Komperdell's Titanal Exp Pro is the best assist for getting up and down the mountain. My 8-year-old son used the Komperdell Titinal Exp Pro Poles to propel him to a mixed Glory Ridge lap in less than 2 hours. I packed them into a board bag with ice axes and crampons and skis and lugged them from airport to airport to car to glacier.
We're talking 100 years of testing in one of the most hallowed mountain communities of all time, focused on trekking poles. And it has resulted in these strong, durable, versatile Komperdell Titanal Exp Pro Poles ($139.95).
Titanal Exp Pro poles: don't go up without them.
Related Articles: