Out of all the snowboard pants I have had over the years I would of never thought L.L. Bean would have a pair that would end up being my all time favorite! I know nothing about this company except I love the L.L. Bean North Col GORE-TEX Pro Snow Pants!
First off they come with suspenders that I was turned off by right away. I have never been a bib or suspenders type of guy. They restrict upper body movement too much. Quickly to find out, you can just remove the suspenders very easily. There are not too many pants out there with this option. This made me give the pants a try.
Pants Fit
These pants are ultra light but durable. They have full length zippers for maximum breath-ability No mesh or half zip bullshit. If your gonna have a vent, make it as large as possible. This is what I look for most in a backcountry snow pant. The medium size fit me just perfect. I am 5′ 11" and sometimes take a large, so use your best judgment With that being said, the comfort of these when I am hiking I have never been so pleased with. A lot of pants either get hung up on my knees when they bend and are too tight. I usually then get a over-sized pair of pants so this does not happen. I feel like I am the biggest person that could fit into these medium pants and they allow me full freedom without being over-sized
I wouldn't say these are the warmest but I am a big fan of that. There is plenty of room to put any thickness of base-layer underneath these pants. The have some nice and big front pockets but know back pocket which is the only thing that pisses me off about these. I like a back pocket for my wallet. After I get done riding, I where my snow pants to the grocery store, the bar, or my buddies place and like having my wallet in the back pocket where it belongs!
Waterproofing
They have GORE-TEX pro technology which offers the best breath-ability, along with being waterproof and windproof! It is also very durable. I tested all of these factors to the limit. As I was walking back to my snowmobile I stepped in a pocket of hollow snow and nailed a rock with my knee! Oh boy did it hurt! I almost pooped my pants, and my vision got blurry. I took a breather and shook it off. I went on with the day in search of some hills to shred. During the search I fell off the snowmobile as I was trying to navigate some wind drifts, and got the sled stuck. As I was digging it out, I noticed some blood on the snow. Huh, I looked at my pants and there was a slit in them on the knee. I was wondering if this was from falling off the sled or from when hit my knee on the rock earlier. Turns out it was from when I hit the rock. When I got home I was bit bummed about my knee and also about my favorite snow pants that now have a rip in them. Being that there are GORE-TEX, you can purchase patches that seal up rips and tears. I had some of this laying around and patched them. Good as new with a styley GORE-TEX patch of a buffalo on the knee.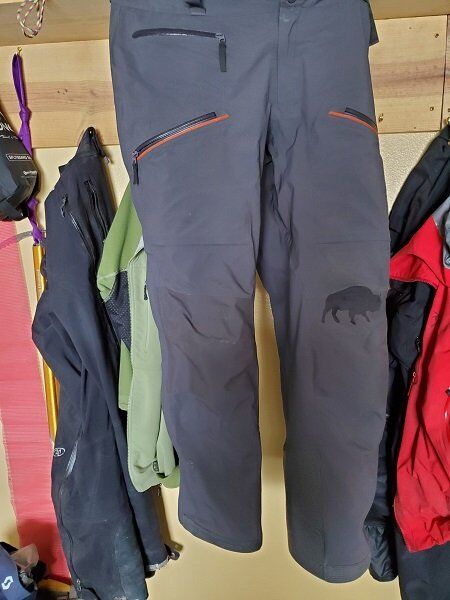 Overall Impression
The Men's L.L. Bean North Col GORE-TEX Pro Pants ($349.00) are the best pants I have ever worn (besides the back pocket issue). I have been adapting to this which has been mentally challenging but I think I might overcome it without losing my wallet! Get rid of the suspenders if they are not for you or keep them if ya like them. Price is on par with high grade snow pants If you are looking for something that is highly functional in all sorts of winter activities, buy these!
Related Articles: