Toasty Vibes is the name of the mascot for Colorado Springs's new minor league baseball team, but it could also be the name for L.L. Bean's Ultralight 850 Down Big Baffle Hooded Puffer Jacket. Toasty vibes, crushable down into its own sack small enough to cram into even the most overpacked backpacks. In an early season swinging from 3 degrees to high-30s (but windy) and constantly wet throughout, this jacket's been tested pretty hard. And like L.L. Bean's other gear, it's probably the best jacket that your brand-obsessed conformist friends know nothing about.
Down Micro Puffy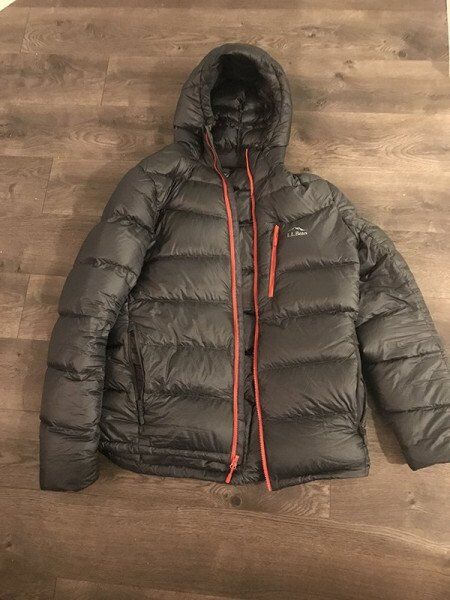 Having asked a few people who've been on the receiving end of rescues what was their most important piece of emergency gear, the constant thing I hear is "micro-puffy." That's because even in summertime, when you're sweating in shorts while chugging along, all it takes is an injury to lock you in your place and suddenly you're freezing while waiting for the SAR chopper. In winter it's pretty obvious how important heat is, from injury time to getting lost overnight to simply trying to keep warm at 12,000 feet while changing from uphill to downhill mode. There's literally no excuse to go riding without a small puffy. The L.L. Bean 850 Down Big Baffle Puffer Jacket has, well, big baffles, which can be stuffed full of down and lock in warmth better than a micro since that heated down gets more interaction with other pieces of heated down (there's something between 3 and 3.5 ounces of down for a Medium-Large). Basically, this jacket is warmer than any puffy I'd reasonably rock in the Tetons, especially my beloved micro-puffs, but without the added weight for most regular-sized puffies. I've worn it walking the dogs, carousing with friends on top of Thanksgiving Bowl on Thanksgiving Day, during my changeover and ride down from a few other Teton Peaks (including on one lovely, cloudless 3-degree November morning), sitting in my truck meditating. More often than not I'm too hot, frankly. Which is a good problem to have in the Tetons. The only drawback I've found so far is the outer.
Pertex Y-Fuse
In the endeavor to make puffies lighter than the very air they're warming, every brand has put in the lightest outer material. The problem with that is the slightest abrasion and your brand new puff rips open, releasing down all over the place and essentially rendering them useless. This isn't just an L.L. Bean issue, this is an Ultralight jacket issue, and L.L. Bean does about as good ans anybody has at addressing it. While L.L. Bean's Pertex Y-Fuse is sturdier than most, it's still easily cut and punctured. That said, you should always wear a shell over you puffy for riding, especially if there'll be trees and rocks.
On top of toughness, it's supposed to have a water-repellent surface. But after an hour or so standing around at a mountaintop party with some light precip, I noticed how soggy my jacket was getting. Though on the other hand, it dried quickly even after I packed it into its own stuff sack. Yeah, that's right — it's got its own built-in stuff sack.
I'd gotten so used to my old North Face Expedition Micropuffy that I didn't realize how sensitive new chest-huggers had become. What a lot of (especially older) micro-puffs lack in warmth they make up for in durability. That said, L.L. Bean's Big Baffle Puffer incorporates a stuff sack into one of its inside pockets so you can just get it all in there, pull the drawstring, and boom, neat and durable to throw in your pack (though I still wouldn't throw it anywhere near your crampons or Dyno DH's). That said, the weight is negligible and the warmth blows away any micro-puff I've tried.
Overall Impression
It's rated down to -35 for moderate activity and I'd second that because I was doing a simple summit changeover in single-digit temps and felt warm. Like, almost-sweaty warm. It's got a hood because I mean, who wants a jacket without a hood? Not anybody who loves to play on stormy days, I'll tell you. It should be noted that I'm 6 ft. and about 190 pounds and the tall/Medium fits me perfectly. I now only have one dilemma – with its style and its crazy warmth-to-weight ratio, I want to keep it as my everyday coat instead of throwing it into my pack for a guaranteed thrashing. L.L. Bean's Ultralight 850 Down Jacket ($249) is unfortunately just another reason why life is so confusing. Almost as much as the fact that people still don't realize that L.L. Bean is punching hard with the top names in every outdoor label-hag's closet.
Related Articles: