Holding down the all-terrain freestyle category is the Lib Tech TRS Snowboard designed by guys like EJ, Blair Habenicht, and Sammy Luebke. Considering the scope and size of varied terrain(everything from big mountain comps to pipe) these guys shred its a safe bet that the Lib Tech TRS can handle anything you throw at it.
Lib Tech XC2 BTX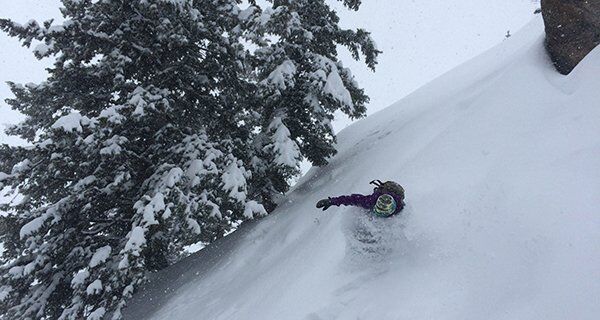 The most recent incarnation of the Lib Tech TRS is designed with Mervin's XC2 BTX technology meaning a short aggressive rocker between the feet and an extended camber that starts under your feet and extends out to the contact points at the tip and tail. The rocker gives you a nice pivot point for quick edge to edge turns and makes it easy to press and butter on a variety of park and natural features.
With a true twin shape and a centered stance, this board is incredibly fun for throwing spins and riding switch.
I found this camber profile to be less playful in the deep powder than some of the others in the Mervin lineup. On a few deep and light powder days I found myself having to weight my back leg to stay on top of the snow. Although the extended camber helps for edge hold in variable snow and hard pack, you are sacrificing playfulness and float in the deep stuff.
With all the new shapes and profiles I've ridden in the past 5 years I've found the boards with mellow transitions between rocker and camber to be the most playful- the XC2 is a sharp transition from banana rocker to extended camber.
When the conditions were deep and light this board wanted to sink and I found myself getting the dreaded back leg burn. The TRS performed great in the wet powder offering tons of float and minimal effort. With this in mind, I would highly recommend this board for someone riding the Pacific Northwest or anywhere with a wet coastal snowpack.
XC2 + Magne-Traction
The combination of XC2 and Magne-Traction gives the rider maximum edge hold. Camber underfoot extended to the outer contact points offers the feel and reliability of traditional camber. Magne-Traction allows the edge to grip the snow at 7 strategic points along with the sidecut allowing more contact with the terrain. The newest version of Mag is most aggressive between the feet and mellows out toward the tip and tail, but still feels catchy in variable snow and tracking over bumpy terrain.
A medium to stiff flex gives the rider stability on hardpack and steep terrain. The strong fibers of the Colombian Gold wood core combined with basalt/fiberglass laminates offer a lightweight setup with tons of pop and responsiveness.
Have you considered splitboarding? If so Lib is making a splitboard that's really similar to how fun the TRS rides.
When it comes to environmentally-conscious companies in the snow sports industry Mervin Manufacturing has lead the way in using low impact materials and "green" processes during production. More companies should be making the effort to cut down on waste and use less harmful materials to ensure snowboarding is available to future generations. That being said I think some of these processes and design ideas contribute to a lack of durability in Mervin boards.
As a snowboard tuner, I've had to epoxy dozens of de-laminated top sheets including 2 of my own. I know this is more of a cosmetic issue but I've seen this to be a trend and it's an obvious design flaw. The lack of fully wrapped edges cuts back on materials but leaves the tip and tail vulnerable to compressions and I doubt the claim that it cuts down on swing weight by a noticeable amount.
Magne-Traction helps for grip but also leaves your edge more exposed to rocks and stumps causing edge compressions. These repairs can be expensive and may keep you off the slopes for a few days- not an ideal scenario for snowboard bums.
Overall Impression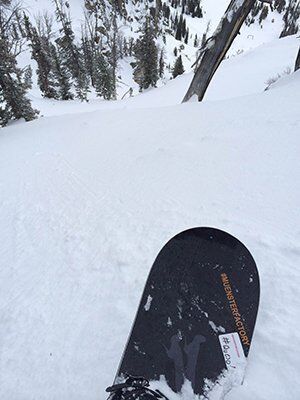 One of the few boards on the market that handles the entire mountain with ease and reliability, the Lib Tech TRS is an all-mountain stick with the freestyle rider in mind. The Lib Tech TRS ($659.95) excelled in everything but the deepest and lightest Teton powder, a board I would recommend for anyone above an intermediate skill set in everything from the high alpine free riding to park and pipe.
I've always had an issue with the durability of Mervin boards but if you're looking to support a company that's doing the right thing for our industry and the environment as a whole, look no further than the "Bitchin' Board Builders" located in the USA somewhere near Canada.
We hope you enjoyed our Lib Tech TRS review, be sure to demo this board and then shop at our retail partners below.
Related Articles: