Formally boots like the LOWA Innox Pro GTX TF were only available men and women in the service or even those working as police officers.
LOWA Multi Trac Rubber
What is it that makes the LOWA Innox Pro Boots unique?  The comfort and stability they offer throughout the day.  For traction, the Innox Pro uses LOWA's multi Trac® rubber soles.  The multi Trac® soles offer great grip in a variety of terrain.  I tested these boots in the snow, on wet rocks, through mud, dusty dry trails and pretty much everything in between.
For each outdoor adventure as of late, the boots I gravitate towards are the LOWA Innox Pro GTX Boots. Check out the triangular traction on the bottom of these boots, it really works.
Along with great traction, these boots are made with a GORE-TEX lining. Which is especially nice when hiking through rivers and streams as they breathe well and shed water with ease.  My feet did get wet after a few deep stream crossing which is too be expected in any pair of boots.
The cool thing about the LOWA Innox Pro Boots though is they dried out quickly.  So instead of worrying about taking your boots on and off at the next stream crossing, just walk through it and trust your boots which is easy to do with LOWA.
DYNAPU Soles
As we move up the boot, there's some tech that may often be overlooked by consumers. LOWA is using their DynaPU® midsoles in the Innox Pro GTX TF.  Instead of plastic which is typically used in the midsoles. LOWA found a way to incorporate polyurethane (PU) instead, which has a really cool and unique property to it.
The ability to rebound to its original shape.  Say goodbye to dead spots on the bottom of your feet as these boots are built to move with you and will last forever.
It's been over 2 years since I last tested a pair of LOWA's, those shoes have a lot of days on them and still look essentially brand new. The same will surely be the case with the Innox line of boots.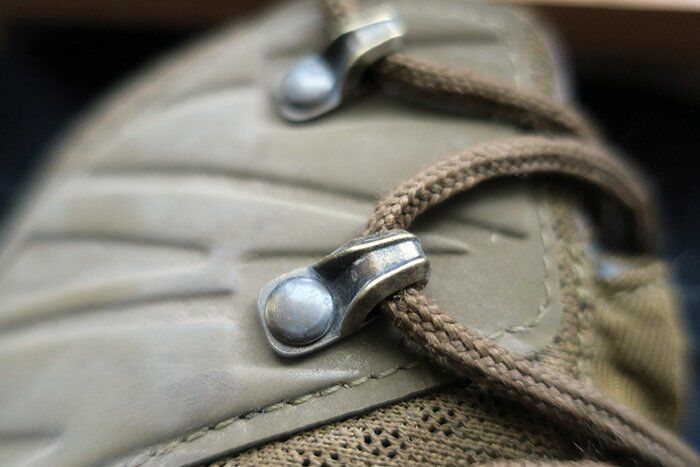 The only weird thing with the Innox Pro GTX's was the closed lace hooks at the top of the boot. If you have spent time hiking in the past you may be more familiar with an open lace book style boots which are easier to take on and off.
However, the trade-off when using the closed lace hooks comes with peace of mind knowing that your boots and laces are going to stay tight. It's really worth the extra couple seconds to get your boots laced up correctly without having to fiddle with them throughout the day.  LOWA makes the sort of boots you set em' and forget em'.
For LOWA Boot sizing I went with my normal shoe size, which worked perfectly.
Overall Impression
With reinforced toe and heel cups, an internal lateral frame that offers tons of support when going up the side of a mountain these boots are made to take a beating.  While at the same time will offer comfort and support for years to come.
The LOWA Innox GTX TF Boots ($234.95) may seem like more of a tactical boot, which it is.  That being said if this works for those sort of outings they will easily handle any sort of day hike, treck or backpacking outing you can throw at them.
LOWA Boots and shoes are 100% made and designed in Europe, to European standards.  These are the sort of boots people in the alps use, perhaps they will be the sort you can enjoy too?
Related Articles: