The Mammut Stoney HS Jacket is perhaps the first shell that performs equally as well on the skin track as it does in the lift line.  Heck, I even wore this jacket all fall in the rain, so it's truly a multi-seasonal piece of gear you can wear throughout the year.
Mammut Stoney HS Jacket Testing
Starting from the top down the Mammut Stoney HS Jacket utilizes Mammut's DRYtechTM 3-layer waterproof and windproof material.  One of the best Mammut Windproof Jackets for winte. DRYtechTM offers a comfortable soft to the touch feel and when combined with the ruggedness typically found in a hardshell you have a piece of gear built for moving fast that can withstand whatever you throw its way. The Rating on the Mammut Stoney HS Jacket is as follows; 15k waterproof and 10k breathability.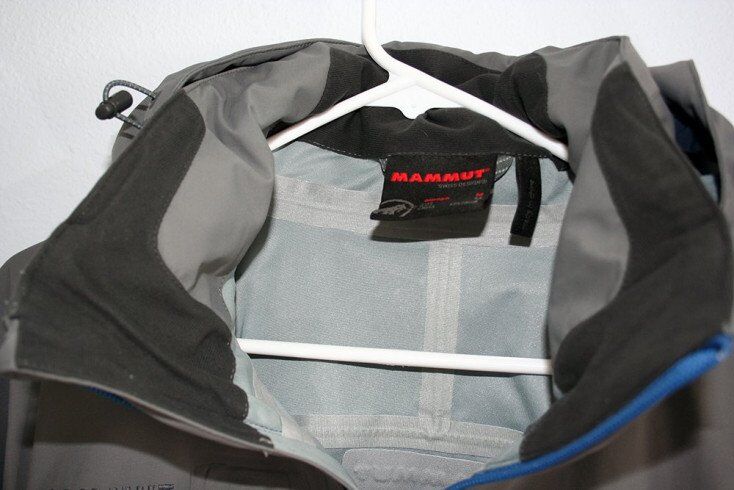 The neck gator on this jacket is one of the best features hands down.  When it's fully zipped up storms, snow, wind and whatever else mother nature decides to throw your way are simply no match.  The collar is taller than most jackets and as mentioned above makes for a comfortable feeling with fleece lining in the places your face and neck are most likely to come in contact with the jacket.  Once bundled up you won't want to unzip this shell, it's super cozy inside.
There are 7 pockets on the Stoney Hard Shell jacket.  2 pockets are located on the chest that is big enough to hold an avalanche notebook, phone and whatever else you may want quick access to.  There is an additional 2 pockets lower down on the jacket that traditionally work well for storing keys or snacks.  One the inside of the jacket is a dedicated goggle pocket and smaller media pocket.  There is no place to store skins, however.  Last but not least is a sleeve pocket that can hold a ski pass, credit cards, and some cash.
Zippered Hood and Powder Skirt
One of the unique features of this jacket and reasons you can easily wear this year-round comes in the form of the zippers.  The entire hood and powder skirt can easily be removed.  Sticking with zippers, there are also zippered vents located under each arm that run 3/4 length up the sleeve. Toss in full taped seams and this jacket will is able to keep weather where it belongs.
Overall Impression
Easily one of the most comfortable jackets or shells currently on the market.  Mammut was able to seamlessly blend soft shell and hard shell technology together with the use of the DRYtechTM 3-layer waterproof and windproof material to make a jacket you simply won't ever want to take off.  For someone that switched between days skinning in the backcountry and spinning laps at the resort there truly is no better crossover piece than the Mammut Stoney HS Jacket ($499.00)
Related Articles: