Tents are often the most expensive part of gearing up for a camping trip, and often the most frustrating. No tent, no matter what the marketing says, can actually keep you completely dry in any weather. But the MSR Mutha Hubba NX 3 does that better than most, with a full-coverage fly keeping rain out, and ample ventilation clearing out the moisture in your breath overnight.
So is it the perfect tent? Not quite, like any piece of gear it's about compromise. The perfect thing for one person in one situation may not work well for another person or another situation, so it's all about finding what fits your needs. And unfortunately there are situations where the Mutha Hubba NX 3 Person Tent won't be perfect. But the good news is for the right person, in the right situation, it's hard to imagine a tent better suited to meet their needs.
MSR Mutha Hubba NX 3 Poles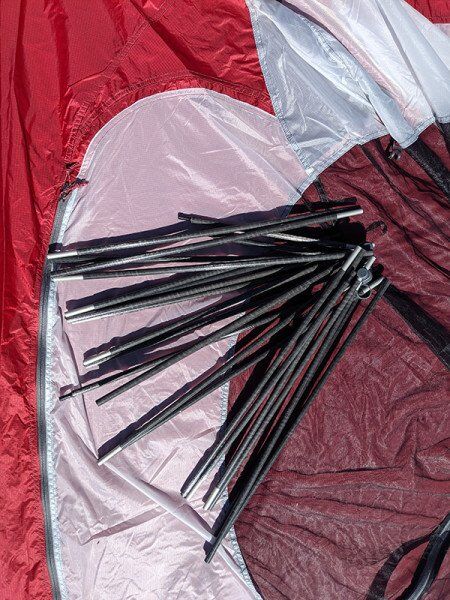 Let's start with the most subjective issue- the pole. Note that is the singular, pole rather than poles. Because the Mutha Hubba NX 3 uses a hubbed pole design, joining the arch poles at either end and the ridge pole (and roof pole) into one indelible network of fiberglass and elastic. This makes setup a decidedly one-person job, a fine thing in abstract but a potential liability if you're making camp in the rain.
Compounding the worries about the hubbed pole design is the material used to make them. The Easton Syclone construction is well-regarded throughout the industry, used by a lot of tent makers, and with a reputation for a lot of strength from a little weight. But accidents happen, and when composite poles break, they're never as easy to fix on the trail as aluminum poles. And because of the hubbed pole design, replacing a damaged pole means replacing the entire pole system, not just a single piece of a given length.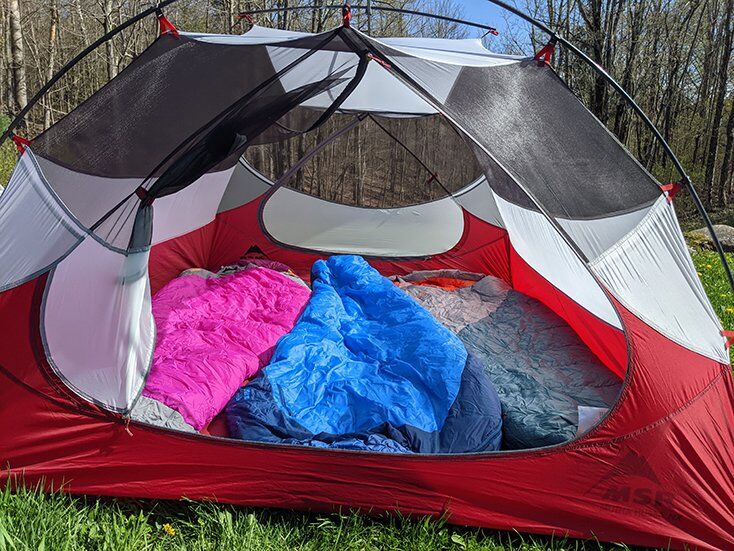 And lastly there's the size. Being a three person tent makes this a spacious place to be. A certain level of intimacy will be necessary if you're planning on packing three full-grown adults in here, and even two adults and a child will be cozy. But for two it's a luxury, approaching decadence.
MSR Mutha Hubba Weight / Size
But that space may be the Mutha Hubba NX 3's greatest asset. Despite the size, at just 4 lbs 5 oz (1.95kg) this three-person tent is lighter than plenty of two-person tents. Which means you can use it for backpacking with two people, without questioning your decision on a high-vertical day. And then enjoy the extra space overnight, and less awkward wakeups the next morning.
And in situations where awkwardness isn't a particular concern, like parents taking a young child backpacking for the first time, the Mutha Hubba NX 3 allows for a single-tent solution. This not only simplifies campsite selection and setup, and reduces pack weight, but also avoids overnight anxiety for the young one's first night in the woods.
MSR Mutha Hubba NX 3 Footprint
But for all the attention backpacking is getting in this review, that isn't where the MSR Mutha Hubba NX 3 really shines. What makes this tent special is that you'll want to use it even when weight isn't a concern.
Whereas most backpacking-focused tents shave grams by slashing features and comforts, this tent is simply put a NICE place to be. Well-sized vestibules on either end allow for quicker loading and unloading in difficult weather with plenty of room to keep footwear out of the elements, or excellent cross-ventilation when the weather is nicer. Even when buttoned up the air can still flow thanks to kickstand vents in the rainfly and abundant guy-out options on the full-coverage fly.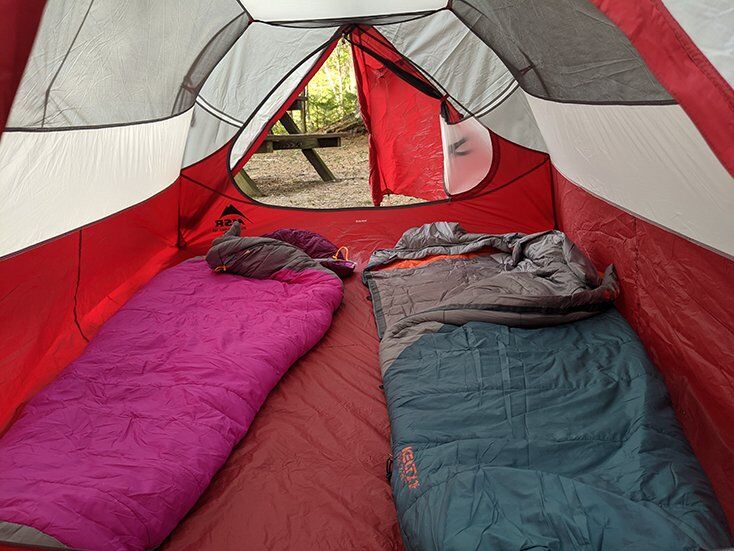 Once inside you have an absolutely massive 39 square feet of floor space, giving you nearly the same amount of room as a standard full size bed. And thanks to a non-tapered floor design, it feels spacious all the way to the top of the ceiling, making this tent surprisingly comfortable for bunkering down when the conditions aren't right for sitting around the campfire.
Overall Impression
So deciding if this tent is right for you is a question of what your actual needs are. If you're a thru-hiker, you're probably already looking elsewhere. But for casual weekend trips, and the versatility to have one tent serve as both your backpacking option AND a comfortable car-camping option, it's hard to beat the MSR Mutha Hubba NX 3 ($579.99).
Related Articles: