That's the first thing you notice when you pick up the Mystery Ranch Patrol 35 Backpack, that you've never felt such a sturdy pack. Of everything I own, my packs probably take the most beating.
Mystery Ranch Patrol 35 Review
The Mystery Ranch Patrol 35 Bakpack's 330D Cordura could probably heat up the ice if you took a boilerplate fall while the zippers are like the massive chompers of some fabled beast, never to break or fail.
Every inch of this pack is made of the sturdiest, most insdestructible material you could imagine, to the point where you begin to wonder why any other backpack makers would even try to compete. It's like the US basketball team at the Olympics — enough firepower to embarrass the competition with ease. But how does it lug?
Organization and Access
When you're carrying a ton of important gear into an environment where time is of the essence, few things are more important than how well your pack helps you keep your stuff organized and how quickly you can get to it.
The front zip pocket set up for your backcountry gear fits shovel, probe, saw, shovel blade easily. The pack is set up for top loading and for accessing from the Rip-Zip back panel, an absolute must if you're ever booting with your board on your pack, at least if you ever want to, you know, access your water or something on said boot. I have a different pack with a side zip and while that option saves weight over MR's burley access panel rips and zips, it doesn't help me when I really need to get to my stuff while my board is strapped on. Finally, there's an extra flap that can hold your helmet on the outside (though at 35 liters you can fit your helmet inside on most daytrips).
It's got both diagonal ski carry and, my go-to when I find myself booting in the middle of a skin, the A-Frame, as well as a vertical board carry (as well as horizontal but unless you're sledding when the hell would you use a horizontal carry?). I used the hydration pocket to carry my first-aid and fire kits, and was able to fit all my usual ski straps/small odds and ends in the bigger lid pocket. And there are two little zip pockets on the waist-straps for a wallet, a snack, a pen…
In the end, I was able to fit my standard big day kit (puffy, 2 sets of snowboard gloves, goggles, headlamp, crampons, Shaxe, snow safety kit, first aid kit (with sam splint), etc…) without it overfilling. But when I picked it up, that was where the magic happened.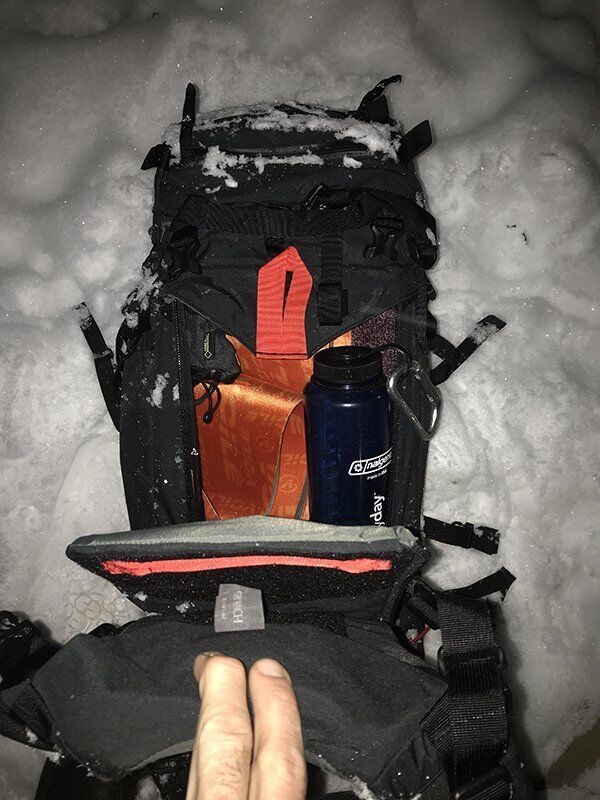 Most ski packs are great for carrying gear short distances, focusing on weight over sturdiness, trying to simplify. But after suffering a nasty shoulder AC tear a few years ago, that simple pack's weight really starts to kill me around hour 4-5. This is where Mystery Ranch's superior engineering takes over. Fit the pack following the easy instructions so it sits on your hips instead of your shoulders. Between that and the fiberglass frame, I was lugging a full pack, easily 30-40-some pounds, into hour 7 before my shoulder started to feel it. With the extra padding on the back panel and the contoured waist buckle, you feel like you've climbed into a self-sufficient exoskeleton, like that power loader thing from "Aliens" but, you know, made for hauling backcountry gear over snow instead for lifting giant weapon boxes and occasionally fighting mother aliens.
The load-lightening really wins it. This pack is hands-down the sturdiest, best engineered snow pack I've ever had. But like always, there are a couple small spaces for improvement which no doubt they'll incorporate in the future.
My "Would Be Nice" Nitpicking
No single backpack is perfect for everything. The Patrol 35 comes pretty damn close for winter packs but there are just a few things I'd love to see changed:
The helmet carry (in the "front stick-it") is on the outside of the avy pocket but it's connected to the main body of the pack. That means that you have your helmet compressing against your avy gear when you try to unzip and whip it out. Of course, most of the time you're dealing with avalanches you're wearing your backcountry snowboard helmet. Still, it'd be nice to see this pocket connected to the avy's outer sleeve to make it easy should you deal with a slide while ascending.
The waist strap pockets are too small to fit my iPhone 6. While we're not down with an always-connected world, the iPhone is pretty great to have quickly accessible for pics or the dreaded emergency call. And by moving it to your waist instead of your chest jacket pocket, there's less chance of cellular interference with your chest-worn beacon.
And that's about it, short of weird mountaineer details like ice axe pockets or something. But really, you might as well rock out a Shaxe these days anyway, eh?
But in the end it's…
A Hard-charging, Super-engineered Turtle Shell For your Snowy Back
When it comes to a pack, you gotta think that there would be nothing better than a turtle shell. Built to take a beating without being fazed; sturdy and long-lasting but comfortable and easy to carry. And all the space to carry your whole life, with quick and easy access. The Mystery Ranch Patrol 35L ($278.95)  is the incomparable turtle shell of the snow world, with the perfect balance of simplicity, strength, loadability and portability.
This last few years seemed to be when we really started hearing about Mystery Ranch because no doubt they were locking themselves into some backpack-making Area-51 mad scientist ranch, sciencing the hell out of their gear-luggers. Now that they've finally broken out, it makes sense that I'm spotting them on the backs of more and more ski and snowboard pros in the Tetons. But the thing is they're not ingenues and they're certainly not fly-by-night. They've been tested by time and war, used in deadly deserts and precarious peaks. And with this being round 2 of backpack craftspeople exploding onto the scene you can maybe call it a redux but don't call it a comeback. Because for the pros who need a pack they can trust in life-or-death situations, legendary backpack makers Dana Gleason and Renee Sippel-Baker never left
Mystery Ranch Patrol 35L Backpack