The Mystery Ranch Saddle Peak Pack is a well-built 25L ski and snowboard pack suitable for riding lifts, slaying sidecountry, sled skiing, and bare-bones backcountry tours.   I tested this pack skiing OB at Jackson Hole, and on several tours of assorted lengths in the Wydaho backcountry.  Some of those tours involved a little 'schwacking, and strapping my sheathed machete to the side of this pack worked out quite well!
Mystery Ranch Saddle Peak Ski Carry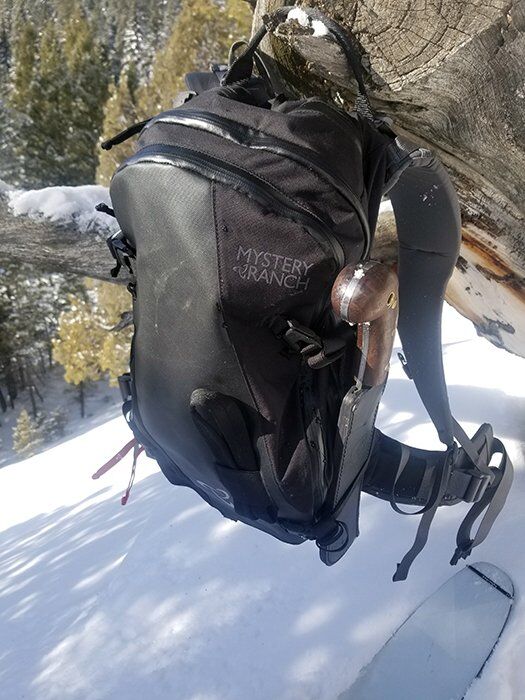 Of course, the Mystery Ranch Saddle Peak pack is designed to carry skis and snowboards, and it gives you options: diagonal and A-frame ski carry, as well as a vertical carry of skis and snowboards.  The pack has a clean, stylish design and minimalist straps, well placed and easy to keep tidy to avoid getting snagged on shrubs, trees, or chairlifts.  The reinforced back panel, snowboard helmet carry system, ice ax loop, emergency whistle, and color-coded zipper pulls are nice features incorporated into this pack.
Saddle Peak Frame
The Saddle Peak pack is built around a semi-rigid frame, and I find it easy to adjust for a comfortable fit that stays put while I am bouncing around in the backcountry.  The side straps on the pack can be cinched down into a very low profile total package, ideal for riding lifts while carrying just the avalanche essentials.  The storage compartments are well designed, easy to access, and sufficient for backcountry missions and shorter backcountry tours.  For bigger adventures, I find the 25L size a little too small to accommodate everything I like to bring deep into the backcountry.  For longer days in more remote mountains, the Mystery Ranch Gallatin Peak 40L pack would be a better option: it is very similar to the Saddle Peak 25L pack but offers an additional 15L of storage space.  I'd rather have a little extra space in my pack than struggle to get it closed (and risk damaging zippers) by bringing a pack that's just too small on a big mission.  That said, the Saddle Peak is perfectly sized for shorter backcountry tours.
Overall Impression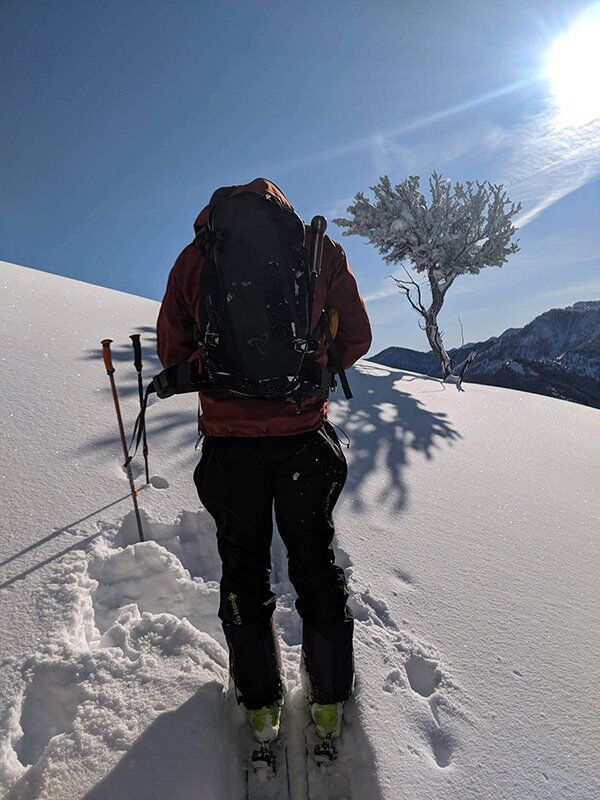 Mystery Ranch's Saddle Peak Pack ($218.95) is a well-designed, comfortable, and stylish ski and snowboard pack suitable for riding lifts, slaying short backcountry lines, sled skiing, and bare-bones backcountry tours.  If you're looking for a pack to bring on longer days in the backcountry the 25L Saddle Peak can work, but the Gallatin Peak 40 would be a better option.
Related Articles: