Mystery Ranch's T100 Pack is a super-hauler, built to handle any mad quest your heart may throw at it, to this horizon and the next one. At 100 liters, this is a real-deal backcountry adventure carry sack, able to carry literally everything you'll need for camp, mission, and more. Plus given Mystery Ranch's near-unbeaten commitment to durability and strength, the T100 will handle the roughest weather and the most abrasive conditions for years to come.
500D Cordura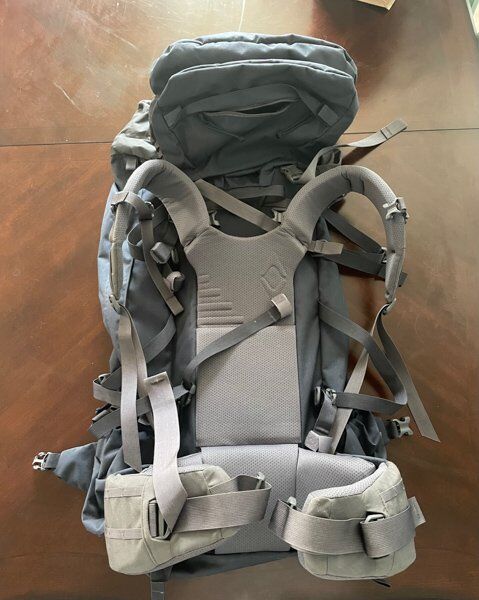 The 500D Lite Plus Cordura makes the T100 one of the most bulletproof packs out there. The Astral Frame is specially made for the large loads you'll pack into it. Made up of four vertical stays and dense foam for flex and torsional rigidity, the weight of the load gets transferred into the wings through this super-tech frame.
Translation: You can carry more weight, easier. Which is good since the size, 100 liters, means this trunk with straps can lug up to 6100 cubic inches to the farthest reaches.
There are tube pockets down the back, loops for ice axe, clips for carabiners and pouches for water bottles, plus addition pockets on top and bottom, as well as inside. So obviously Mystery Ranch put a lot into the T100; how'd it do in the field?
Multi Use Pack
The T100 is a beast, no doubt the first step towards the eventual Schwarzenegger T800. I took it out at first for days at the crag, overloading it with gear that didn't even hint at scratching the interior. The first real test, though, was a hut trip in Montana's Centennials.
I needed changes of clothes; outerwear; sleeping bag; booties; tools; ice axe; crampons; half a dozen pounds of stroganoff; first aid kit; avy kit; whiskey. I even carried extra gear for the hut we were staying in, lashing a massive wooden broom onto it like some twisted mountain Quidditch player.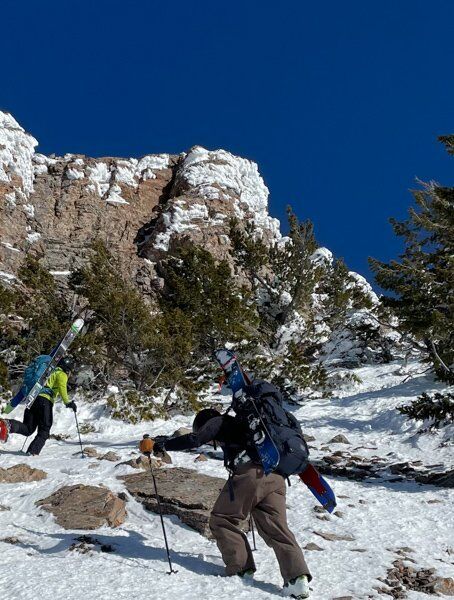 The approach was a couple miles out and a couple-thousand feet of ascent and I felt extra strong the whole way. At the hut, I threw off my extra weight and then could pull the T100 tight to use as my daily ascent and snowboarding pack and it didn't even begin to hinder performance. For the out, our final and biggest line had to go with a full pack. The frame was so strong that I could snowboard almost like I was hauling nothing.
Now that it's spring, I've taken to going out on missions, big and small, with the T100 loaded and overloaded as a way of training for big backpacking trips. After dozens of days in sun, rain, snow, and ice it still looks like new. Plus with the main compartment, the two tube pockets on the back, the water bottle pouches, the bottom pocket, and the two pockets on the lid that could double as a small day hip-pack, I had options for days to fit and organize all my toys, tools, supplies and clothes.
Overall Impression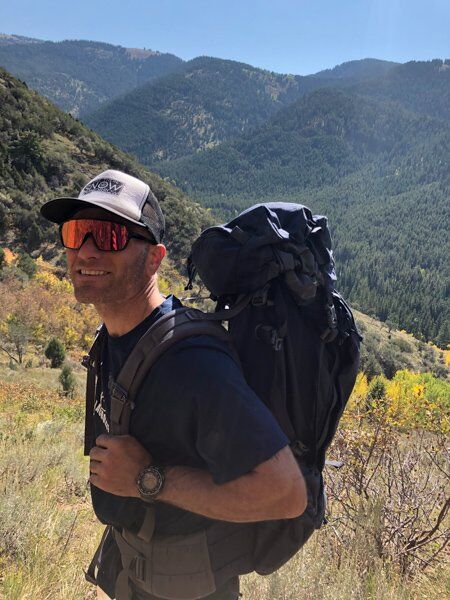 The Mystery Ranch T100 100-liter Backpack ($475.00) is a game freezer in a world of mini fridges, a storage beast that only the heartiest and rowdiest will fully utilize. For multi-day backpacks, there's no pack with as much space, durability, carryability, versatility, and portage options as Mystery Ranch's superbeast, the T100.
It's my new go-to backpack for all adventures spanning many days and many miles far off the well-beaten trail.
Related Articles: