When it comes to caring for dogs there are two types of dog owners, the first being those that treat their four-legged friends like members of the family while the second tends to let their dogs sleep outside. Most likely if you're reading this, you're interested in Orvis Dog Bed Reviews. Specifically the Orvis Memory Foam Dog Bed.
My dog Char had a chance to test out the Orvis Bolster Dog Bed with Memory Foam and here's what she seems to think of the bed. (in the words of a 6-year-old German Shorthaired Pointer) ~
4″ Thick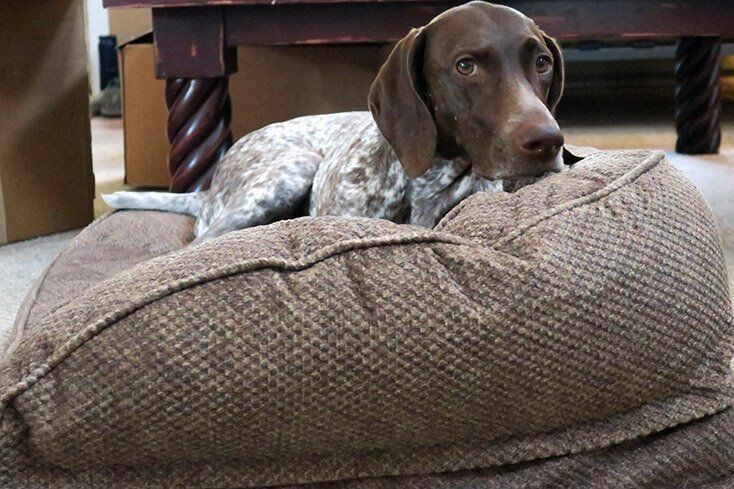 Knock, Knock, Knock. "Who's at my front door again? Even if I know them I really shouldn't stop barking. Luckily my dad's there to open the door so I can sprint outside and pretend I'm a really mean dog when in reality all I want to do is give kisses".
"What's this strange object on the porch, and why does it smell somewhat familiar? I have to know what's inside. But my dad knows the drill he's to bring the objects inside and chew through them until he finds the treat. Somehow he is much faster at this then I am?"
"Hold on a second, why is there a new bed in the living room? I like the smell, let me make sure this bed is comfortable. Wow this really nice, it's sort of like the new bed you sleep on."
To be honest, at first, I wasn't fully sold on the 4″ thick memory foam cushion. It seemed like it was overkill when I first took the bed out of the box and laid it on the floor. Would this even be comfortable for my dog?
Old vs New
Seconds later Char walked over to the Orvis Bolster Bed gave it a couple of sniffs, crawled up inside then proceeded sprawl out in traditional GSP fashion.
Watching my dog take to the bed so quickly would be the equivalent of giving a toy to a child for the holidays and then seeing them light up instantly. The proof is in the pudding, as they say, this dog bed works and here's why:
Memory Foam Bolster Features
This Orvis dog bed is designed in a Deep Dish shape. This design allows dogs to easily get into and out of their beds and offers extra room for dogs that love to stretch out. One rad feature is the Polyester microfiber quilted cover, which is actually removable meaning this bed will last for years to come.
I mentioned questioning the usefulness of the 4″ thick memory foam earlier in this review. However after seeing how quickly my dog falls asleep on this style of supportive memory foam bed and knowing first hand the benefits of sleep while recovering from injuries. The Orvis Memory Foam Bolster Dog Bed is perfect for active dogs and owners.
The Bolster Bed from Orvis is currently available in 6 colors and 4 sizes ranging from small dogs below 40 lb to large dogs in the 100 lb + range. The difference in sizing is noticeable.
Overall Impression
If you treat your dog like family and perhaps want your dog to sleep in their own bed from time to time there's no better option on the market currently than the Orvis Memory Foam Dog Bed ($309.99).
And as an added bonus, the Orvis Bolster Dog Bed with Memory Foam is available to be custom engraved for an additional few dollars.
Related Articles: