If you love fishing, then there is a good chance you are familiar with the Orvis name. Simply put, Orvis is the oldest mail-order outfitter in the United States and the longest continually operating fly-fishing business in the world. They know their way around outdoor and angling products.
One of their latest and greatest creations is their brand new Orvis Silver Sonic Guide Waders.
I tested these waders on the Snake River here in Jackson Hole, WY and wanted to share my feedback, needless to say, I was very excited to try out a pair of Orvis Silver Sonic Guide Waders for the first time.
Orvis Silver Sonic Zippered Waders
These waders employ the latest technology to keep you absolutely dry when you're thigh-deep in current with a fish on the end of your line.
No one wants to just hope they'll stay dry in this situation – they need to know it for a fact. And a pair of Orvis Silver Sonic Guide Waders will put your mind at ease when you're out there battling the big one.
I have used numerous Orvis products in the past and have never been disappointed by the company. But I was especially excited about this particular product because of their patented SonicSeam technology.
Basically, Orvis's SonicSeam technology means that their Silver Sonic Waders have double-reinforced seams with a grand total of zero stitch holes. This means that there is absolutely no way water can find its way inside. It also makes them more durable and much longer lasting.
orvis silver sonic guide wader review video

I wouldn't necessarily call any pair of waders "comfortable," but after slipping the Silver Sonic Guide Waders on for the first time, I was pleasantly surprised at their feel. There is enough to them that you know they'll get the job done but they are far less bulky than some waders I've used in the past. Taking them out into the stream I found that movement was easy and that they didn't affect my footing one bit.
I've only used the Orvis Silver Sonic Guide Waders a handful of times but they'll already taken – and held up to – their fair share of abuse. I am rough and tumble on all of my outdoor gear and am a bit of a klutz to boot. The Orvis Silver Sonic Guide Wader took the beating of fishing like a champ and soaked up a couple of falls on my part without a hiccup.
It is apparent from the construction of these waders that they'll last for the long haul. Orvis claims they'll keep you dry and last longer than your last three pairs of waders combined and I'm already backing this claim.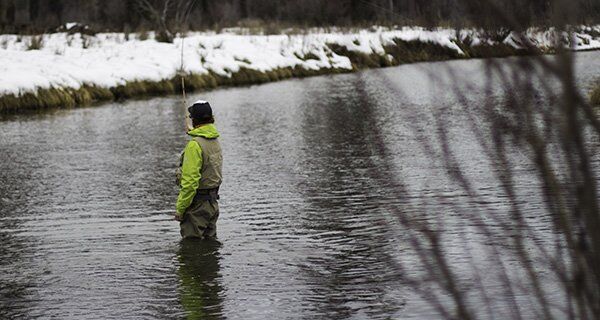 Orvis Guide Waders Overall Impression
Seriously though, Orvis Silver Sonic Guide Wader is 300% more abrasion resistant and 40% more puncture resistant than Orvis's second-best wader. They also incorporate a number of special features into their design that improves their functionality even more.
My favorite feature is their flip-out interior waterproof pocket with touchscreen capabilities. This allows you to have 100% confidence your phone will stay dry (and not fall out) while you're fishing. It even lets you check your texts or whatever while you are still in the water if you're feeling that.
I can't say enough about the Orvis Silver Sonic Guide Waders, If you fish on a regular basis, they simply can't be beaten. Now that you have a good idea of what waders to buy, why not match this with the Orvis Vest?
Check out my Orvis Clearwater Vest Review
Orvis Silver Sonic Waders