This year is unlike any before it and with a limited budget and increased precautions you may be wondering, "What am I going to get him?" If you have asked this question about one or more outdoorsmen in your life, we have the answer. Actually, we picked the top 10 best gifts for outdoorsman in your life. No matter their size, shape or style we have something for him.
Here's some of our favorite outdoor gifts:
Unique Gifts for Outdoorsman
Orvis Water Trapper Mats are ultra-durable and won't let you down. Made with a low-profile design that works without bunching, the mold and mildew resistant fibers are PET, post-consumer recycled material. The rug's rubber backing contains up to 20% recycled materials. Easy-to-clean fibers are thick and durable so you can take the ORVIS trapper mats anywhere. Get them muddy, take them to the beach, immerse yourself in the sand and don't forget to stuff them in your snow sack! The moisture resistant fibers let you take on any terrain and stay dry. Side channels drain away water quickly so they are ideal for use in mud rooms, entryways, kitchens and your basement. Use the ORVIS Water Trapper Mats anywhere you take out the worst on your floor. American made mats used for personal and industrial use. Hose to clean.
Price: $109.95
Our editor swears by the second-skin feeling of Beyond clothing. With next-to-skin performance as a base layer, or mid layer the K1 Primus Pullover base layer offers a balanced blend of synthetic fibers and wool to deliver lasting durability through the backcountry and wash cycles. Your layering system relies on flat seams, bulk-free wear and moisture wicking. The adjustable warmth of your base layering is ideal but you can also use the thumbhole cuffs along with the ½-zip front to keep you warm no matter where you go – for unmatched performance.
Price: $60.00
Let go of your flashlight! You don't need any additional lighting for hiking, canyoneering, backpacking or other adventures at night when you have the PETZL ACTIK CORE Headlamp. Includes the CORE rechargeable battery that is compatible with 3 AAA/LR03 batteries. Multi-beam design is ideal for even the most dynamic outdoor adventures for anyone in your life. Use the features to protect yourself from blinding others and maximum visibility. IPX4 allows you to splash and spray water without a worry so go ahead and get wet! Choose from clear or red lighting options for night vision. High-performance lighting made for rapid movement and compatibility. Smooth, adjustable brightness from 450 lumens for the most versatility. Black or red head strap option. Batteries not included.*
Price: $69.95
You will never have to worry about frozen feet again with the PediPocket Blanket. Made in a range of colors, prints, patterns and sizes the PediPocket blanket is ideal for single snuggles or you can cozy up with another PediPocket friend. Bring the whole crew together and choose your own PediPocket style of blanket. The options are limitless! Made for kids too, in just the right size for everyone. Ideal for use at home, in the office or while traveling the PediPocket fits every need. Made even in XXL the exclusive design of the PediPocket allows you to stay toasty even in the most frigid winter temperatures. Machine washable and dryer friendly.
Price: $49.99
Outerknown Beach Towel
You want a towel that makes you feel warm and comfortable. This massive towel is made with planet-friendly materials and backed by rave reviews. The popular demand of The Beach Towel by Outerknown is because of the ultra-dense, super-soft material that is also absorbent for your bathroom or beach. Large enough to wrap anyone in the family in warmth, The Beach Towel is a perfect gift. Made from 100% Organic Cotton to support the people and the planet. Make a stylish statement in a BIG way with The Beach Towel from Outerknown.
Price: $58.00
The Adventure Medical Kits are different from other outdoor kits. Use it to find what you need fast. The Adventure Medical Kit includes a map on the back so you always know where you put your supplies. Easy-to-find in a hurry and when you are in the backcountry, the Adventure Medical Kits are there when you need them the most! Outer shell is made with water resistant fabric and features a zipper, along with 2x PU-coated 400 denier nylon to protect everything from the elements. Going far beyond first aid, this kit is more than just a basic medical kit. The Adventure Medical Kit is next level with first aid manuals that are hand-written to help you until more qualified medical teams arrive. Take care of yourself with the exclusive Easy Care First Aid System organized into pockets by injury so you can deliver fast and effective aid. The Adventure Medical Kit is the difference between a trip fulfilled or a trip cut short. Plan accordingly.
Price: $38.95
Every outdoorsman needs a windproof lighter. Look to ZIPPO to deliver everything all-in-one lighter. Zippo in partnership with WOODCHUCK USA teamed up with their Buy One. Plant One.® program to plant one tree for every lighter sold. Ideally, you can use this lighter as a gift that gives not once, but twice. Support tree planting in madagascar with this genuine Zippo Lighter made with that distinctive "click," we all love to hear. Made from 100% real wood, laser-cut emblem design, brushed chrome lighter with streaks of blond wood intermixed with deeper tones for a unique look in each lighter. Comes in a gift box. Choose from a range of woodchuck emblem designs that also restore and protect forests. WOODCHUCK Zippo designs are finished on Brushed Brass, Brushed Chrome, High Polish Green, Street Chrome™, Herringbone Sweep and Multi Color. The emblems used are Cedar, Mahogany, Walnut and Birch.
Price: $47.99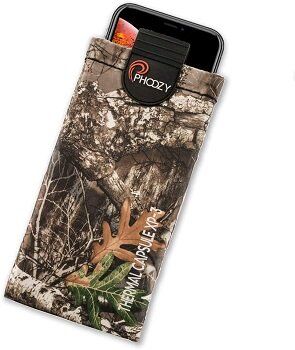 What happens when your phone dies in the cold is ALL BAD. Prevent that scenario with the Phoozy Phone Case. More than just a basic case for your phone, the PHOOZY Insulated Phone Case offers thermal protection for your phone, tablet, laptop and other accessories. There is nothing worse than getting stuck somewhere and finding out that your device overheated in the sun, froze in the cold or drowned in moisture. You need the ultimate protection for EVERY condition, so take it from us and grab this hiking gadget for fall.
Price: $49.99
Carry less and cook more when you head into the outdoors. You can enjoy the combination of the collapsible GST Escape pot in your pack with 53% less space. The silicone body allows the pot to store within minimal spaces and is easy to carry in your pack. The hyper-conductive anodized base speeds up your cooking time – up to 30%! Forget packing any other cookware for your outdoor adventures. The Escape HS pot measures, folds and handles easily with a non-stick coating that eliminates messes. This GSI Pot is made with dual bail handles for easy pick-up and fold and a lock lid for secure placement and handling. This hybrid pot makes other outdoor cookware obsolete. Try this cooking game-changer other adventurers already know about. Features include hard-anodized base, Teflon® with Radiance Technology to cook 30% faster, crushproof strainer lid, molded in graduations, on-stick performance, even-heating and durability
Price: $64.95
Related Articles:
ORVIS Basketweave Recycled Water Trapper Mats