I've been using the highest-end hard shell the Outdoor Research Maximus Jacket, and am happy to have this trustworthy piece in my quiver of outdoor gear. This shell excels in durability and waterproofness if you have an open mind to its funky venting systems, bulkiness, and unique fit.
Outdoor Research Maximus Jacket Review
The Outdoor Research Maximus Jacket is like most OR jackets, it's equipped with waterproof zippers and an easy to use, helmet-compatible hood. Outdoor Research does not make a direct equivalent of this jacket for women (the Revelation jacket is pretty similar), so I've been wearing a men's medium. With the help of my mountain guide friends, I got some perspective on how the OR Maximus jacket fits.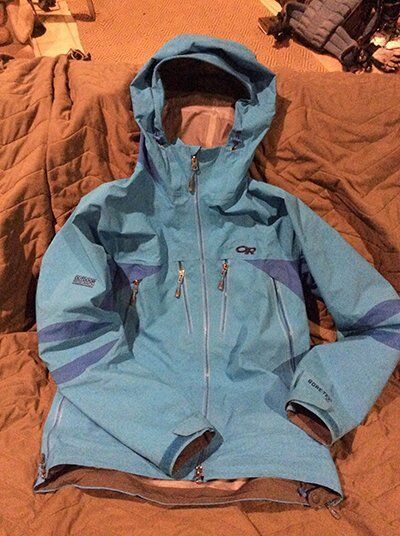 Like most OR jackets, it's equipped with waterproof zippers and an easy to use, helmet-compatible hood. The medium fits small on guys and is loose on me (female, 5'5"). I'd be better in a men's small. If you prefer a longer, parka-style fit for additional coverage (especially when reaching overhead), then be wary of the length of this jacket. Also, if you prefer jackets with a built-in powder skirt (which I don't) then this might not be for you.
As this is a three-layer, GORE-TEX shell it's important that it has a good venting system. The vents on the Outdoor Research Maximus Jacket start at the base on either side and unzip all the way to the armpits. Standard pit zips are more centered underneath the armpit, which is a potential downside of this jacket depending on your preference.
Being a three-layer piece it's my most bulky hard shell. However, it's conveniently located GORE-TEX pro stretch panels keep it from feeling overly stiff.
If you're hiking uphill on a cold day in January in the Tetons then you'll be happy to be in this jacket. In other, milder conditions you might drown in sweat. It's built for gnarly weather and expeditions, so I wouldn't pack it for summer missions when the chances of precip are minimal.
Overall Impression
When I don't need the serious protection that this jacket offers than I'm probably going to bring my Rab eVent Latok Alpine Jacket. But as much as I love that shell (and I do, now that I've put multiple holes in it…) I know the drawbacks of eVent fabric. For the harshest conditions, I bring the Outdoor Research Maximus Jacket ($550).
Outdoor Research Men's Maximus Jacket