The Patagonia Descensionist Pack is a great way to store all your gear while recreating in the backcountry. Whatever you do though, don't let the look of the material fool you the Patagonia Descensionist Pack is durable enough to handle whatever you throw at it.
Patagonia Descensionist Backpack Durability
Starting with the material, the Patagonia Descensionist Backpack is built tough as nails 210-denier CORDURA nylon throughout the pack and 420-denier on the base. What do all these fancy numbers equal? Lots of durability without the bulk one would expect from packs and materials of years past.
The Patagonia Descensionist Pack comes in 2 sizes, S/M and M/L available in both 32L and 40L sizes What's great about the design of this backpack is it's lightweight feel when worn.
Wetsuit-like foam in the hips and waistband allows this backpack to form fit against your body. It's designed so well, that you'll most likely forget you even have it on.
Poles easily attach to the side of the pack and if you need to go in
Patagonia Descensionist Pack Storage
The roll-top design which is popular in backpacking packs works well on the Descensionist Backpack allowing fast access to the main storage compartment. Once synched down a burly buckle locks the top section into place, it's super fun just hooking the thing up.
There is also additional side zippered access to the main part of the pack which works to easily store skins, goggles, and things that will be routinely going in and out of your backpack throughout your day touring.
Traditional avalanche snow safety gear has a dedicated home in this pack with storage space for a shovel blade, handle, probe, and even room for a snow saw and most additional tools you might need.
The top of the Patagonia Descensionist Pack has a 2-way zippered pocket that opens both directions. This is a nice feature that helps to stop you from dumping your gear all over the place.
Overall Impression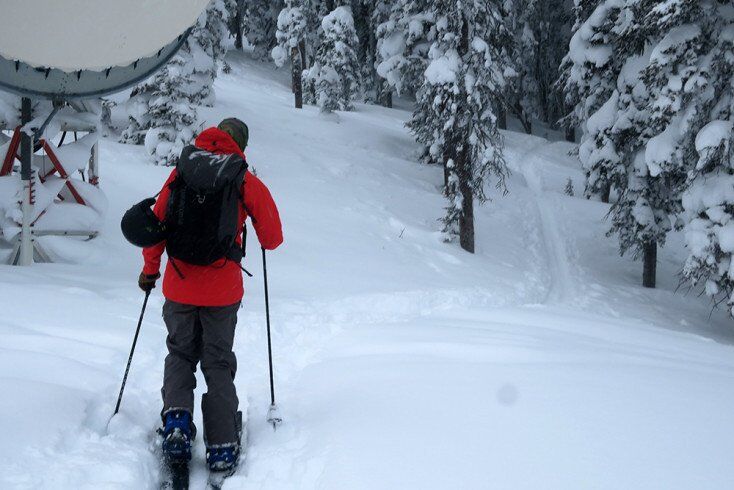 I get to test a lot of gear throughout the year and the Patagonia Descensionist Backpack ($189.99) is the one that seems to come with me on all my splitboard trips as of late.
The only downside to this backpack is there is no way to vertically carry a snowboard. So keep that in mind if you're going to be bootpacking.
Patagonia offers a lifetime warranty on their gear, what are you waiting for?
Related Articles: