The Petzl Hirundos Harness, meaning swallow (like the bird), is not gender-specific and comes in bright, safety orange (a color I love, which I confess is half the reason I bought it).
Harness Design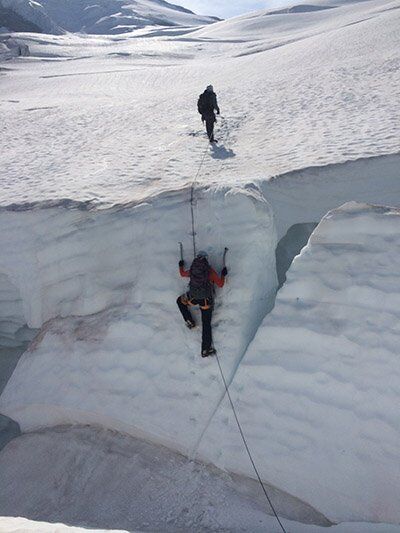 I've taken the Petzl Hirundos Harness out on a variety of missions: from "balancey" sport routes on Washington slab to overhanging, bolted Smith Rock classics; it's been to the summit of Mt. Rainier and on a number of car-to-car alpine missions in the North Cascades and Washington's Stuart Range, including Mt. Baker and Dragontail Peak. As it is currently my only harness, it comes along with me to the climbing gym and the crag, too.
The basic Hirundos design resembles any other rock harness: padded waist belt, four gear loops, elastic/padded leg loops, belay, and haul loops; with an emphasis on cutting weight. It does this very well, weighing in at 280 grams. Black Diamond's orange Couloir Harness, a webbing harness and an industry-standard in mountaineering, weighs in at 230 grams. For 50 more grams, you have a harness you can comfortably hang in.
Size
At first glance, you might wonder how something so small could hold your life in it. You might be especially surprised by the skinny belay loop. To cut weight it has a minimalist haul loop in the back, 100% Dyneema tie in points, no leg loop adjusters (although it is great for fast and light mountaineering, make sure it will fit over all your layers), and a low-profile (skinny) waist belt. Additionally, the leg loops are connected to the waist belt with flexible webbing for lightweight comfort.
Overall Impression
The harness is best for hard sport routes and fast and light alpine missions, where, in both scenarios, every gram matters. You might begin to regret the harness when the skinny waist belt and gear loops are weighed down by a double rack; you might be yelling at your partner to quickly sew up the elongated crux pitch when you're at the hanging belay, and you definitely don't want to get caught on a long aid route in this thing.
For the most part, I don't often find myself in a gear debate on harnesses. There are plenty of more interesting gear topics to argue about, like the new Black Diamond ultralight cams, for example. If it works, it works. This harness might be the exception. A Seattle mountain guide and friend of mine asked me: "how's the 'horrendous' treating you?" while climbing at Vertical World in Seattle when I first bought it, assuming my discomfort.
Unlike him, I'm not climbing big walls in the Valley this fall. But the Petzl Hirundos Harness ($99.95) has been a workhorse for me in a variety of contexts and, as mentioned before, it's the only harness I've got right now. But if I were tackling big walls with lots of hang time, I might have to leave the safety orange behind for something with a bit more surface area.
Related Articles: