The first thing you'll notice about the Kelty Ranger Doug 2-Person Tent is MAN THIS THING HAS PERSONALITY. Bold style here, but what would you expect for a tent made in coordination with Ranger Doug? And it is spacious without taking up too much space, warm without being suffocating, and stays dry even in late-night Spring wintry mix; that's how Kelty does. Kelty's Ranger Doug 2-Person is for that camper who likes to get really wild with it, whether camped next to the car, 20 miles from the nearest trailhead, or even at those things we used to have called music festivals.
Kelty Ranger Doug Footprint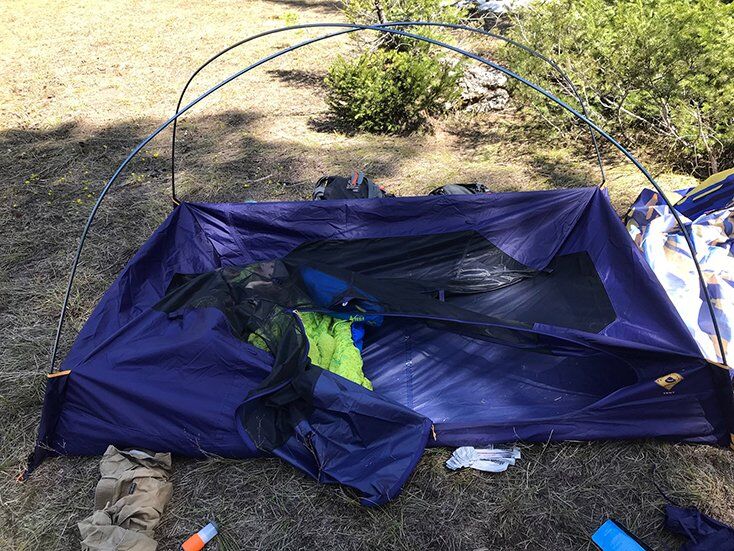 Kelty's quick corners make the Ranger Doug 2 Tent setup fast and dimwit proof: Just put the poles into the long corners so that the base stands up, then start clipping before buckling on the rain fly. The Kelty Ranger Doug 2P packs almost 31 feet of floor space beneath a 3.5-foot ceiling with two 6.7 foot vestibules, meaning two people will feel plenty spacious, and you can easily keep all your gear in the vestibule without tracking mud in (at least backpacking).
Its 68D polyester 1800mm materials on all surfaces guarantee waterproofness in anything less than like a 90-MPH hurricane. I'd maybe get a ground tarp since that'll prolong the material but that's about it. At 5-and-a-half to 5-and-three-quarters pounds packed, you're talking a bit more weight than more expensive tents, but that's in part because it has thicker, more durable material (when you get a fierce, north wind blowing a squall through, or hail, that 68-denier nylon makes you feel a lot better than the 20-denier used by lighter tents). I'd rather carry a few extra pounds than worry my tent's gonna rip apart in a crazy Teton storm.
Backpacking With Kelty Ranger Doug 2-Person Tent
My son and I went backpacking on a trail in the southern tip of the Tetons, a trail which was snowy almost 50% of the time, full of moose and even a few bear tracks but no human footprints (on our way in). It was cloudy with a strong chance of overnight showers. And when I set the Kelty Ranger Doug Tent up, I was suddenly more than a little worried. The temperatures were dropping. Snow all around. Frozen rain forecast. It set up more easily than literally any other tent I've ever set up but still, with the mostly-mesh-walls of the tent, I figured we'd be getting cold pretty quick. Started wondering if this was really a 3-season tent. Especially as we saw our breath start to freeze in billows just before sundown, ensuring that night would easily be in the low 20s if not below as that storm rolled through.
Yet we slept like babies. According to my watch, I got over 9 hours. I have a faint memory of waking up in the middle of the night to torrential downpour smacking our fly. But never got wet. Never got cold. We had some of the best sleep either of us has had for a while.
Then the next day, while relaxing around the site in the afternoon sun, I unbuckled the fly and relaxed with a full view of the mountains, the woods, the cloudless sky. It was pretty near heaven. For once, we actually hung out in the tent for a little during the day. Between the space and the views, it just felt right.
Overall Impression
As I said when I started, the Kelty Ranger Doug's 2 Person Tent ($234.95) stylings are loud and fun and everything that the oddly-stodgy world of camping seems to be. But under the big bright colors is a superior wilderness home, able to handle everything that the National Parks Ranger Doug based his company around can throw at you. Spacious but comfortable; durable but packable. Easy to set up. Less than $250. You really couldn't ask for anything else out of a proper 3-season tent.
Related Articles: