REI has applied everything learned from decades of slinging gear into its label and the Skyline Ridge is a perfect result of that experiment. A comfortable softer shell that can handle even rowdier backcountry adventures. Able to keep out some serious wind and storm but super soft and easy on the wallet, I'm throwing the REI Skyline Ridge into the "essential softshell" category.
Skyline Ridge Jacket Specs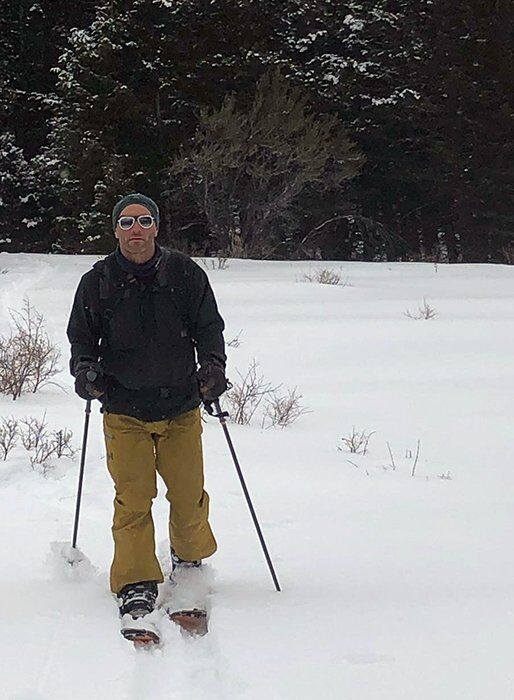 Start off with a seam-sealed 2L nylon outer that's been tested for winds up to 60 mph. I can confirm that it's good at least up to 30-something. But with all that protection, it has a comfortable soft lining, a huge win over hardshells. Then add in four pockets so you can carry everything you need right on your chest, and a hood that can fit over a helmet and you're dialed.
But you can read that on the site. The real question: How'd the test go?
Simple answer: the REI Skyline Ridge Killed it.
Warmth
I took this jacket touring on sunny days and in stormy ones. But I can't decide between which day tested it more – the one where I tried out my homemade pow surfer and ended up rolling and wallowing through chest-deep pow for a thousand and a half feet, or the one where the storm came in on the ridge I was hiking, pushing 32-degree melted rain at me with enough wind for it to become ice.
On the former, I noticed that the jacket was great and waterproof, until I really started driving it into the snow. Some snuck down the back of the collar. At that point even a top hardshell might've wrinkled but the REI Skyline Ridge definitely took on some water. Still, it kept me warm the whole way down, and somehow kept my iPhone from being destroyed after countless horrible spills, though it was very damp by the time I got back to the car.
On the latter test, it was a Teton January thaw where it rained in the valley and turned to freezing just around the top of Teton Pass. The storm was blowing in so hard from the west that there was actually parking at the top of Teton Pass. And in those conditions, the jacket punched way above its weight. I was getting seriously pelted yet felt amazingly protected, especially for such a comfortable, light jacket. And I was kinda surprised by the fact that the hood's helmet compatible but sure enough it is.
And I gotta say, love the pockets. Pockets for days. Four exterior pockets? A hidden-ish interior breast pocket? Fat interior goggle cargo pocket? Stash pocket on the wrist? I could organize it into my thin gloves and warmers on the hip pockets, car key on my right chest pocket, snack on my left, phone in the interior one, a Gu or something similarly small and delicious on the wrist and the extra cargo net for throwing in the hat and when it gets too hot on the hike.
On that day riding the storm, on the way down, I'd never felt better after such a "character-building" up.
Overall Impression
I love softshells for backcountry exploration and right now the REI Skyline Ridge ($179.99) is my go-to softshell. Amazingly durable and able to handle some hefty conditions considering how soft and comfortable the material is. And for the price? Forget about it. The Skyline Ridge is a jacket you need to have in your jacket quiver for those days when a shell just seems too stiff and a puffy will get destroyed in about 5 seconds. Or for almost every day you venture into the wild. For the price, you literally cannot do better.
Related Articles: