There is something crazy that happens when you put on the Ride Insano Focus Snowboard Boots Even though you put them on your feet, they get inside your head. These bad boys are so responsive that all you have to do is think it, and they are already making it happen. This is no joke. Merely the thought of heel side or toe sidekicks the Insano into gear, as they are an extremely aggressive set of all-mountain destruction devices.
Ride Insano Flex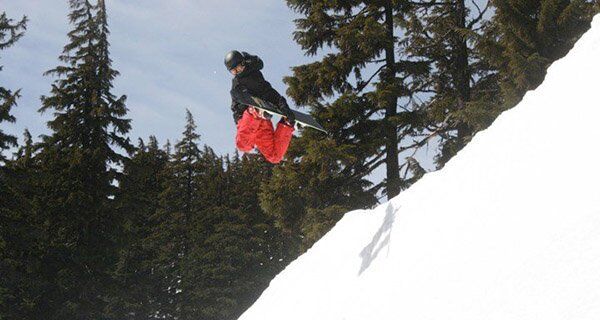 So the Ride Snowboards Insano Focus Boots are rated a 9/10 on the stiffness scale and they read your mind. I'd actually be scared of a 10/10, because those boots might actually control your brain. So I'll stick with the 9 and continue to love it. Anyone who can't help but get aggressive with each run will not be let down by this pair.
We tend to like stiff boots for splitboarding which makes the Ride Insano a goo option when looking for a pair of splitboarding boots. As they offer so much dang support on the way up and down.
Their responsiveness is second to none, their heel hold is utterly supreme, and the way they channel power from your feet to your board is impeccable. The IN2GRATED Construction cuts down on boot length and weight so you have a super agile pair of foot huggers tethered to your toes at all times that allow you to straight-up dissect technical lines with authority. The Insano oozes power.
Dual BOA
One of the best things about the Ride Insano Focus is the spotlight they shed on fit. This isn't your ordinary pair of BOA boots with a single dial that is supposed to figure it all out but inevitably fails in one zone. No, the Insano rocks a dual set of BOA dials for its speed lacing system. One of the dials takes care of business around the foot and ankle while the other battens the hatches around your lower leg.
You can spin either dial as much or as little as you like to zoom in on that perfect fit. Sure, you've got to tighten them back up every few runs, at least while you break them in, but that takes all of three seconds. And what about that Thermo-Formable interior? It's well worth the quick bit of time to get those bad boys perfectly tuned in to your own feet for a custom fit that refuses to quit.
For me, the coziness of a boot all starts with the liner. And the Intuition Dream Liner sets the tone for a comfortable experience that your feet won't stop chatting about. The multi-density foam creates a luxurious environment, but the skeletal structure is super-supportive to facilitate a very lively feel.
I can't talk about the comfort of the Ride Insano Focus without mentioning the Impacto Insole with TPU Heel Cradle. This oh-so-cushy footbed takes those landings that would otherwise feel like stomping on concrete and replaces them with a dump truck load of pillows that coddle your feet.
Overall Impression
If you want to mess around in the park or get your jib on, look elsewhere. The Ride Insano Focus Snowboard Boots are not for the faint of heart. These beastly mountain kicks have been engineered to rip apart hairy lines and mangle technical terrain by knowing what move you need to make even before you do.
There have been several times that I normally would have gone down, but the Ride Insano Boots ($429.95) refused to let that happen. There will be no washing out on their watch. But there will be all kinds of intense performance saturating your feet.
Related Articles: