The Riversmith River Quiver 4 Banger is sick! Based out of Boulder, Colorado the first thing I noticed was how nice and informative everyone was working at their store. The staff gave me a quick tour and answered some basic questions I had about installation. Then we chatted about fishing (who would have thought) they offer really great customer service.
Assembling & Mountain
I should have saved the questions about installation on the Riversmith River Quiver because when I got home and unboxed it, it only took about 10 minutes to put together by myself. Riversmith's really stream lined the assembly and made it very straight forward.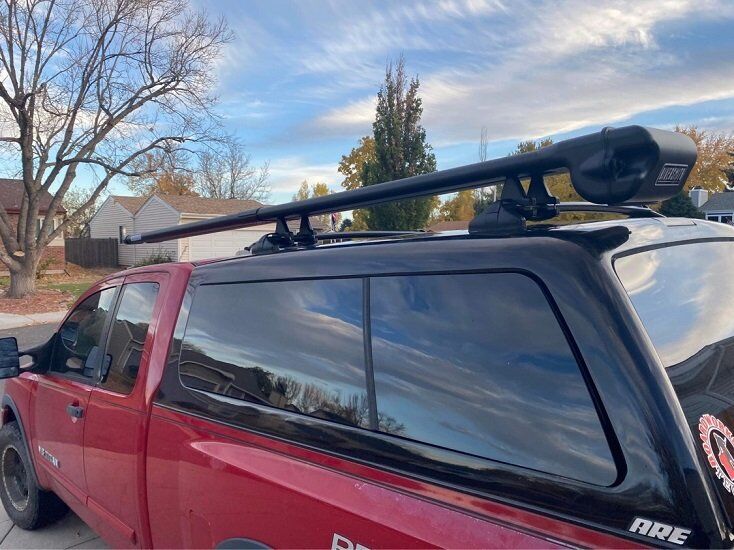 I do suggest using two people to mount it to the vehicle as it was just a bit awkward for one person, but I am notorious for working hard, not smart.
Size
The Four banger which, you guessed it, holds four rods and reels, is a great resource for someone who has that rod quiver building up in the back of your car, or for a fishing guide. The standard size measures in at 10'4. They also have and extended option (11'4) for those using rods a bit longer.
Riversmith also makes a 2 Banger, in the standard and extended lengths for those feeling a bit overpowered by the four. Plus they allow you to choose between a classic silver, black or the new sage green color way to get a good match with your rig.
Unfortunately with the Riversmith River Quiver Rod Carrier there isn't an option for you switch rod/Spey fisherman, using those 12-14 ft rods, they can keep their home in the back of the car. But keep in mind there isn't one company that makes a 14ft Rod rack because, well, it's ridiculous.  I rock a couple of 10 ft and 9 ft rods myself, so the majority of us that are using the 9 /10 ft rods, you're going to be just fine.
Storage
As far as accessories the Riversmith 4 Banger has foam inserts that you can use to pad your reel case, which I opted to do.  This really helps when you're on those 4×4 trails,  so you don't just have your reels clanking around getting scuffed and scratched.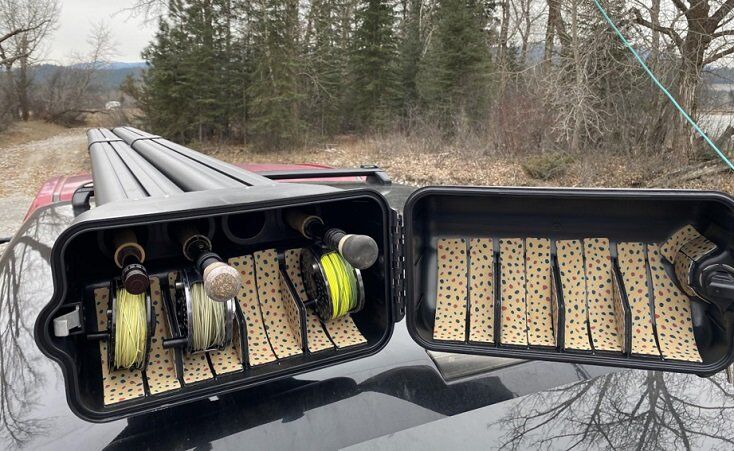 The reel box roof rack is durable built with nice solid plastic and for security it features Riversmith's Mount Lock to stop any of those river rats out there. I really like how the door opens to the side, I'm a tall guy but some other tubes open up and it was difficult to get it down sometimes. The sideways door eliminates that.
The reel box also has a stopper, that when you open past a certain it won't swing shut on your fingers which was a small inconvenience. It's great not having to finagle with a reel box that keeps closing on you when you try and pull your rods from the tube.
I also noticed that when pulling a fly fishing rod and reel out that it's totally smooth, there's no gripping or anything catching like other rod carriers can be notorious for. With other companies, where you connect the two pieces when building it, there was a little bit of a gap, and it would catch the guides of the rod, which could definitely make a rough start to any day on the water. It was nerve-racking. The Riversmith River Quiver doesn't have that, it's seamless and that in itself is worth every penny.
Overall Impression
I've been driving around the entire western United States and western Canada for about a month now and I have not had any issues with the Riversmith 4 Banger. I even drove through Wyoming in a high wind advisory and had no excess draft or pulling which was nice having a low profile roof rack atop my truck.
The people at Riversmith saw issues with other rod vaults and made a better one, in the Riversmith 4 Banger ($719.99) it's that simple. The prices are very competitive, but I believe that you get the best premium rooftop fly rod with Riversmith. Not to mention the limited lifetime warranty.
Tight lines and I'll see you out on the water!
Related Articles: