Before reviewing the Saga Empress 3L Bib Pants, I wanted to try them on and get a feel for them before I really put them to the test. For being 5'3" and 110lbs, I have had my share of experiences where I haven't felt comfortable in what I'm wearing. My length is all in my waist so finding clothing to fit the way it should is a little challenging.
Saga Empress 3L Bibs Review
For sizing, I decided to try the Saga Empress 3L Bibs in a Small with a Traditional fit. With a zipper on either side of the pants, it was super easy to slip on; I didn't feel like I was trying to squeeze into anything. Right away, I started assessing all the goods the pants had to offer. I always find it frustrating when you've tried on an awesome pair of pants, but then they lack in pockets.  We all want to bump our tunes, but that can't be done if we feel that our gadgets and other personal items aren't safe. The Saga Empress bib does not disappoint. It has plenty of pockets on the inside and out and in all the right places. I love the sleek, steezy design of the bibs. From just trying to get a feel for them in the house, I didn't have on a ton of layers underneath so the moment of truth would be when I put on more layers, because of the warmth level of the shell.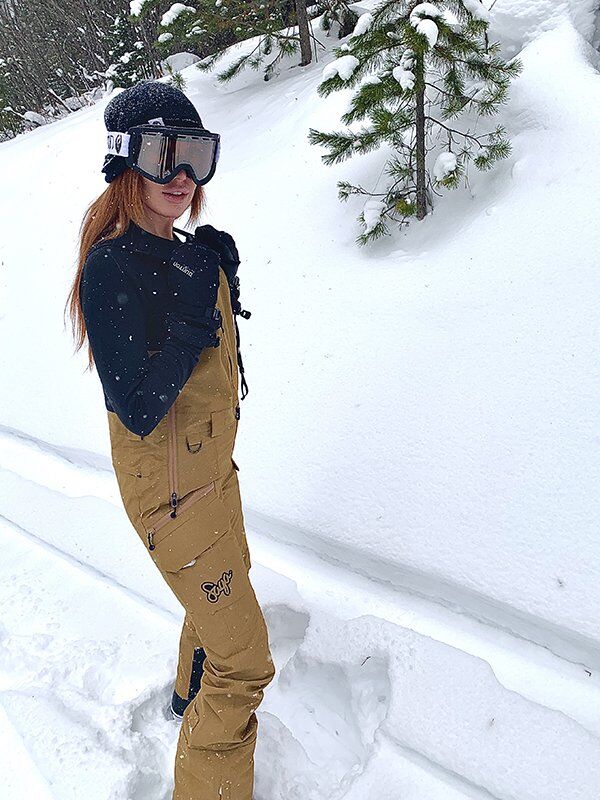 That moment came when I put on my extra layers and then the bib. It had a snug fit but not too tight. Time for the true test!  Not only did I grab my board, but the inner child in me wanted to grab my sled as well. Everyone seems to do a review based on how they snowboard in bibs, but what about sledding? I sought out the biggest hill and started the climb. I was curious to see if they would be uncomfortable on the way up. Not at all! They felt great! It started dumping snow and immediately I noticed not one snowflake was sticking nor penetrating; my pants were completely dry.  I was being protected by 20K WP/BR technology. Thinking that I had gone where no "woman" had gone before, I quickly retracted that thought after seeing a 3-year-old pull out his sled right next to me. I decided to see how much mobility and flexibility I would have in the pants. Both checked out; mobility and flexibility were on point. I was able to sled and crash in comfort.
Try combining these bibs with the Saga Empress Jacket.
Overall Impression
The Saga Empress 3L Bib Pants ($299.99) exceeded expectations, great fit, good range of mobility and flexibility. Bibs kept me warm and dry, a huge factor when I'm choosing pants. With these bibs, I feel Ready for Exploration.
Saga Empress 3L Womens Bibs