Perhaps you own a Subaru or another hatchback-style SUV and have been looking for a tilting bike rack? If so this Saris Bike Rack is for you. With an easy to operate interface and even easier setup out of the box, the new Saris SuperClamp EX 2 Bike Rack is worth checking out.
Saris SuperClamp 2 Weight
First and foremost when you begin to set up the Saris SuperClamp 2 be mindful of the weight of the rack, 35lb. Especially when first moving it around in the box.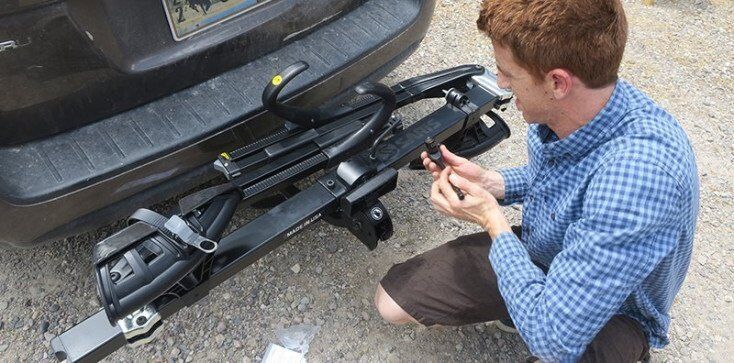 Once out of the box, the SuperClamp from start to finish took me less than 20 minutes to assemble with only a couple additional tools needed. (An adjustable wrench able to handle 19mm and 17mm). This can be assembled solo or with a second set of hands.
The Saris SuperClamp EX 2-Bike Rack works with both common trailer hitch receiver sizes a 2″ and 1.25″ diameter.
The rack can be left on your vehicle for extended periods of time or simply taken off and stored when not in use. Again be mindful of the weight of the rack as you'll most likely be bending down (ideally Kneeling) to take it off the hitch. And for added safety, if you plan to leave the rack on, Saris included a set of keys and lock to secure the SuperClamp in place.
Oh and don't forget about the reflective wheel trays if leaving your bike on overnight. A nice touch for driving on empty mountain roads or even in the city.
Saris made following the instruction manual simple, so simple in fact at times it felt as if steps had been skipped.
Saris Bike Rack Sizing
Regardless of what size bike you have this rack can *most likely accommodate. From beach cruisers with extra-long wheelbases to mountain bikes with big frames, road bikes, and everything in between. Why? Saris has a ton of adjustment options available on this tilting bike rack. From top to bottom, side to side, and even at diagonal angles.
The adjustable arms on the rack are operated by simply pressing down on a plastic button. This allows the rack and wheel hooks to slide to whatever given length or width are needed. One thing I did have issues with was the buttons sticking a little bit. Most likely this is due to the rack being new. Although with a little added force the buttons closed and the rack operated as was intended.
Each side of this Saris Bike Rack is adjustable as well, so if you have different sizes of bikes you can still transport them together. When it comes to securing the wheels in place the Saris SuperClamp uses a snowboard style buckle that will be familiar to lots of folks on the bottom and stout wheel hooks at the top of the tire.
If you're not familiar with snowboard buckles, it's extremely easy to operate ratchet and buckle system and a nice additional way to secure your bikes.
Another cool feature is when not using the rack, the arms fold flat and the entire rack is able to tilt forward saving space behind your vehicle. This would be ideal for someone with a tight garage or attempting to parallel park with the rack on.
Overall Impression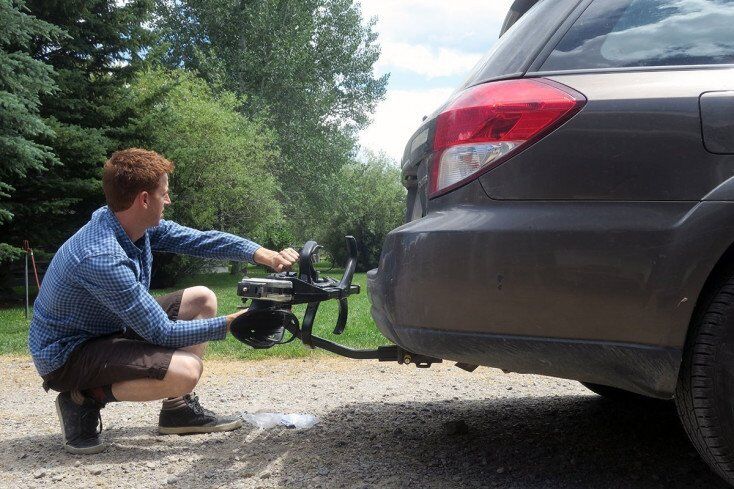 I was able to put the Saris SuperClamp EX-2 on my Subaru Outback and full-size Ford Bronco which was one of the reasons for choosing this particular rack. Best of all when not on one of the vehicles the rack hardly takes up any floor space as it folds down nice and compact.
The Saris SuperClamp 2 ($579.99) has the ability to hold bikes with 20″-29″ wheels; up to 4″ tires and 50″ wheelbase. So yeah, they most likely have got you and your bike covered with this rack.
Related Articles: