Back in the fall of 1993 / winter 1994 Vans slid into snow sports with a bang by bringing 25 years of experience in the footwear world to snowboarding. From day 1 Vans, has always been an industry leader when it came to making progressive snowboard boots that have been a favorite among pro riders and die hard shredders.
The company cares so much about the Vans product they actually paused making boots for the 2014/2015 season as they were unable to stand behind the quality of their product as manufacturing facilities changed, so instead of putting out sub par boots Vans told everyone to wait it out for a year.
Fast forward to 2016/2017 and beyond and Vans is back at the top of the snowboard boot world (although not sure they ever gave up the top spot..) We picked two of our favorite boots in the Vans line to compare, the Men's Hi-Standard and Men's V-66 snowboard boots.
Hi-Standard vs Vans V-66 Similarities

One thing that you may notice about both the Vans Hi-Standard and Vans V-66 boots is the use of traditional lacing. Call us old fashioned but nothing really compares to the feeling of putting on a pair of snowboard boots, pulling up on the laces and tying a big old knot or perhaps a double knot. Once the boots have been laced up peace of mind happens quickly as you know these boots won't loosen until you undo the knots at the end of the day. Along with the outer laces both boots feature an internal web harness quick pull system that really helps to pull your feet and heels down into the liner for a super dialed in fit.
Comfort is king! When it comes to trying on a brand new pair of snowboard boots, both the V-66 and Hi-Standard from Vans offer a perfect comfy no-need to break in fit. In the 10+ years I have been reviewing gear no other boot brand can even come close to the feeling of Vans boots fresh out of the box. Interestingly enough both boots come with Vans heat-moldable liners although I never even felt the need to get these custom fitted, maybe they would fit even better with some time spent at a local snowboard shop using the heat molders? However when something isn't broken I try my best not to mess around, both these boots fit perfectly..
Waffles seem to be popular in the snow sports world these days, and Vans has perfected the Waffle Outsole on both the V-66 and Hi-Standard boots. The Waffle Outsoles on these boots offer a ton of traction for walking around icy parking lots, or going up steep boot packs etc.. But what makes these a must have is the amount of vibration dampening these boots offer, meaning if you are riding over super chundery snow, your feet will actually be more stoked than in the past. Like to ride the park and stomp hard landings, well your feet will thank you for the Waffles too.
Hi-Standard vs Vans V-66 Difference
Honestly what sets these boots apart comes down to how you plan to use them. As both the Vans V-66 and Hi-Standard boots offer a very comfortable, surfy and responsive feeling under foot. For park riders the Hi-Standard is a solid bet. Hence being the best selling Vans snowboard boot of all times. The Hi-Standard boot is going to be softer than the V-66, however Vans does not publicize flex rating on the boots. I would say out of a scale of 1-10 with 10 being the stiffest, the Hi-Standard is a 4 out of 10 in terms of flex. Great for tweaking out airs, especially nice for driving in your boots and you may find yourself lounging around in these well after your day on the mountain is done.
The V-66 on the other hand offers a little bit more support bringing the flex rating up to a 6 out of 10 in my book. When it comes to long days splitboarding I prefer the V-66 Boot. However even with the stiffer rating there are other boots in the Vans line that would actually work better for splitboarding, especially if you like to use BOA.
If you're the type of person that cares what your shoes or boots for that matter look like well your in luck. The V-66 are available in Jamie Lynn's signature colorway that's chock full of his rad PNW artwork. Other color ways are also available including the Black Brush that will actually change colors (on purpose) throughout the life of the boot, making these super unique.
While the Hi-Standard on the other hand is available in the traditional black and white vans colorway along with a wild Labels colorway.
What Can Be Improved?
Both boots could use some lateral stiffness. Keep in mind I spend 80% or more of my winter splitboarding these days, so the way I use snowboard boots may be different from your needs. I love how soft the boots are torsionally from the top of the calf to the toe which feels very natural and surfy, especially great for jumping off features and landing in deep snow.
What can be improved would be some stability in the heals. (I actually have taken gorilla tape to the liners to "stiffen" these up a bit and it worked wonders. Hopefully in the future Vans sees a need for a soft boot with lateral stiffness?? As splitboarding continues to grow this may or may not happen as a lot of people are switching over to hard boots (think skiing) or rocking very stiff boots like the Vans Infuse ($359 Backcountry.com) which would be perfect for my needs aside from the use of the BOA system.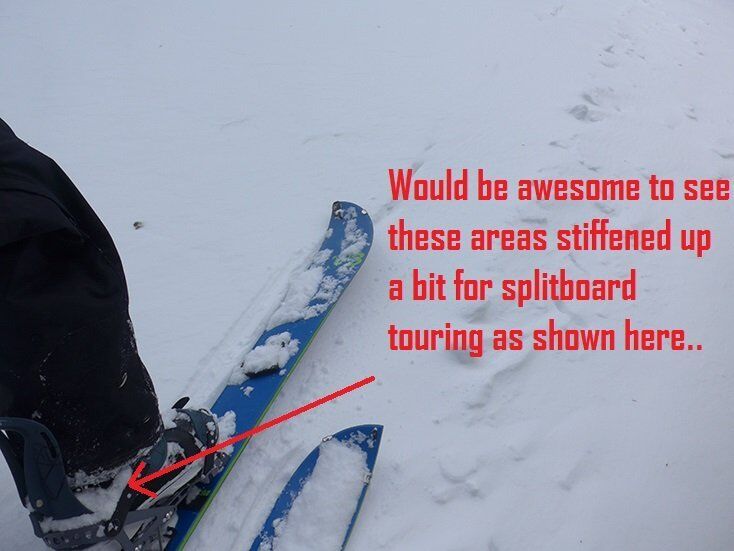 Overall Impression
I can safely say that anyone reading this boot comparison would enjoy either of these offerings from Vans. The fit and performance fresh out of the box will be impossible to beat. For park riders and people that spend a few days on the hill each season checkout the affordable Hi-Standard boot ($179.95 Backcountry.com).
For those of you that might live in a mountain town and spend more time throughout the year rocking snowboard boots the V-66 is a great option ($229.99 Backcountry.com)