If you're on the hunt for a stylish, versatile, and budget-friendly gravel bike, the State Bicycle Co. All-Road 6061 Black Label is a perfect match.
About State Bicycle Co.
State Bicycle Co. gained early recognition for its fixed-gear bikes and urban cycling culture, later expanding into a wide range of bicycles, from single-speed commuters to versatile gravel bikes like the All-Road 6061 Black Label. Their mission to create high-quality, affordable bicycles that cater to the diverse needs of riders around the world shows up in every aspect of the 6061 Black Label, combining innovating, style, and affordability in one fun-to-ride bike.
Versatile Bike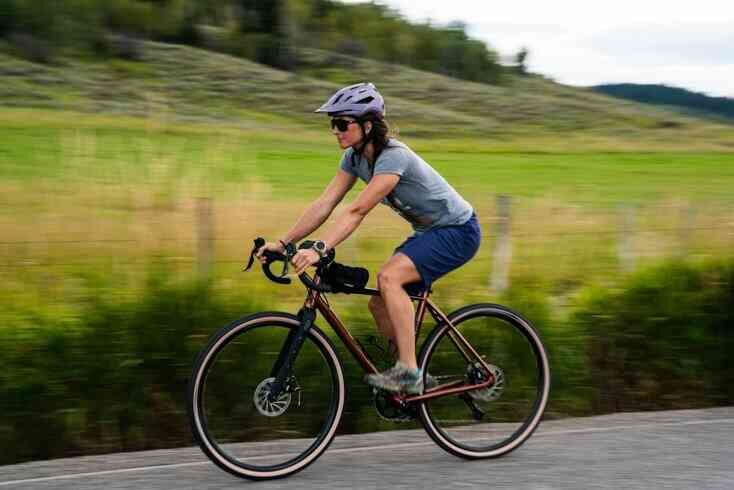 The first thing you'll notice is 6061 All Road bike's killer design. I snagged the copper brown frame that has garnered comments even from the young bike techs that built it out. I appreciate the subtle branding for a no-frills vibe and the internal cables keep everything tucked inside the frame, protecting them from dirt and wear while also keeping it sleek.
The versatility of the All Road 6061 is its defining trait. It feels equally capable moving between smooth city streets, rugged gravel trails, or even some lighter single track. The drop-bar handlebar allows for multiple riding positions and easy shifting regardless of which position you're in. At the heart of this adaptability lies the 6061 aluminum frame, which strikes the perfect balance between lightweight construction and robust durability.
Sizes
XS: Rider Height Recommendation of 5'3" – 5'7"
S: Rider Height Recommendation of 5'6" – 5'10"
M: Rider Height Recommendation of 5'9" – 6'1"
L: Rider Height Recommendation of 6'0" – 6'3"
Gravel-Ready
The State Bicycle Co. All Road 6061 isn't just versatile, it's purpose-built for gravel adventures. I was a bit skeptical about the 1×11 DriveTrain, wondering if the range of gears would truly respond to rolling terrain, and I was pleasantly surprised. The 1×11 was plenty to allow me to confidently ascend steep inclines and power down descents.
The State Bicycle Co. Hydro-Mechanical Calipers (Cable Actuated Hydraulic) brakes with 160MM Rotors deliver consistent and reliable stopping power, even in challenging wet conditions. The brake/shift lever uses a DoubleTap system, with the right brake lever swinging inward for both upshifting and downshifting (push half way to upshift and push all the way to downshift). The chain shifting was noticeably smooth even under pretty heavy tension.
One area I'm still troubleshooting is the brakes. Out of the shop, the brakes felt sticky and required a full hand to compress and, even then, they weren't very responsive. More than once I felt like I was about to blow through an intersection while laying hard on the brakes. I tried to adjust and lube them but haven't had much luck. I'm hoping they'll work themselves out after getting worn in a bit more, but for now I'm taking it easy.
Wheel Set Options
700c: Tubeless Capable with Vittoria Terreno Zero Tires (38c)
650b: Tubeless Capable with Vittoria Terreno Dry Tires (47c)
I opted for both, which State Bicycle Co. ships both sets with tubes, cassette, and rotors so you can switch back and forth between wheels quickly and easily. I also asked the bike shop to convert the tires to tubeless during the build, which was just $60 and makes my life easier in the long run. The 700c wheels are smooth and responsive, offering faster acceleration and can hold speed making it pretty easy to keep up with friends who were on road bikes during road rides. The 650b wheels feel much more maneuverable on trails and have a bit more give over rough terrain with their larger tire volume.
State Bicycle Co. doesn't include pedals but you can add one of 6 options ranging from $20 – $60 when customizing your build before you purchase. The State Bicycle Co. All Road Clipless Combo Pedal ($59.99) lets me transition between my bike being a daily commuter to my adventure bike. Speaking of customizing, State Bicycle Co. has a 10 ways to customize your bike including frame size, wheel size (buy both for an additional $395), groupset, fork (upgrade to a Moster carbon form with three mounting points for $180), pedals, saddle, bottle cages, lock, handlebar bag, and the option for a tubeless kit.
The one element I'm not impressed with is the saddle. I ordered the Novus Boost Evo Superflow and the fit and feel just doesn't work for me. It will probably be the only part of this bike I change out.
Pros
Affordable pricing with many customizable options
Aluminum frame and carbon fork create a rugged but light kit
Versatility supporting two wheel sets
Two bottle mounts and fender mounts
Overall look and sleek design
Cons
Handlebars are a bit narrow, which could be a problem for people will larger builds
Brakes lack responsiveness and are difficult to fully compress
Saddle
Overall Impression
Now, here's the sweet part – the price. The State Bicycle Co. Black Label All Road offers a fantastic blend of performance and features without emptying your wallet. Much of this price savings comes from State Bicycle Co. manufacturing their own parts, so you won't find many name brand components. With a base price of $1,399, State Bicycle Co. 6061 Black Label Bike great choice whether you're a seasoned gravel guru or a newbie looking to venture into the world of off-road riding without a major financial commitment.
Related Articles: