Patagonia's mission to "save our home planet" isn't only their new phrase; it's woven into how they produce their products. Their Women's Strider Pro Shorts – 3 ½ length – are made up of 90% recycled plastic, Fair Trade Certified Sewn, and made to support your most technical adventures.
Material
I'm ecstatic with the Strider Pro Shorts seamless-like material that makes up the body of these shorts. Aside from the material being extremely comfortable on the skin, the freedom in movement that they allow helps them stand apart from other running shorts I've worn in the past. The fabric is super lightweight, stretchy, and dries quickly if you need to give them a hippy-wash while on the road, or if you get caught in the rain. The bonded seams allow you to stride without feeling restricted in movement, while maintaining durability.
Having only owned the regular Strider shorts in the past, I found myself noticing the seams at the bottom of the shorts rolling up my thigh at the bottom and the fabric scrunching up in the front. If you're in the market for technical shorts that give your legs full range of motion without, I highly recommend going with the Strider Pro's over the regular Striders.
Features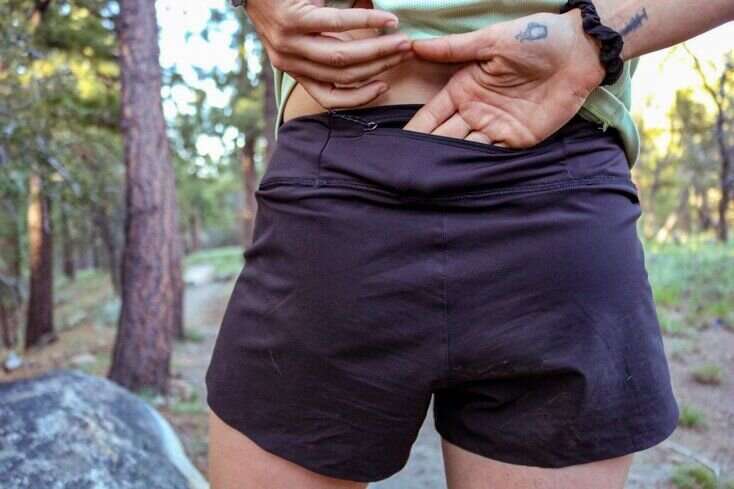 These shorts include 3 total pockets. One zipper pocket on the back of the waistband gives you peace of mind as you zoom up and down trails, securing your phone, snacks, or keys. The other two pockets are semi-secured and located on both sides of the waistband. These smaller pockets are great for gummies or gel packs, keys, or other small items you may need.
My favorite feature of all is the built-in liner. The seams are placed on the outside of the liner to avoid chafing, MiDori™ BioSoft for added comfort and moisture control. and HeiQ™ (Swiss Technology) that contains a biocide* to control odors. Lastly, they incorporate a drawstring in the front to adjust the waist band, a dry-hanging loop in the back, and the Patagonia logo is reflective for when you're on late night adventures.
Compare Prices
Last updated: 2023-10-02 22:49:16
Length
Personally, I'm a fan of shorter running shorts that come at the 3 ½ length. The less material I have to "carry" in weight, the better. This length also includes a functional mid-rise waistband, adaptable to a wider range of body types. These shorts are slightly longer in the back with the side seams being placed closer to the front on the shorts, creating a flattering fit compared to the regular Strider Shorts.
Overall Impression
The Patagonia Strider Pro Shorts ($79.00) were made to go wherever life takes you, whether that's a quick grocery store run, or a long, single-track trail run. The Strider Pro Shorts – 3 ½ are highly worth it for every level of runner and explorer out there.
Related Articles: