Based on looks alone it would be hard to pick the Teva Arrowood Riva Mid WP out from a lineup of every other full-leather hiking boot out there. Sure, the toe box is a little bit wider than average, but not so wide that you'd notice it right away. The looks, the tech it comes packaged with, it's all kind of formulaic.
eVent vs GORE-TEX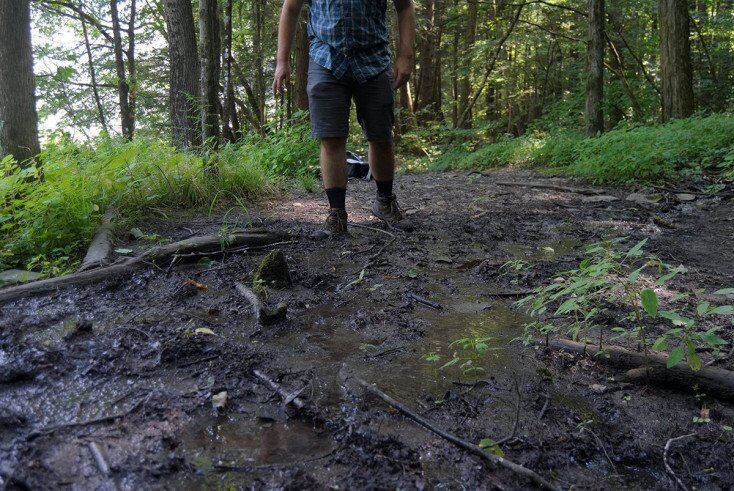 The Teva Arrowood Riva Mid WP boots come with a Vibram outsole that  delivers traction and stability just like you'd expect, shedding dirt and mud surprisingly well too. We've only put a double-digit amount of miles into them, so it's hard to know with any certainty how long they will last. With that said, it's essentially the same as any other Vibram outsole, so there's no reason to expect it to wear any differently than almost any other boot.
The waterproofing on the Teva Arrowood Riva is provided by eVent, a GORE-TEX competitor that claims to provide the same water and wind protection while maintaining a much more comfortable interior environment. The first of those claims, waterproofing, is easiest to test and the Arrowood Riva passed with flying colors. Ankle deep in a stream on a recent hike, the eVent waterproofing (and a gusseted tongue) kept me perfectly dry.
Breathability
The second claim is a little more abstract. I will say that the Arrowood Rivas felt comfortably cool on a recent August hike in the Adirondacks. Cooler than my GORE-TEX Vasque St. Elias boots by a significant margin. Though it's tough to know how much to attribute that to eVent's claims of superior breathability, or the fact that the Arrowood Riva is a much, much lighter boot.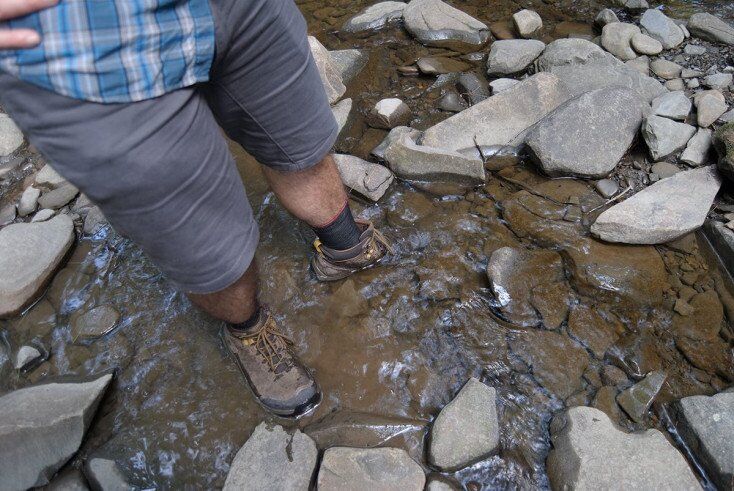 Yes, these are full-grain leather hiking boots. But they're Tevas first. The same company that makes your favorite river guide's favorite sandal is making hiking boots. And you can tell. The wide toe box is the only indicator from the outside, but once you put them on and walk around for a bit the full meaning of that heritage becomes apparent. They're light, they comfortable, and there was essentially no break-in period. While plenty supportive for day hikes and spending a lot of time on your feet, you retain a lot of range of motion and flexibility while wearing these boots, making them perfect for scrambling or just driving to the trailhead. The Float-Lite EVA midsole could do with a bit more arch support, but that's a problem I have with most footwear and hardly the Arrowood Riva's fault.
Overall Impression
All told that makes these boots a very compelling choice. They're unbelievably comfortable right out of the box, and they feature the right tech letting you focus on your surroundings and not your footing. If they have a shortcoming, it's that they're not superlatively supportive. This isn't truly a flaw, so much as the Arrowood Rivas, like every other hiking boot, makes compromises by not doing some things particularly well (support, protection) to be better at some things (comfort, lightness). So long as you're not planning on doing heavy backpacking, or particularly prone to ankle injuries, the Teva Arrowood Riva Mid WP Boots($170) should be ready to take you down any trail.
Related Articles: