I wanted to give some feedback on just how this Orvis Safe Passage Carry It All Bag performed. On Thursday nights after work, I like to gather my fishing equipment together so when five o'clock on Friday hits, I can bolt straight from the office to a nearby stream in search of an evening hatch.
My weekend kit is typically built up from a few different bags and bins that I keep my equipment stored in. I grab the waders from a laundry basket in the garage, fly boxes from a little stuff sack, sleeping bag from a storage bin, rod cases from the mantle (appropriately), reels from the top dresser drawer, etc. You get the gist of it… I'm slightly an unorganized neat freak.
Orvis Safe Passage Rod Case Capactiy
All this stuff, along with snacks, water, flask, boots, camping stove, etc. gets thrown into big duffle that I keep in the back of my wagon. Then finally, as I'm driving away I realize I've left my tools lanyard hanging on the hook behind the door… and that I need a better way to keep all my stuff together!
Enter the Orvis Safe Passage Carry It All Rod Case Fishing Bag. Designed to meet the needs of a traveling angler, the Safe Passage is actually designed to be a fishing gear carry on bag for air travel.
Designed by Orvis CEO, Perk Perkins (who I assume travels and fishes often as a part of his job), wanted a bag that is rugged enough to be checked, waterproof, easy to sling over your shoulder, large enough to carry all essential fishing gear, and durable enough to protect your (dare I say nicest Orvis rod) Orvis Helios 2.
The Safe Passage is designed with a large padded upper compartment for rods and a large padded lower zippered compartment for reels, etc., and three mesh zippered pockets for fly boxes, snacks, and other smaller miscellaneous items. The bag also comes with padded Velcro dividers to keep items like reels, line, and fly boxes from sliding around in travel. However, when packing this much stuff the dividers were not necessary.
Technically, you wouldn't use this bag for your daily fishing bag, but I just wanted to show you how much it can actually hold. So, when space is limited, and you're heading to Newfoundland on a bush plane to go salmon fishing, you know you can trust the Orvis Safe Passage($178.95) to carry all your gear.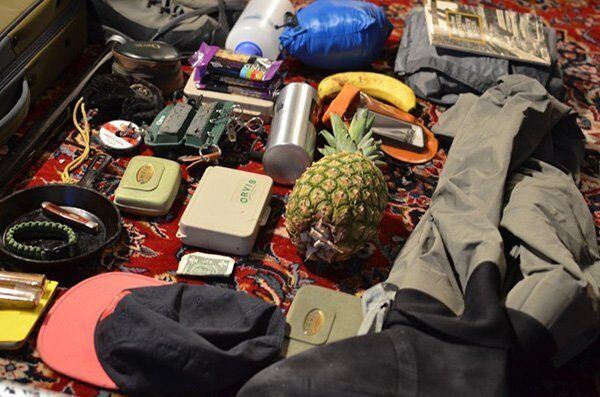 What's Inside my Pack?
Fly Fishing Waders, wading boots, One Orvis Battenkill reel with a green nymph line, one Winston Perfect reel with a grey dry fly line, one Orvis Helios 2 5wt., two cigars, one Zippo lighter, one Tenkara rod, a journal, a book of Robert Frost poetry, 5 fly boxes, snack bars, two water bottles, sun cap, waterproof electronics pouch, an Eddie Bauer reversible pullover, a rain jacket, Orvis tools lanyard, lil' cast iron pan, my lucky dollar, pocket knife, parachute cord, and a useless but delicious pineapple!
Packing Tips
• Stuff as much as you can into your wading boots including reels and fly boxes.
• Store cigars in the top or your rod case.
• Eat the banana before packing it…or else.
• You don't NEED a pineapple.
• Don't "carry on" a pocket knife…CSA won't allow it!
Technical Specs
• Medium: 31″ x 5½" x 8¾", to 9′ 4-piece rod.
• Large: 36¾" x 5½" x 8¾", up to 11′ 4-piece rod.
• Weight: medium 5 lb. 12 oz.,
• Weight: large 6 lb. 8 oz. Nylon.
What's the bottom line here, pineapples aside the Orvis Safe Passage Carry ($178) It All can hold just about everything you will need for your next river trip.
Related Articles: