If you're getting ready to hit the trails to bike or hike, then it's critical to wear clothing that breathes, protects you from the sun, and keeps you cool. The Fjallraven Specialized Shirt does all of these things and more.
Thanks to the blend of 50% merino wool and 50% recycled polyester, you'll enjoy the temperature-regulating nature of wool along with the moisture-wicking that polyester fabric provides. With a longer back panel and near elbow-length sleeves, you'll be able to move freely while enjoying more sun protection. Finally, a secret zippered compartment provides space for credit cards, keys, or cash, keeping you hands-free on the trail.
Price: $80.00

For those who love to hike when it's hot out, cooling gear is essential. That's where cooling fabrics like the Fioboc Cooling Short Sleeve shirt come into play. This shirt is made of premium moisture-wicking material, so you'll stay cool your entire hike. And with built-in UPF protection, you can rest easy knowing that the sun's intense rays won't easily penetrate this shirt.
This shirt looks stylish and can easily be worn on and off the trail. It's machine washable, quick drying, and wrinkle resistant. Pack it on vacation, wear it to the gym, or go from hanging out with friends to the coffee shop in this all-purpose cooling shirt.
Price: $42.00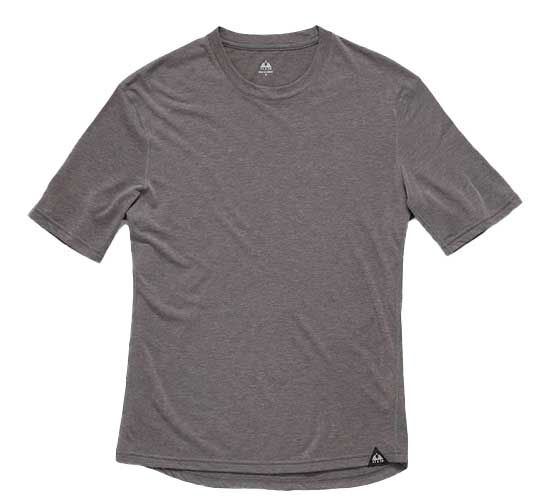 If you like to ride in style, then you won't want to pass up this made-for-bikers lightweight shirt. The PNW Ozone Jersey been tailored specifically for bike riders with a longer back and longer than usual sleeves. The blend of wool and polyester will help you stay cool and dry during your entire time out on the trail. The fabric is also soft, incredibly breathable, quick-drying, contains antibacterial properties, and has the stamp of approval from bluesign.
Price: $49.00
The Rab Mantle Tee is an all-purpose lightweight shirt with a casual fit and casual style that you can wear from the store to the gym. Crafted with stay-fresh technology, this shirt provides top-of-the-line odor control and antibacterial treatment that keeps you feeling and smelling fresh all day long.
This shirt is ideal for multi-day hikes and high-energy adventures that call for moisture-wicking, lightweight, and fast-drying material.
Price: $44.95

The River Runner Hoodie is the perfect piece of gear to wear when you're out on a long hike, packing trip, or another hot-weather adventure. The long sleeves and attached hood provide powerful, lightweight sun protection you can't go without.
Not only does it keep the sun off your skin, but it keeps the sweat off, too, thanks to the natural moisture-wicking properties of merino wool. The relaxed fit of this hoodie provides you with plenty of room to move and maneuver whether you're fishing, hiking, biking, climbing, or camping.
When you're ready to give it a wash, toss it in the machine with your other similar-colored clothing, then hang to dry. It can't get much better than that.
Price: $129.99
Are you looking for a shirt that stands out – both for its style and for its features? Then look no further than the Thrillium long sleeve bike jersey. This shirt is constructed of 100% recycled polyester with a four-way stretch for complete range of motion whether you're at the park or on the trails. The two-inch drop in the back keeps your back protected and prevents the shirt from riding up during your ride. Anti-microbial properties add to the benefits of this shirt by preventing odor, and UPF 20+ give you a good dose of sun protection while you're on a ride.
Price: $89.95
This isn't called the ultimate tee for nothing. It's the all-in-one shirt you can start your day in while running errands, hit the gym with mid-day, or end the day when joining friends for a drink. It's made of 100% proprietary polyester that's designed to keep you moisture-free, dry, comfortable, and odor-free. The comfort fit is perfect for the gym or non-workout casual settings. Finally, it's so lightweight and breathable you might never want to take it off.
Price: $39.50

When hiking in exposed terrain, sun protection is an absolute must. And we're not just talking about sunscreen. Layers are critical to keep the sun off your skin and protect you from harmful rays. Though this top is long-sleeved with a hood, it is intended to be worn during hot weather activities.
Merino wool provides naturally odor-resistant, lightweight, and moisture-wicking properties to protect you from the sun without overheating. Flatlock seams, stretch fabric, and the hardware-free design delivers a shirt that you'll want to pack in on long trips, wear on day hikes, and never be without while you explore the backcountry.
Price: $84.97