There are several items every driver should have in their car at all times. A spare tire, a first-aid kit, and the TOPDON JS3000 Jump Starter. This versatile device is an easy way to jump-start your vehicle and get you back on the road or trail.
No more waiting for someone else to show up and help you get your engine running again! The TOPDON JS3000 gives you the convenience of jump-starting your ride without the hassle of finding a friend with jumper cables.
With its powerful 24,000mAh lithium-ion battery and charging ports, this jump starter can also be used to power up your smartphone and other electronic devices when you're on the go. So if your phone is running low on juice and you don't have access to a wall charger, you can count on the TOPDON JS3000 Jump Starter to be there for you.
There's a lot more to talk about, so let's jump into the features and specs of this incredible device and discuss why it's a must-have for any driver.
About TOPDON
TOPDON USA is a leading manufacturer of automotive electronics, offering innovative solutions for car owners and professionals alike.
Their products are designed to be reliable and user-friendly, providing an easy-to-use solution for any situation. TOPDON's mission is to provide high-quality products that give their customers peace of mind when using their products.
They are dedicated to providing the best customer service possible and making sure that their customers' needs are met in a timely manner.
TOPDON's been around since 2017, so the company has plenty of experience with creating and marketing their products. With the TOPDON JS3000 Jump Starter, they have created a device that is both powerful and reliable, making it an essential tool for anyone who owns or drives a 12V battery vehicle.
So if you are in need of a jump starter or power source, TOPDON's got you covered. But let's dive deeper into this device and why it's such an important tool.
What Is It?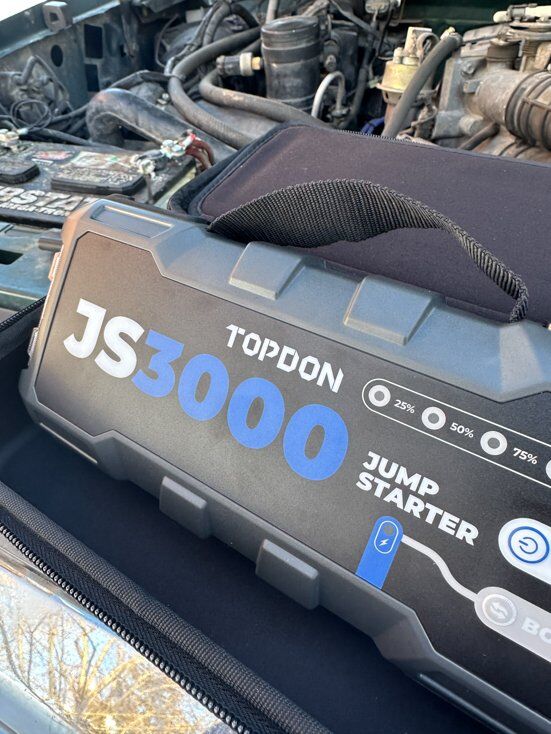 This TOPDON Jump Starter is a powerful and reliable device that can be used to jump-start 12V battery vehicles with gas engines up to 9L or diesel engines up to 7L. It features an ultra-thin design, making it easy to store in any vehicle.
This is one factor I want to focus on for a bit, as its compactness is very helpful in a pinch. I was able to easily pack it into a small bag and take it with me on road trips, hikes, or camping.
It's akin to holding a football but slightly thinner in size. It does have some weight to it, clocking in at around 5 pounds. That's not a big deal at all, and the heft is to be expected, given the battery size.
The TOPDON JS3000 Jump Starter also features multiple safety features that help protect both me and my vehicle from any potential damage. These include:
Reverse Polarity Protection: This feature works by detecting if the polarity of the clamps is reversed and not allowing a jump start until it is corrected. And by doing so, it helps to ensure that your vehicle will get jump-started safely.
Short-circuit Protection: In the event of a short-circuit, this feature will kick in and protect your vehicle from any damage caused by the short-circuit. If you've ever tried to jump-start a car with the wrong cables, you'll know how important this feature is.
Overcurrent Protection: This feature prevents any short circuits from occurring by monitoring the current flow and limiting it to safe levels. If it detects an unsafe level of current, it will cut off the power automatically to protect your vehicle. This is a huge plus that I think needs to be in every jump starter out there.
Reverse Charge Protection: This feature prevents the jump starter from being charged while in use, protecting it from potential damage.
Overvoltage Protection: Thanks to overvoltage protection, the TOPDON JS3000 Jump Starter will shut off automatically if it detects an overvoltage situation.
Over-temp Protection: If your vehicle happens to get too hot during the jump-start, this feature will shut off the device to protect both your vehicle and the jump starter.
Low-temp Protection: While most of us tend to focus on overheating concerns, it can also be problematic if the temperature of your vehicle gets too low. This feature will protect the device in those cold weather conditions and ensure that it doesn't become damaged due to low temperatures.
As you can see, this device is designed to be as safe and reliable as possible. Not only does it give me peace of mind when using it, but it also helps to preserve my vehicle. That's a win-win in my book.
I'm also quite fond of the large, rugged clamps that come with the TOPDON JS3000 Jump Starter. Most portable chargers come with small, cheap clamps that can be difficult to attach properly and don't provide the same level of reliability.
But with these large clamps, I can ensure a secure connection every time and get an effective start every time.
Who Is It For?
The TOPDON JS3000 Jump Starter is a must-have device for anyone who owns or drives a 12V battery vehicle, no matter if it's gas or diesel. It's an essential tool that will save you time and energy when you need to jump-start your vehicle or provide a power source.
And because it's capable of handling such a wide range of batteries and vehicle types, the JS3000 is ideally suited to a large number of people and their needs.
I like that it can even be used to charge your phone or other electronic devices. That way, if you ever find yourself in an emergency situation, you'll have a power source to rely upon.
With that in mind, I can see this Jump Starter coming in handy for everyone from seasoned adventurers and campers to everyday commuters who just want to make sure their vehicle is always good to go.
But don't think that automobile drivers are the only segment that can benefit from the TOPDON JS3000 Jump Starter. If you have any other 12V battery-powered vehicle, such as an ATV or UTV, you can use this device to easily jump-start them, as well.
Electric scooter riders can also get in on the action since this device can be used to jump-start their scooters. And given that electric scooters are becoming more and more popular, this is a great addition for those who rely on them.
Moreover, many electric scooters have carrying racks attached to the back. This makes the TOPDON JS3000 portable and easy to carry so that you always have it with you in case of an emergency.
Plus, the small, compact, lightweight size ensures that you don't have to worry about your portable jump starter weighing you down while you ride.
I'll talk more about all the nifty features found on the TOPDON JS3000 Jump Starter in the next section. So stay tuned to learn more about why this device is the perfect companion for any vehicle owner.
When Can You Use It?
Because the JS3000 is so versatile, there's really no limit to when you can use it. Whether you're looking to jump-start your vehicle in the middle of the night, charge your phone in the middle of nowhere, or simply want some extra power for a camping trip, this device can do it all.
As I mentioned earlier, this device has a few safety features to ensure that it doesn't overheat or become damaged in any way. This makes it perfect for anyone who wants a dependable jump starter that won't let them down when they need it the most.
I found it to be most helpful on camping ventures. If you're the type who likes to explore with an electric vehicle in tow, such as an electric scooter or ATV, the TOPDON JS3000 is a great way to make sure you have the power you need.
You can confidently leave your campsite to go off on an expedition, knowing that you have a reliable jump starter to rely upon.
If you need a guiding light to assist you during your jump, or you simply need illumination to find your way in the dark, the JS3000's LED flashlight is always there to help. Armed with 400 lumens of brightness, it's sure to light up even the darkest of areas.
I like that TOPDON included three different settings for the flashlight, as well. One is for the super-bright flashlight; another produces a strobe effect, and the last one is an SOS signal to help you signal for help in an emergency.
The flashlight mode is self-explanatory—you use it whenever you need more light or to find your way back to base. The strobe effect is most suitable for scaring away unwanted animals and potential predators, while the SOS mode is ideal if you ever get stuck in a jam and need help.
On a full charge, you can expect to get about 30 hours of run time for the flashlight mode, so you can be sure that it'll last you through your adventures.
All of these features combined make the TOPDON JS3000 Jump Starter a must-have for anyone who loves to explore and needs reliable power on the go.
Where Do You Need It?
Anywhere that requires the use of electronics and machinery with equipment. It's also great for off-road enthusiasts who enjoy exploring the outdoors with their ATVs and UTVs.
Remember, the JS3000 is designed to be portable and lightweight, so you can conveniently carry it with you wherever you go. Plus, its rugged clamshell case ensures that it stays protected even when stored away in outdoor weather.
By the way, the case is both dustproof and IP54 waterproof. As if the Jump Starter wasn't durable enough, the included case will most definitely ensure that it doesn't get damaged in any way.
And speaking of durable, the JS3000's all-weather construction and performance means you can use it in extreme temperatures.
So, for instance, if you need a jump in the middle of a 14°F blizzard, the JS3000 is ready to get you back on the move in no time. The same high level of performance can be expected in high temperatures of up to 104°F, as well.
Another feature I like that enables you to use the JS3000 virtually anywhere at any time is the bright, clear indicators on the unit. These tell you at a glance how much power is remaining in the device, so you always know when to charge it or not.
I really like the included "Boost" button, too, as it allows you to rapidly charge your vehicle's dead battery in a matter of seconds. Of course, you can charge a multitude of devices thanks to the included charge ports. These include:
So no matter what needs power in a snap, the JS3000 has what you need to get powered up and back to exploring, calling, driving, working, or whatever else you need to get done.
Why Do You Need It?
As someone who has experienced the frustration of a dead car battery on numerous occasions, I can confidently say that the TOPDON JS3000 Jump Starter is an essential device that everyone needs. Here are a few reasons why I think the TOPDON JS3000 Jump Starter is so important:
Reliability: The TOPDON JS3000 Jump Starter is a reliable device that can provide a life-saving jump-start in just one second, ensuring that I can get back on the road quickly.
Versatility: Not only can this versatile tool be used to jump-start 12V battery vehicles with gas engines up to 9L or diesel engines up to 7L, but it can also be used as a power bank to charge your essential devices, making it an all-in-one solution for your power needs.
Portability: The TOPDON JS3000 Jump Starter is already a portable and lightweight device. But with the built-in handle, it's easier than ever to carry with you.
Safety: With so many safety features, you don't have to worry about accidental injury or damage. Reduced risk is always a good thing when you're dealing with electronics.
There's no doubt that it a must for all kinds of occasions. Out of the box, my unit came 75% charged. And even though you should always fully charge your JS3000 before using it, I could have put the unit right to work if I needed to.
Being able to provide one-second jump-starts is incredibly convenient, too. And on a full charge, the JS3000 can provide you with about 45 jumps. Having that kind of peace of mind and reliable performance means that you'll never be left stranded with a dead battery again.
Overall Impression
Whether you're exploring the outdoors, hitting the open road, or heading to a job site, having the TOPDON JS3000 Jump Starter ($189.95) on hand can save you from the hassle of dealing with a dead battery.
It's lightweight, reliable, and versatile enough to handle all of your power needs with ease. And if you get caught in an emergency situation, it's your life-saving solution.
Discount Code: 10% Off Link https://www.amazon.com/promocode/AN2HGEK5MPATN
Related Articles: