Snowshoeing is one of my favorite winter activities because it gets me outside and keeps my sense of wonder alive. I love the access it allows and often find myself breaking trail in deep snow to get down to the river (one of my favorite places). Looking back and seeing my children snowshoeing following behind my footsteps and watching them come to life in the forest is such a joy. Having snowshoes that can get you out of the house even on cold and windy days, while getting my cardio in- is a WIN WIN.
Tubbs Mountaineer Snowshoes
As far as snowshoes go, I have the Women's Mountaineer by Tubbs . ( size 25- I'm 5'7 shoe size 10). As far as the aesthetic goes, I love the colors and the mountain design on the back. It adds beauty to their function which is a bonus . They are designed for women's feet size 6-11. The Mountaineer is designed as a backcountry snowshoe. It's lightweight and perfect for breaking trail and/or packing in your shoes to the trailhead. I enjoy the feeling of sinking down a little because it makes me feel like a kid and it ups my cardio for the day The Mountaineer's have been super reliable and are EASY to get on and off (which for me is a big deal!) In this cold climate you can't take your hands out of your gloves for too long, or you'll freeze before you get started! The cinch strap tightening mechanism up front and EZ heel strap are solid and easy to use. When it's time to take them off they have a pull system which allows for an easy release.
Now let's talk about the traction. The 8 teeth up front from the Anaconda toe crampon provide a lot of stability, and backed up by the Phyton heel crampon allow you to go where you want to go. They also have a heel riser (easy to pull up) to help when your going up hill. This technology is advanced and makes for a great adventure.
Overall Impression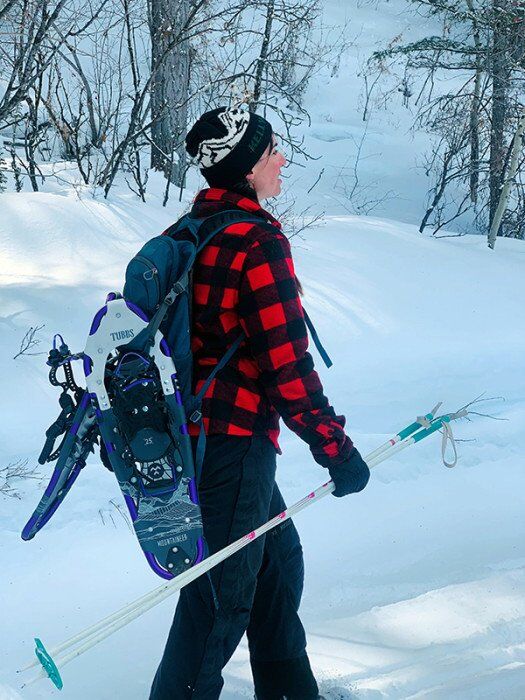 I would recommend the Tubbs Mountaineer Snowshoes($269.95) for anyone looking to get into the backcountry or hike on trails. Also, for people who just want to play out in their yards with ease. We get so much snow in the winter that having these snowshoes helps me get to the shed! The kids and I love to put on our snowshoes and walk around in the back field, climb snow banks, and explore.
Adding snowshoes to the mix of winter gear is a great way to keep you exploring and accessing the places you love. It's also great exercise! The Mountaineer's allow you get outside, put down some of the to-dos, and just play.
Related Articles: