True to its name, the UST Monarch Sleeping Bag is colorful and unfurls like a butterfly. It held up well down to 30 degree weather, and may well stretch into use in the teens with its minimum 17°F rating. As with all bags pushing the minimum range would not be comfortable but for a light and friendly bag, it truly does live up to its potential for warmth as well.
Fold Out Sleeping Bag
The fold out wings add a lot of versatility in a revolutionary sleeping bag design that allows you to add or remove layers as the night cools down or the morning heats up and you want to sleep in despite setting up the tent directly in the burning rays of the rising fireball. This is a bag that will give side sleepers and movers and shakers some options besides the restricting mummy. The wings also add some management to clip and unclip them into the desired position, or they will slide all over the place as you move.
Using two wings on top was indeed very toasty. You'll need to figure out the clips and fasteners to keep the wings over you, but it is indeed a warm bag, which is the most important part if the night temp dropped much further than you expected. The toebox is under padded and does not benefit from adding the wings, so your footsies may need some assistance in colder temperatures. Despite the soft outer membrane, the bag held up to dog claws and other abrasions. It comes with a nice large sac and a stuff sack for backpacking.
UST Monarch Temperature Rating
17°F with the Bag Folded up
37°F with Wings Removed
Sleeping Bag for Car Camping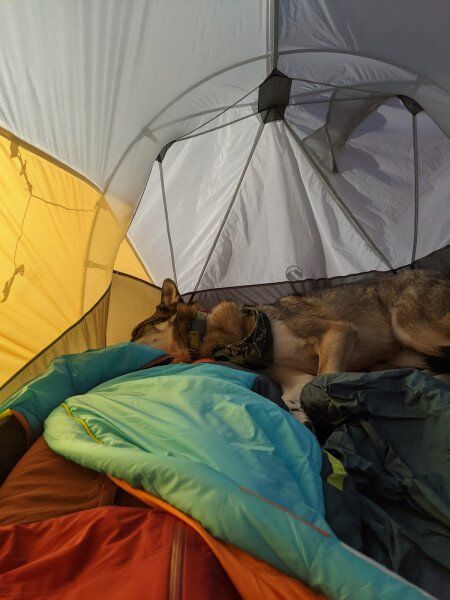 This sleeping UST Sleeping Bag truly shines as a road trip sleeping bag. It can be furled and unfurled and stuffed into any number of configurations and temperature ranges, so the side sleepers and stomach sleepers can turn the mummy into something they can use, or toss and turn in without strangling oneself. It has soft fabrics, lots of pockets to stuff as pillows and attractive colors so it feels like a welcoming bit of comfort upon returning to camp.
The bag does not pack down very small so this is not a bag you're likely to take on multi night backpacking trips. However, it adds a lot of comfort and flexibility to setting up a cozy day camp, especially for people not disciplined enough to assume the rigid mummy pose all night. It's a great and toasty car camping sleeping bag option for when temperatures fluctuate and when you can appreciate a bag that can handle the whole range of conditions.
Overall Impression
The wings on the UST Monarch Sleeping Bag ($221.99) are relatively easy to swing over yourself if you find yourself cold at night, or off if too warm, though for them to truly stay and keep you warm, you'll need to fasten them in place or they'll quickly end up elsewhere. It is far more creative and versatile than the average sleeping bag and we definitely recommend it to throw in the car for your all around car camping needs as you go between camps in a variety of climates.
Related Articles: