"There's just something about Vuarnets," my friend, an epic skier and guide, said when trying on my Vuarnet Legend Sunglasses. We rapped about how other companies just seemed to tint their lenses but with Vuarnets you have Mineral Glass for unbeaten sun guards, clarity, and performance. You have that next-level eye protection, classic styling, and more than half a century of being a bombproof standard-setter. So these Vuarnet Legend Glasses are the OG-made new, everything you'd want in a pair of adventure glasses.
Vuarnet Legends by the Stats
These glasses are old made new; I'm talking Vuarnet's old-school Legend 06's made in bio acetate, a plant-based material showing how Vuarnet's committed to protecting our great spinning mother earth. They use bombproof integrated single hinges and the most comfortable sunglass shape I've ever worn. Plus you have the 100% natural and recyclable Vuarnet mineral glasses. Mine have the Brownlynx lenses which killed it. Wanna know how much?
How Do they Perform?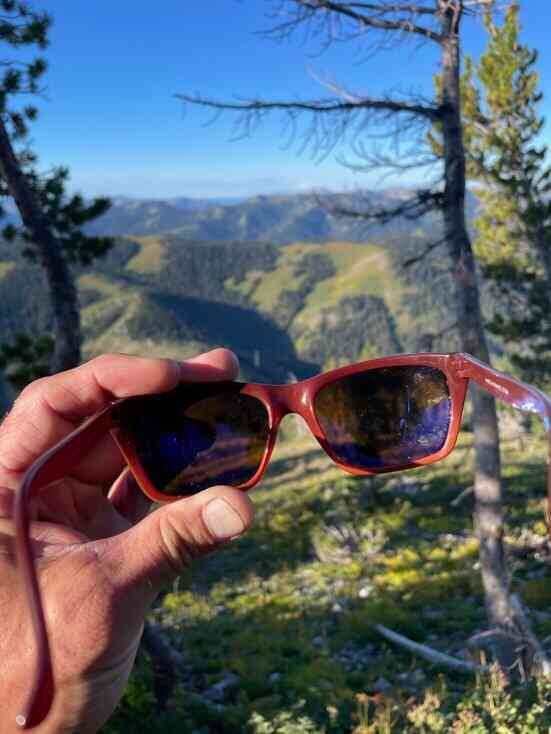 I've been wearing these Vuarnet 06 Legend Sunglasses ever since I first got them. Kicking it in the backyard. Hiking Glory. At a wedding. At music festivals. They've held onto my head without weighing it down; they've blocked the sun while keeping my vision clear; they fold up in my pocket and don't even hint at breaking.
They kept the view as the sun dipped in and out during a wedding. They also handled that bright early AM sun from the top of a mountain. While these lenses don't have chromo-changing tech (that Vuarnet uses in other glasses), they still showed the world in sharp contrast even when dipping into the shadows, even when the sun was dropping. These glasses are more than just eye shields; they're the windows to a world untouched by intense light and falling dark.
When running, or walking, or dancing they held onto my head with a comfort and security I've found in almost no other glasses. The Vuarnet legends feel like you're wearing nothing and hold on for everything. It's like … butter? Naah, these glasses are like a warm, sunny day kissing your temples. Something light and comfortable and great.
Overall Impression
Vuarnet Legends: Vuarnet Forever I've long been a fan of Vuarnets. Their ability to protect your eyes while letting you see clearly are on par with, you know, clouds. Their ability to handle big adventures without feeling even a little bit like they're wearing out is all-but-unbeaten. The Legends bring that killer performance to the game. But they also bring the kind of style that works on a mountain peak or at a wedding. They're Legends for a reason.
Vuarnet has been making glasses since your Grandfather rocked them on his sun-drenched adventures. Their craftsmanship is next-level; their performance is unbeaten; and their style is timeless. Vuarnet Legends aren't just for your next adventure, or your next big sunny event; the Vuarnet Legend Sunglasses ($265.00) are forever.
Related Articles: