Bike transport— now that can be a heated topic! There are lots of opinions out there, lessons learned, successes and failures. Let's add something to the solutions side of things. If you must transport your bike for a distance on the outside of your vehicle via a standard rear hitch rack, the ZEAL Pro might be a game-changer for you.
Why Use a Bike Cover?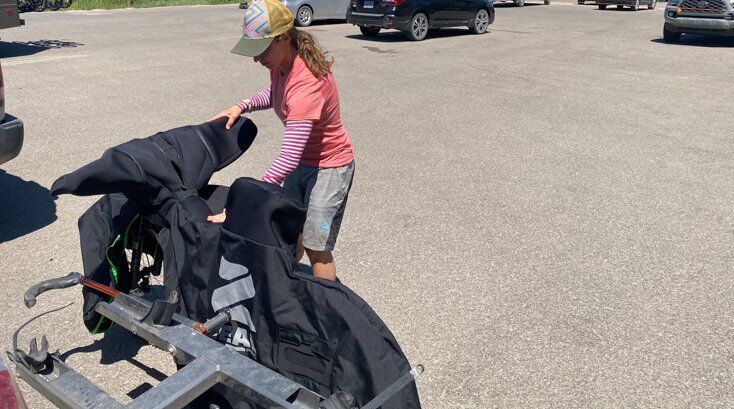 The big idea here is that freeway grit accumulates on the ZEAL Pro Cover and not in your gears. Your perfect paint job will not get rock chipped. Your pedals will be just as easy to get in and out of.
I was pleasantly surprised by how easily this ZEAL bike cover fit onto my mountain bike. There is neoprene that can stretch around the handlebars. Then it's a matter of zipping the cover over the front tire and the back tire in separate motions. It zipped easily, there were Velcro closures to help where it seemed like they should be, and everything went smoothly. I'm sure a ton of thought went into making this cover.
Custom Look
It almost looked like a custom fit despite being able to fit a range of sizes. (My bike is a small frame, 27.5" for reference). The materials are solid and the ZEAL Pro feels well-constructed.
I then hoisted my covered bike onto my trusty old Kuat bike rack. It fit just fine. I was a little surprised, as I am maxing out the tire width on this older rack before adding fancy things like a cover.
There are two slots in the cover to accommodate different rear tire sizes. One of them fit mine just fine.
Tail Light Solution
My brake lights were completely blocked by the ZEAL Pro cover. Their solution is a light kit that installs quickly into two Velcro pockets. It then wraps around the trailer hitch and plugs into a standard 4-pin trailer harness (which I do not have available on my car).
Overall Impression
The ZEAL Pro Bike Cover ($399.99) is an impressive cover and light system for protecting your favorite mountain, fat-tire, or ebike during travel. Happy trails!
Related Articles: