CRESTED BUTTE, CO – Just steps behind the Mountain Weekly News main office lies Whetstone Mountain with a peak of 12,490 feet. Backcountry skiers, snowmobiliers and hikers have had limited access to Whetstone over the years as all the land at the base of the mountain is privately owned. A few brave skiers and snowboarders have been willing to risk run-ins with the Crested Butte Marshall or local ranchers to access Whetstone Mountain. Skiing Whestone Mountain is not something many locals have ever tried.
Whetstone Mountain Crested Butte Colorado
The location of the Mountain Weekly News main Colorado office just happens to be located within the Whetstone Mountain Ranch property. What's this mean, lots and lots of backcountry skiing, product testing and incredible access to one of the premiere peaks in the area.
With the Mountain staring at the office, there was only one thing to do head up on a recon mission to check out Whetstone. The lower part of the mountain is covered in dense aspen and pine trees, except for a trail that looks to have been clear-cut by the miners many years ago. Whetstone Mountain sits on a north face so the entire area was cool and shaded most of the day. Following the steep trail up the hill, I couldn't help but notice how great of a chute this would be to ski in a few months, weeks or later that day 🙂
Once at the top of the clear-cut trail I arrived at the Buckley Mine and felt like I had been taken back in time. I could be naive to think that no-one else has been up here in recent years but the place was untouched, no beer cans, trash, liter just a mine and mine related items like gas cans, shovels, and buckets. The path I came up looked to have been used by the miners to transport items down the hill via a huge bull wheel that was still sitting right where it was in operation. Some of the mining huts have been overtaken by weather, but one structure seemed to be staying strong. Add a few windows and you have a nice piece of land above Crested Butte.
I followed the trail around the bend and came to what I think must have been an abandoned city. At least 7 cabins sat atop the valley floor with some of the most stunning views of the town of Crested Butte. Again Mother Nature has decided to take back most of the cabins, but wow they were untouched. This will be a great area to do some filming later this winter as the views and structures are unlike anything this city slicker turning mountain man has ever seen.
The forest started to get thick again as I got higher up Whetstone Mountain, at this point I had probably been hiking for about 2-3 hours. Gaining elevation the snow started to get much deeper, I smiled to myself thinking of the untracked powder turns that would soon follow on the way down. After some bushwhacking I arrived at the base of Whetstone Mountain main bowl, probably a few hours longer then it should have taken. Being my first day out on snow of the season and first time hiking at 9,000+ feet in months I felt good about my progress. After snapping a few photos it was time to make my way back home, the cool thing was I could see our office in the distance as I started my descent.
Hiking up I noticed about 90% of the snow seemed rideable. My main goal was to take some photos and explore the area; luckily I decided to lug my board up the hill as I was rewarded with a fun line all the way back down to the road. I estimate it was 3,000-4,000 vertical feet and took about 15 minutes of riding to get back down. I followed my snowshoe trail down which at times became a cat and mouse game of find the trail. I did NOT want to spend my first day in the Crested Butte backcountry being lost.
What a fun adventure, today I am going to try and climb up Baxster Gulch to see if it's a quicker access or if we can use snowmobiles to cut out some of the hiking time to access Whetstone Mountain. Very blessed to call this wonderful area home!!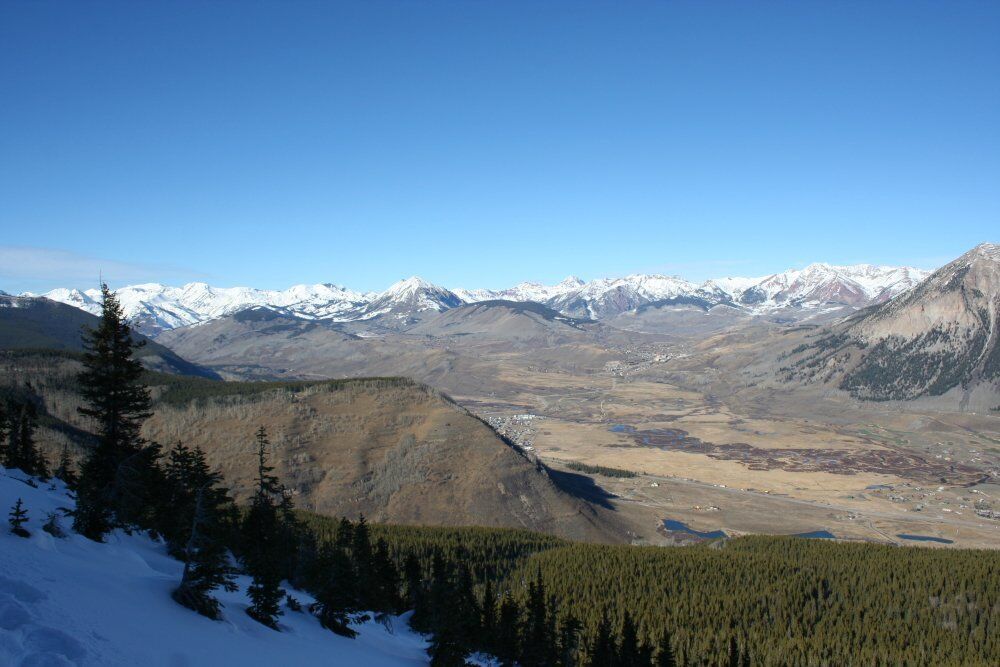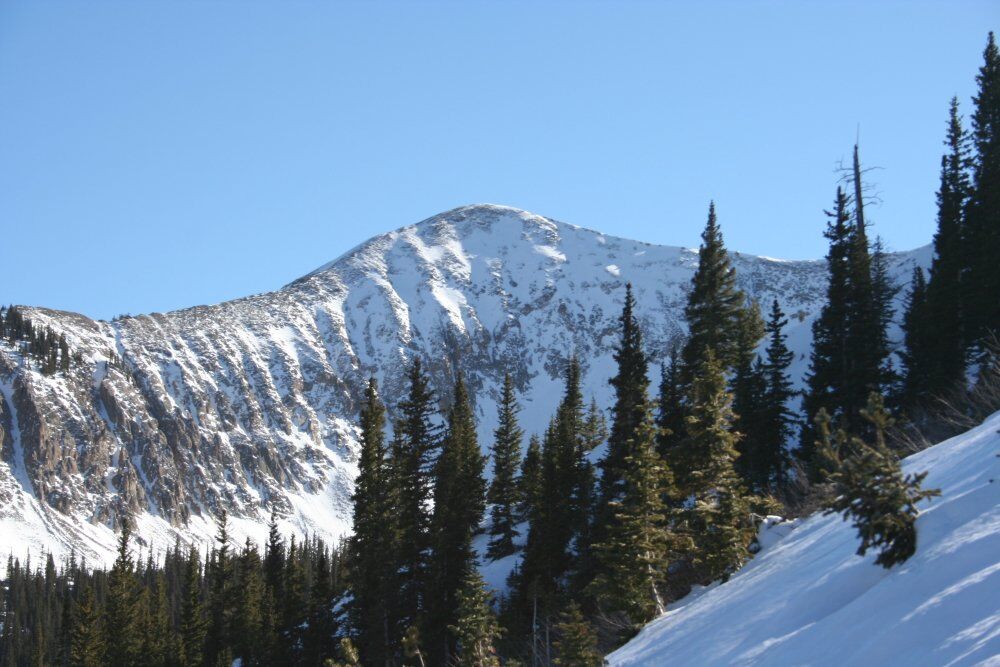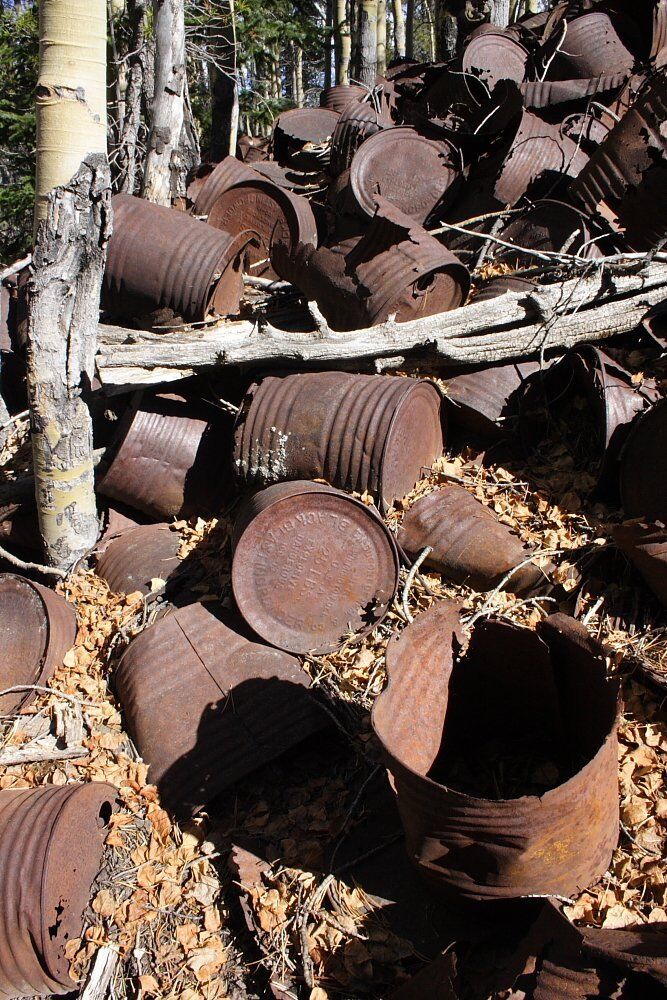 Today my friend and ripping skier – filmer Jim Swanson joined me to ride some lines behind the office in the Crested Butte backcountry. I was using snowshoes and Jim was using his skins to accent the lower half of Whetstone Mountain. After a while on the road I decided to go up an old book pack trail that was really steep forcing Jim to ditch his skins and boot pack up the slope.
After about an hour we reached the top of Buckley Mine, ate a well earned lunch and got ready to drop in to ski to the valley floor below. I have named the run Mine Chute as it was clear cut by the former miners in the area making for great skiing. I gave Jim the honors of first tracks and I could here him hooting and hollering all the way down. After seeing how good the snow was I felt confident opening up some fast turns. I wish we could have skied the line top to bottom without stopping, but we wanted to be safe and stay within visual contact.
Tomorrow we should be heading to the ski resort to do some filming ~ Life is good!!