GLACIER, WA – The 25th Legendary Mt. Baker Banked Slalom at the Mt. Baker Ski Area was hands down the coolest snowboard event I have ever attended.
The LBS is a contest with a mellow vibe, as really your only racing against yourself. Lessons on how to turn a snowboard went down as legendary riders took the course including Temple Cummins, Terje Haakanson, Travis Rice and stacked field of snowboarders putting it all on the line for a roll of duck tape.
Each year the winner of the LBS Mt. Baker Banked Slalom receives a golden roll of duck tape, second place takes home silver and third, earns bronze. Riders of all ages compete in 12 divisions ranging from professional, amateur and masters.
I raced in the master's division and was humbled by the experience. Overthinking anything in life is sure to get bad results, at least for this snowboarder. On the first day, I fell victim to the notorious turn 3 a sweeping left-hand turn with a massive rut in the middle. After falling off my board and hiking back up to get on course all I could think was go fast and don't fall again. My time came in and I knew I could beat it by 10-20 seconds. (It was that bad)
On day two I felt more relaxed and honestly was smiling in the start gate, my goal was to take it slow and steady making a point to stay on my board through the upper section. 3, 2, 1. And I was off concentrating on each turn one by one, through the first, onto the second and past the third. I was alive rushing down the Legendary Banked Slalom course hitting each turn into the next. As I crossed the finish line I let out my last gulp of air throwing my hand up in excitement knowing I kicked the courses ass. My time came in and, what the hell? It was almost 10 seconds slower than the day before.
Maybe I thought I was going much faster then I was, maybe my friends were messing with me from the heavens, or maybe the timer malfunctioned. Honestly, I don't care as it was a dream come true to be able to race in one of the longest-running snowboard contests in the world.
You can bet I will be putting in for the lottery next year I have some duck tape to take home!
Congrats to all the winners and everyone that said their prayers as they went through the start gate.
Last but not least Kevin Pearce made his comeback and by competing in this LBS, this was rad to have Kevin back not only snowboarding but going for gold!!!
Mt Baker Banked Slalom LBS Photos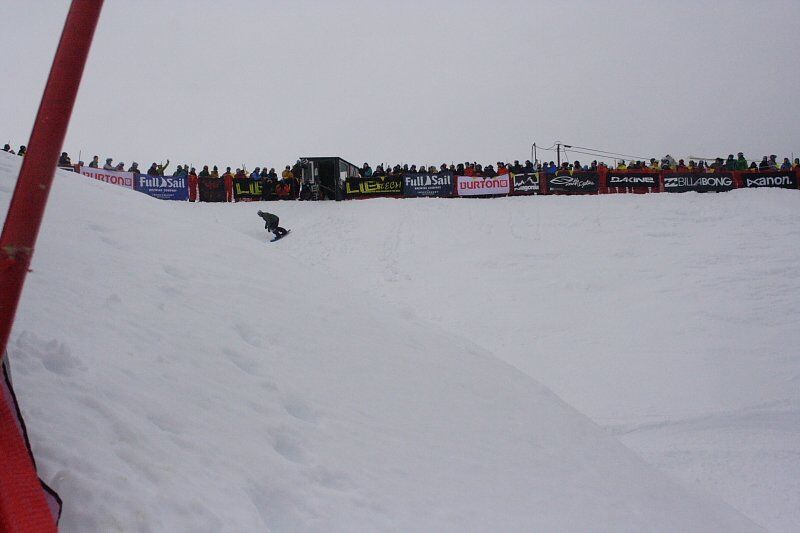 first-hand account by Shannon Yates below:
GLACIER, WA – Typically the start gate of the competition involves anxiety and apprehension. Did I pick the right line? Will the judges be impressed? Mt. Baker Legendary Banked Slalom Snowboard Race was not the case at the Slalom at Mt. Baker! I have never been so relaxed before an event.
Each day at the top of the venue we were treated to chocolate-covered strawberries, paella or soup, hot cocoa and energy drinks all for free. Everyone waiting for their start is having a good time enjoying the hospitalities. The start hut is tagged with various quotes like "go fast", "stay low, be powerful" and "say your prayers" that lightened the mood.
When I loaded into the hut for my first run, I was greeted with a smile by the starter, who was happy to answer my questions. Then the count down Racer ready… Three… Two… One… and I was off! Flying down the course, and into each banked turn, don't miss any gates, red, blue, red, blue.
Can I go faster? I think to myself. Push Shannan! I cross the finish line, legs burning, laughing out loud, cheering! I have never had so much fun during a competition! I cheer on the remaining women as they cross the finish line. I am looking forward to two more days of racing, salmon bbq's and parties.
The award ceremony was packed! So many wonderful people and amazing vibes. I get called to the podium for a 4th place finish and I am given a beautiful, embroidered Pendleton blanket. I am very pleased with my placing and to be rubbing elbows with legends! I earned my way back next season and this is an event I hope to be a part of for many years to come.
Mt. Baker is a beautiful mountain and the Banked Slalom is an amazing event that definitely deserves the legendary namesake. Thanks to all the organizers and sponsors!