Wondering where to find La Nina snow this year? You may be thinking its really warm right now, yep and that's a good thing for this winter.
Grand Targhee Ski Resort
Acres – 2,602
Annual Snowfall – 500″+
Vertical Feet – 2,270
Peak Elevation – 9,920 feet
Grand Targhee Resort is a place that powder hounds tend to keep to themselves. Without fail year after year this quaint mom and pop resort delivers the goods aka deep dry powder. The "Ghee" as locals call it is a great mountain for exploring, especially their hike to in-bounds terrain off Mary's Nipple. Along with great in-bounds terrain, Grand Targhee Resort also offers one of the most affordable cat skiing experiences found in North America. Toss in free parking, cheap food, lack of lift lines and friendly locals and you start to understand why I drive 2 hours to ride Targhee when Jackson Hole is less than 15 miles from my house. The Grand Targhee skiing and riding experience is unique and different from anything you've experience before, go ahead and give them a try this winter, you'll be stoked especially if you like to spend time on the mountain with your family enjoying deep snow.
Stellar Heliskiing
Acres – 80,000
Annual Snowfall – 720″
Vertical Feet – How much can your legs handle?
Peak Elevation – 9,842 feet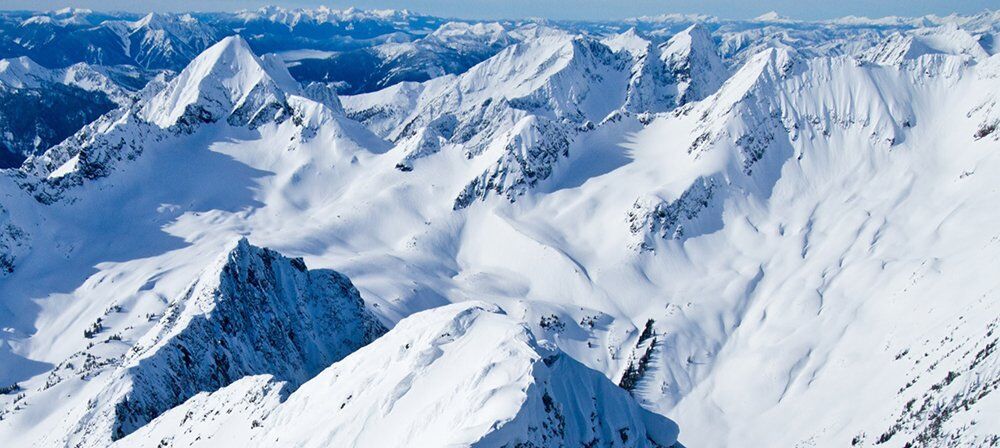 Ah Kaslo, if you don't know about skiing in Kaslo you should start now. Stellar Heliskiing operates some of the best heliskiing you can access without having to fly all the way up to Alaska. Guest that fly with Stellar are giving access to a couple of British Columbia's most legendary mountain ranges, the Selkirk and Purcell Mountains. With over 80,000 acres to pick and choose from the Stellar skiing and riding Experience will most likely be different from anything you have experienced in the past, starting with 5 star hospitality. Guest of Stellar Heliskking stay at the cozy Kaslo Hotel a modern Victorian Hotel located on the west shores of Kootenay Lake. What we like the most about this outfit is the drive from from Spokane Washington to Kaslo BC is only 147 miles. That's only 50 miles more than the drive from Denver to Vail. Another great option is Selkirk Snowcat Skiing located just up the road. from Kaslo.
Mt. Baker Ski Area
Acres – 1,000
Annual Snowfall – 641"
Vertical Feet – 1,589
Peak Elevation – 5,089
So why Mt. Baker? The place is legendary when it comes to snow. Back in 2011 I rolled the dice and moved our office to Mt. Baker as NOAA long range models showed a strong the La Nina setting up for the 2011/2012 season. And wow did it ever pay off! The Mt. Baker Ski Area received a total of 857 inches of snow that year, it was magical, it was deep and the other 90% of the country was uber bummed most of the season with a lack of snow.. Scoring Baker on a powder day or during a deep snow cycle will make you laugh at wherever you currently call home. The place is damp, wet, and there is not much do to but shred, eat good Italian food at Milano's, attempt to dry off (keyword here attempt), eat, sleep, repeat. Not only is the ski area one of the best for freeriding, the surrounding backcountry is massive and there are plenty of lines that will question your sanity. Fly on the Wall comes to mind!
Whitewater Ski Resort
Acres – 1184
Annual Snowfall – 480″
Vertical Feet – 2044
Peak Elevation – 6,710 feet
Ever been to Nelson? If not, this is the year to head up to BC as Whitewater Ski Resort tends to do really well in La Nina winters based on their location and high elevation. Plus the coffee up there is legit, its Canada and if you haven't eaten Poutine yet, get ready it's super addictive, uber unhealthy and perfect after long days lapping the resort or touring in the surrounding backcountry. The people in Nelson are hippie friendly, super sweet and uber lucky to call that part of the world home.
Jackson Hole Mountain Resort
Acres – 2900
Annual Snowfall – 450″
Vertical Feet – 4139
Peak Elevation – 10,450 feet
Word is out on the street about Jackson Hole these days. Lots of snow, challenging terrain and a big red Tram! Even with a neutral winter JHMR averages 450″ of snow annually. With the resort high upper elevation runs and ability to trap storms against the Tetons, spending some time in Jackson from late Dec – early March ought to be deliver the goods. Plus there is always Teton Pass, Grand Targhee National Park and the locals secret over at Grand Targhee. Indian summer is currently setting up in this part of the country, when the snow returns it will stay for a while, go out and enjoy the sunshine while you can!
Schweitzer Mountain
Acres – 2900
Annual Snowfall – 300″
Vertical Feet – 2400
Peak Elevation – 6,400 feet
You might be thinking, Northern Idaho really? You bet, last time La Nina rolled around this sleepy little resort picked up 422″ of snow. I have yet to actually ride Schweitzer Mountain, and the people I know that do are pretty tight lipped about the area. Its not wonder as 75% of the mountain caters to Intermediate to Expert terrain. Along with an open gate policy that allows access to 200 acres of the Selkirk Mountains, this may be a solid place to post up for the season or while chasing storms across the northern part of the country.
Bridger Bowl Ski Area
Acres – 2,000
Annual Snowfall – 350″
Vertical Feet – 2,700
Peak Elevation – 8,700 feet
One day when I leave the Tetons, odds are most likely it will be to spend time shredding Bridger Bowl. This place is legendary yet some how flies under the radar of a lot of powder hounds.. With arguably some of the best hike to terrain that any resort in North America has, a lack of crowds and tons of warm (well actually its bitter cold here) Montana hospitality, you really can't go wrong by planning a trip to this part of the world for skiing. Especially during cold, wet winters.. This is the perfect storm for a place like Bridger, that actually has a lift that requires you to be using a transceiver before going up the mountain, talk about getting rowdy.
Squaw Valley Ski Resort
Acres – 3600
Annual Snowfall – 450″
Vertical Feet – 2850
Peak Elevation – 9,050 feet
It's no wonder professional winter sports athletes in the know like Jeremy Jones, Jonny Mosley, Julia Mancuso and the legendary Shane McConkey (1969-2009) have all called Squaw Valley home. This place is legit, it quickly becomes apparent the second you get in line for the KT-22 chairlift that you're not in Kansas anymore. Squaw's lift accessed big mountain terrain will leave even the most experienced skiers and riders puckering from time to time. If you feel like inflating your ego and can handle the peanut gallery, center punching the fingers first thing in the morning is good way to prove just how rad you are. The 2016/2017 season dumped over 700″ of snow on Squaw and 800″+ La Niña winters have happened before. Make sure to get in line early on powder days, if you want the fingers untracked, 6:30 AM is a good time to get in line.
Snowbird
Acres – 2500
Annual Snowfall – 500″
Vertical Feet – 2900
Peak Elevation – 11,000 feet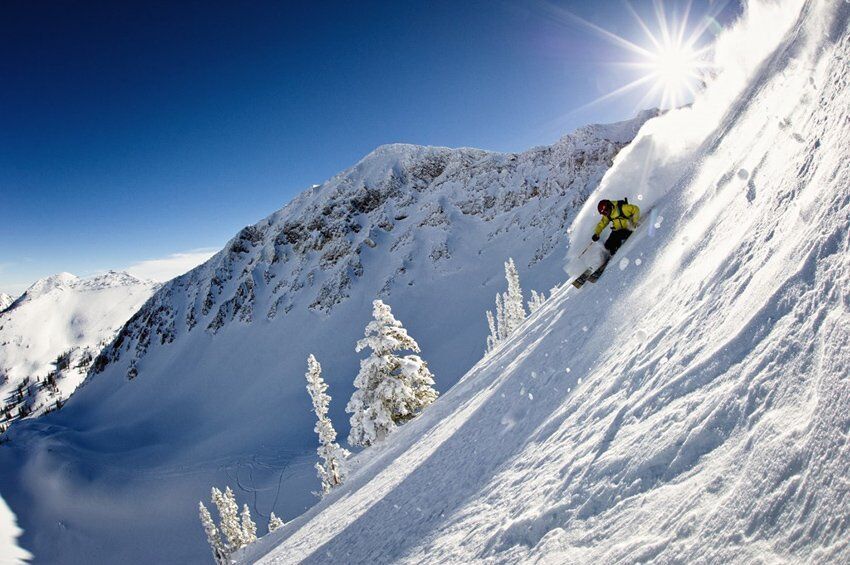 Sticking with the big mountain theme Snowbird takes things up a notch. This is not a mountain to take lightly especially when it's snowing. Ever heard of the team "Interlodge", if you haven't the first time you do hear it be sure your big boy or big girl skis and boards are waxed up and ready to go. Snowbird is located in Little Cottonwood Canyon surrounded by towering mountain peaks on both sides. When it snows and gravity takes over the road to the resort can be closed for avalanche control work. The best thing you can do in a situation like this is to make sure you're staying the night at one of the resort properties at the base of the mountain. You may find yourself waking up to a private ski resort after Interlodge as the first people to access to the mountain will be the patrolers, followed by on mountain employees and then hotel guest that stayed the night up at the resort. The early bird gets the worm here, regardless if you stay overnight at Snowbird or down in Salt Lake City, be sure to arrive early and jump in line for the tram. It doesn't get much better than this. Pro tip: The week from Christmas to New Years has been delivering the goods for the past few seasons..
Mammoth Mountain Ski Resort
Acres – 3500
Annual Snowfall – 400″
Vertical Feet – 3100
Peak Elevation – 11,053 feet
Mammoth Mountain's located within a days drive from the Los Angeles. When big storms roll through the 9-5 city crowd can easily make it up to Mammoth to enjoy powder on the weekends. Last year was especially snowy for Mammoth with the mountain picking up 246 inches of snow in January alone setting a new record for snowfall in a month. At the end of the 2016/17 season Mammoth had over 500″ of snowfall, the most since the previous La Niña 2010/11. One thing to keep in mind when visiting Mammoth Mountain is the the average skier or rider from the greater Orange County – Los Angeles area is most likely not a die hard powder skier or rider. Mammoth has world class terrain parks and an equally impressive Après-ski – late night scene. There is truly something for everyone (including powder hounds) at Mammoth Mountain or as the locals call it Mammer.
North Cascade Heli
Resort Notes: They're ain't any chair lifts here, and odds are likely you have never heard of Mazama, WA and were willing to be the locals are ok with that. This is where North Cascade Heli skiing is based out of (on the "dry side" of the Cascades). Mazama and the surrounding towns are one of the biggest cross country skiing hubs in North America and a place that gets lots of snow. The community could have easily become another destination ski resort however the locals fought back and placed a conservative easement on the proposed ski area land. So it looks like one of the snowiest places in the country will continue to remain a secret.
Whistler Blackcomb
Acres – 8,171
Annual Snowfall – 461″
Vertical Feet – 5278
Peak Elevation – 7,493 feet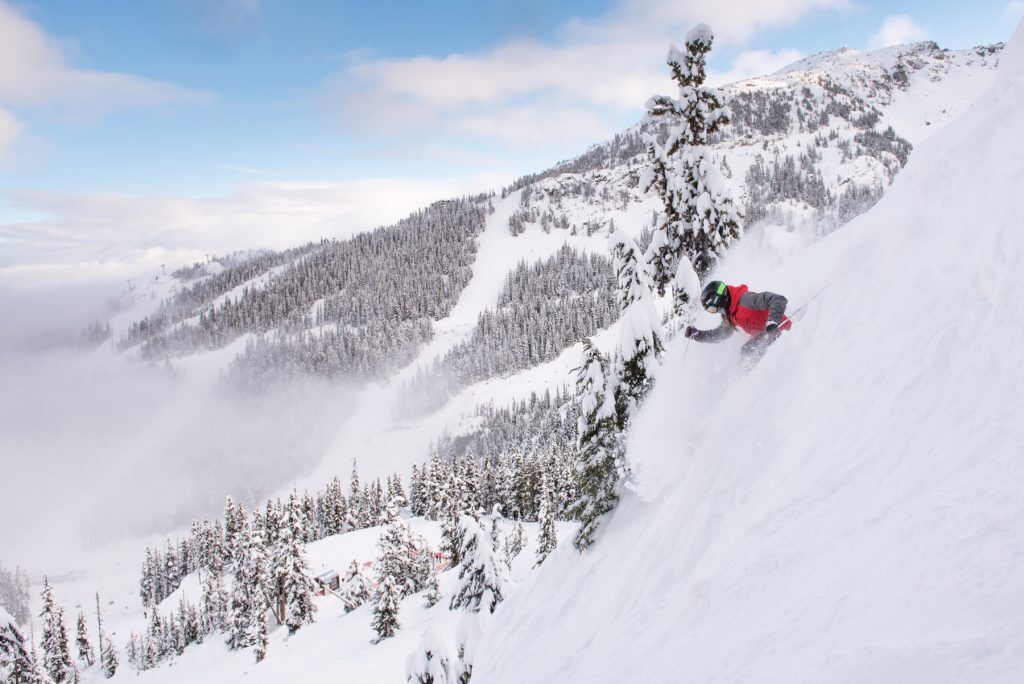 Whistler is due for a big snow year! Last La Nina saw almost 500″ of snow up at Whistler Blackcomb. With tons of terrain options and lots of different elevations across the resorts odds are likely you will find fresh snow here. And for all you Epic Pass holders, this is a no-brainer. Colorado will be getting no snow, while Whistler is getting nuked on. I really don't want to have to say "I told you so"..
Best of luck this winter.. Leave a comment below if this article helps you find snow or if you think I am off my rocker!!
Recent La Niña years include 2016-2017; 2011-2012; 2010-2011; 2007-2008; and 2000-2001.
As much as we love the Saturday Night Live skit featuring Chris Farley about El Niño, we really need someone to create something similar for La Niña, as these are the winters that as skier or snowboarder you'll remember for years to come, especially the pending one..
La Nina Early Season Skiing and Snowboarding Videos
La Niña powder skiing and snowboarding video were popping up across the web way back in September.
With that, we bring you our (UPDATED list) of the top places to hit up for skiing and riding this La Niña winter. You only live once..
A perfect storm has been setting up as of late with a combination of abundant moisture typical of a La Niña winter and warmer snowfall friendly temperatures typically found during El Niño years. La Niña is back this winter with the potential to be even more powerful than before.
– This article has been recently update

During the 2016/17 winter season the Tetons were blasted with so much snowfall that by the end of April snow depths were still measuring 172 inches (14 feet). The Tetons were not alone though, the Mt. Baker Ski Area in Washington picked up 866 inches of snowfall for the season with 269 inches falling in the month of March. Meanwhile Squaw Valley Ski Resort in California chocked up 728 inches and Brighton Resort in Utah saw 674 inches of snow fall during the 2016/17 La Niña winter. All the above places are safe bets to find snow again this year.
Long range forecast models from October – December 2017 (seen below) called for above normal precipitation along with warmer than normal temperatures. Which in fact happened across most of the Western United States.
Moving into the remainder of the winter 2017/18 winter the following resorts and opertations are sure to have all time seasons, perhaps breaking record snowfall totals.. A couple that stand out as of late include: The Mt. Baker Ski Area which has a 116″ base [snow report] 12/29 and Grand Targhee Resort which has a 86″ base [snow report] 12/29