Time to put in your 30 day notice and head south in search of untracked pow as this winters jet streams will be pushing farther down south then usual. If I was a betting man (which I am) and I cared about snow more than anything else in my life then I would bet on the following resorts to have an epic winter thanks to El Niño Snow!!
Taos Ski Valley – New Mexico
Acres – 1,294
Annual Snowfall – 300"
Vertical Feet – 3,200
Peak Elevation – 12,450
Season Pass – Millennium Pass offers 70 days of skiing for $750

Resort Notes: Taos snow is typically around 6% water density which = blower, chocker conditions. 2014/2015 Will be the first season to see skiers and riders using the new Lift up Kachina Peak. What used to take 45 minutes to hike will now take 6 minutes. 75" Rule before the resort really comes to life.. Record Strong El Nino 72-73 – 578 inches, Last Strong El Nino 97-98: 359 inches, Moderate El Nino 94-95: 373.5 inches.
Wolf Creek – Colorado
Acres 1,600
Annual Snowfall – 430"
Vertical Feet – 1,604
Peak Elevation – 11,940
Season Pass – $853
Resort Notes: Most snow in Colorado, steep then flat, free parking, drive can be gnarly getting to and from the resort. Last Strong El Nino Winter 97-98 – 410″, Moderate 09-10 – 432″, Weak 06-07 – 426″
Mt Baldy – California
Acres – 800
Annual Snowfall – 170"
Vertical Feet – 2,100
Peak Elevation – 8,600
Season Pass – $129
Resort Notes: Some of the best lift access backcountry runs in North America can be found less than 45 minutes from downtown Los Angeles. During epic snow events it's not unheard of to ski or ride 3,500 vertical feet from the top of Baldy to Icehouse Canyon. Runs face multiple directions
Arizona Snowbowl – Arizona
Acres – 777
Annual Snowfall – 260"
Vertical Feet – 2,300
Peak Elevation – 11,500
Season Pass – $519
Resort Notes: 14 Miles outside of Flagstaff, 316" during 97/98 El Nino,
Ski Apache – New Mexico
Acres 750
Annual Snowfall 180"
Vertical Feet – 1,900
Peak Elevation – 11,500
Season Pass – $460

Resort Notes: Owned and operated by the Mescalero Apache Tribe. New Mexico's only Gondola. Gambling nearbye.
Angel Fire Resort – New Mexico
Acres – 450
Annual Snowfall – 201"
Vertical Feet – 2,077
Peak Elevation – 10,677
Season Pass – $299

Resort Notes: Home to the annual Big Ol' Texas Weekend, $100 extra gets 2 year season pass. Backup snowmaking pow just in case.. Last Strong El Nino 97-98 – 220 inches. Weak El Nino 04-05 – 226 inches
Red River – New Mexico
Acres – 290
Annual Snowfall – 214"
Vertical Feet – 1,600
Peak Elevation – 10,350
Season Pass – $475

Resort Notes: Funky little ski town base of the lifts
On Cusp
Mammoth 539" during the 97/98 El Nino – Crested Butte 231" El Nino 1997-1998,
Around this time last year I wrote an article on during an El Niño winter (see above) With all the media hype as of late I keep being asked about the coming winter. Are this years El Niño conditions setting up to be the "perfect storm" like in 1986 when Teton Pass closed for 18 consecutive days?
Pacific Northwest
Early reports coming from the Pacific Northwest have looked favorable for snow which is surprising as that's the last place I would ever recommend heading for pow during during an El Niño winter. Typically El Niño in the northwest equates to warm temperatures. However now the weather geeks are starting to shift focus towards La Nina which will follow in the next 9 months. Confused? You should be..
But back to the NW they have been getting nuked on as of late, the Mt. Baker Ski Area even opened yesterday on November 19 2015. This is great news for all the hard cores living out in Glacier and Maple Falls that were absolutely skunked last season. However only time will tell how the remainder of their season plays out.
Southern Rockies
This is the place to be, hands down. One of my friends actually just pulled the trigger and moved to Taos for the season. (Robbie – V if you're reading this, you are going to have the best winter on record!!) As you can see from the NOAA weather maps below the southern Rockies look to be cold and wet with plenty of moisture flowing out of the Pacific from now until February and the extended models are showing the same.
In fact we may not really see the real effects of this seasons El Niño until March and April of 2016. This will be a winter that hangs around for a while, if you enjoy spring you may want to book a surf trip. Otherwise places like Silverton and Durango should offer great ski touring and splitboard opportunities late into the season.
Northern Rockies
Last winter the Tetons were going off until around late Feb.. Exceptionally warm temperatures allowed Jackson Hole to have one of the driest March's on record in the past 49 years. After 3 months of non stop pow riding on Teton Pass things changed quickly. March saw the third lowest snowfall in Rendezvous Bowl in 49 seasons.
Not into lift lines? Grand Targhee Resort would be a solid choice for finding deep snow this winter. Targhee is opening up today, with fresh snow, no lift lines and just a fun vibe all around. You won't find people here fighting in the Tram Line, in the Trap bar perhaps but thats your fault if you hang out in bars. All kidding aside Grand Targhee is an often overlooked little sister or big brother to that other resort on the other side of the Tetons. You know the one called Snow King Mountain.
And if you really want to find some pow, were willing to bet if you head farther up North, like into Canada eh you may just find some deep, light density blower pow on the higher elevation Northern Aspects. Please like Stellar Heli will at some point turn on this season. Watch the weather patterns and then book here – http://stellarheliskiing.com/, it's much closer than AK and you can get just as rad!
California
Knows how to party.. (I couldn't resist) According to Kelly Redmond the deputy director and regional climatologist for the Western Regional Climate Center at the Desert Research Institute in Reno. "The Lake Tahoe Basin, on the California-Nevada border, will almost assuredly get more precipitation than it did last winter"… however there is little to suggest that a big El Niño will produce more snow". Redmond instead, thinks this seasons storms will likely produce precipitation in extreme events.
Is climate change really happening? Well it seems places like Lake Tahoe are getting warmer. The weather models are showing it will once again be a warm winter, not as warm as last year though. Either way words like warm and winter should never be uttered in the same sentence. Keep in mind snow only forms when temperatures hit freezing or below, so if Tahoe sees moisture but temps fail to drop down below freezing you may find a bunch of unhappy campers at Squaw Valley and resorts across the lake. That is unless you prefer skiing in the rain, Northwest style.
All this being said, Tahoe resorts opened last week and some were full on powder days. Even Mammoth looked good as you headed south. Another hidden gem which I talked about last season is Mt. Baldy located 45 minutes from downtown LA. Every 10 to 20 years or so this place becomes magically legendary and heavily all at once. Being able to rip big mountain pow lines for 3,000+ vert and then catch evening glass off is one of the (possibly Only) benefits to living in So Cal.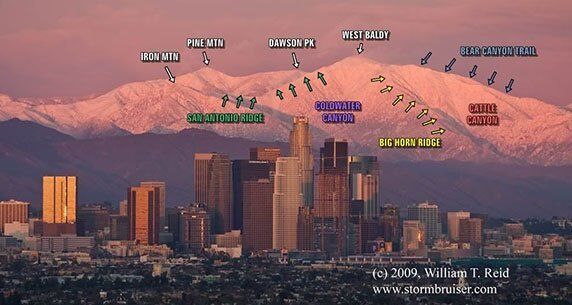 yeah thats downtown Los Angeles Photo William Reid[/c