What is it that makes the Greater Yellowstone Ecosystem special?  About 18 million acres of one of the last, nearly intact ecosystems in the Northern hemisphere. Backpacking in Yellowstone is like taking a trip back in time.
Yellowstone's Greater Ecosystem encompasses much more than Yellowstone National Park.  It covers state area in Idaho, Montana, and Wyoming including Grand Teton National Park, portions of five national forests, three national wildlife refuges and even tribal lands.
Here in the Tetons, we have 16 species of fish, 341 bird species, 61 mammals including grizzly bears, wolves, bison, along with humans.  The way we interact with the ecosystem impacts generations to come.  The best thing one can do is to go explore these areas to see how special they truly are, and in hope become conservationist and stewards of our public lands.
Yellowstone Backpacking Photos
I spent the summer testing backpacking tents venturing throughout the Great Yellowstone Ecosystem and wanted to share some photos of this incredible landscape.

No shortage of Water in Tetons.
Depending on the time of year, mosquito spray is highly recommended, this stuff with DEET actually works.

Fires out West provided some amazing sunsets.
Want to see Wildlife, head here.
because sometimes you just want to take it all in.
Next on my hit list is this basin.
Yellowstone Maps
Hiking in Yellowstone

Bushwacking in the Absorka Mountains.

Smiling after a 12 hour overnight hike.
The real fun begins when the trail ends.
Always bring a headlamp or two along. I've been using the Petzl USB Charging Reactik.
it's all about the journey, not the destination.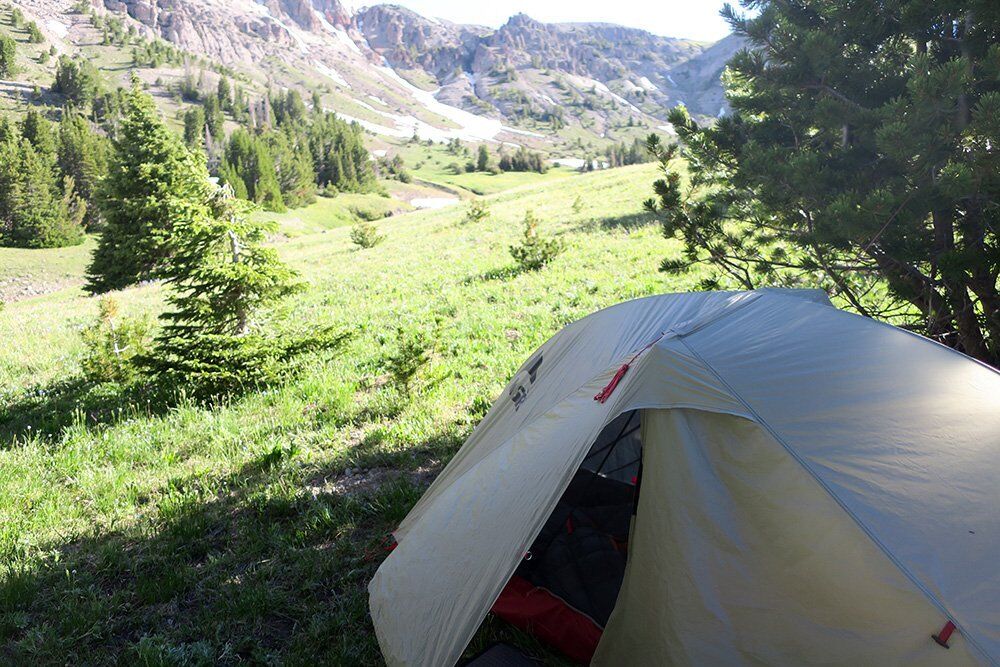 Possibly the best solo camping tent ever made. At (1 lb. 13 oz) it's easy to backpack with.
Sometimes you see wildflowers.

While making lifelong friends along the way.

You really want to watch your step in places.

And you might even find snow, mid-summer.

Not a bad spot for a break. PS You don't need water filters up here.

Wilderness Areas are special.

There's a lot of interesting rocks.

sometimes following trails is fun too.

Especially when they are overgrown with wildflowers. Can you spot my dogs ears?

Fall is a great time of year to go bird hunting.
or backpacking away from people.

The weather in the Fall can be nice.

Bruce blazing the trail, as usual.

More colors.

"If this isn't god country, he must be close" – Robin Williams

cool cat.

Hot water.
To Be Continued.