Best Rocky Mountain Vacations
What: UTV Adventure less than an hour from Jackson Hole
These first two are perfect for the local looking to get out of town but just far enough to feel "away" – whether you're a year-round local or a second-home owner who made it to your mountain paradise before lockdowns. Also, if you like to play with vehicles with roaring engines. But they both also function as destinations in and of themselves.
Togwotee is located near the top of a winding mountain pass. Togwotee Mountain Lodge is a winter snowmobile mecca, and in the summer you trade those snowmachines for side-by-sides (UTVs) and take the whole family on an epic journey around the continental divide.
What: Rent a house, play golf, fish, hike, shoot guns, stare at the Tetons
We promise, this will be the last Jackson Hole local spot. But we had to include it because it's in our back yard, and it's a place not to be missed for anybody either looking to get that high-end all-in package or a local trying to get a staycation that hits everything. An 18-hole golf course; 6 miles of Snake River access and stocked trout ponds for the kiddies as well as an in-club fly shop (and an Orvis Fly Fishing School); a skeet range; horseback riding (and hiking) trails.
And they have tennis, archery, racquetball, running, even hippie golf (the kind with a frisbee). And if you do all of this and are bored, there's the Tetons like literally right there. And arguably the finest rooms in Jackson Hole. Because don't you owe yourself the most luxurious place to indulge in every great experience you love?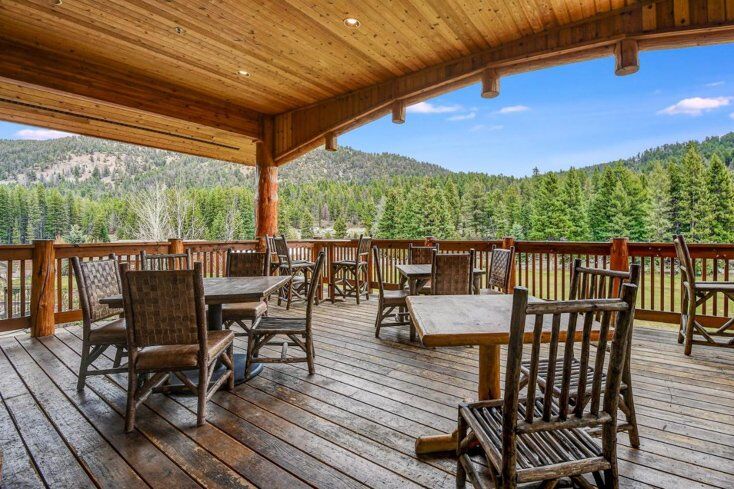 What: Absolute relaxation just outside Boze-Angeles
Bozeman is a truly cosmopolitan city, full of amazing eateries, fun bars, and book stores; but maybe you want to go somewhere to have a few days just chilling in luxury with your special somebody. That's where Rainbow Ranch Lodge comes in. It's touted as a wedding destination because it's romantic, beautiful, with one of the finest restaurants in the area and even a chill little pool for a dip.
Plus borders the Gallatin, one of the country's finest and most storied fishing river. "River runs through it" country.
What: America's Dry Fly Paradise
When the spring melt blows out all the lower rivers, the Henry's Fork is the first spot that every angler flocks to. Nestled in the Caribou Targhee, this place is just down river from Island Park and about 45 minutes from the West Entrance to Yellowstone, and therby close to the forks of the Madison as well.
If you didn't catch the salmon fly hatch at the beginning of the summer, that's OK; the dry fly fishing at the Henry's Fork is bomber all summer, and the river is just scenic and mellow enough for a perfect family float. Henry's Lodge is pretty barebones, but in the best possible way.
What: ATV Adventure less than 45 minutes from Park City
Heber City is a corner of the paradise surrounding Park City, and just beyond Heber City is Daniel's Pass, road winding from canyon to summit to fishing paradise Strawberry Reservoir. But the pass itself is a source of adventure. Rent an ATV and rip roar up backcountry roads and cross rivers up into high alpine air on your way to Daniel's Summit Lodge.
A high-end rustic high alpine resort offering options ranging from in-lodge, cabin, and big mountain home, it's moto fun for all whether you're looking for a weeklong R&R&A or just an overnight from the wild times at Park City.
Related Articles: