Amino acids are the foundation for soft tissues in the body including your skin, muscles and even tendons and ligaments. The essential amino acids are all inside these organic energy bars from JAMBAR!
Made with wholesome ingredients you can pronounce this Paleo diet friendly food is oh so good. While all of the ingredients are common pantry staples you may not have the time or desire to make protein bars yourself. Count on JAMBAR's to taste homemade and leave you with an organic food you can feed to anyone in your family and feel good about it.
A Few JAMBAR Flavors
If you take protein supplements you might have learned the hard way that not all of them taste good. The fact is not every protein bar is actually as delicious as the wrapper says, however, the JAMBAR's contain all natural ingredients, they're organic food, and they donate to children's music programs.
I'd like to think that these are less like the old school chalky bars that demand you drink a gallon of water just to get it down, and more like actual food. Considering they taste just like your mom made them, you can literally share them with anyone in your family. Here is a flavor breakdown of the delicious options I have tried.
Malt Nut Melody
One of my favorite protein bars this JAMBAR flavor has a rich, nutty flavor and chewy texture that tastes like natural food. Unlike your standard granola bar, the JAMBAR Malt Nut Melody is music to your ears as it delivers a snack experience under 250 calories.
Each bar tastes homemade and delivers flavors direct from nature like Ancient grains, organic protein, and real juices and sweeteners. Take it anywhere, without fear of melting, this energy bar is ready to jam.
Musical Mango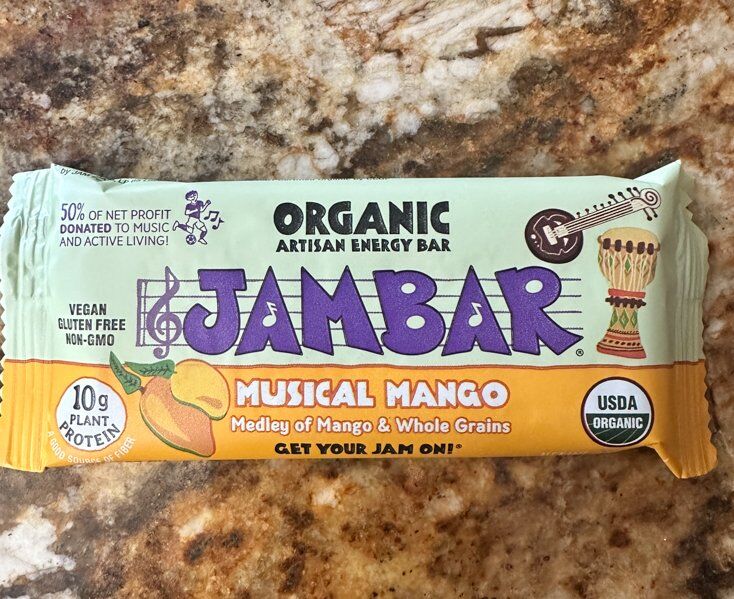 Take your tastebuds to tropical places with this delicious energy bar. The typhoon of flavor inside every mango JAMBAR delivers a dramatic punch of protein too. The combination of amino acids from organic ancient grains make this the ideal trip to paradise before or after a workout or intense activity.
Unlike other protein bars this vegan food contains what your body needs to fight off cravings and stick to your healthy diet plan. Regardless of where you travel, take the tropics with you and keep jamming.
JAMBAR Ingredients
If you've ever tried to shop for energy bars or a protein supplement you may have noticed there are a lot of choices. Of course you could save money and make them at home with natural ingredients found inside the JAMBAR, but you wouldn't be donating to a good cause, and you may not be able to capture the taste. However, looking at the ingredient label you can see there's nothing to hide in a JAMBAR. You can buy the ingredients at home and no-bake them yourself. Here are a few of the star players of the ingredient label on JAMBAR's.
For aminos count on sunflower, whey concentrate, malted barley extract, oat bran, quinoa, sorghum, and brown rice.
Looking for a low sugar option? JAMBAR's contain berries and real fresh juicy mangoes packed with vitamins, minerals, fiber, antioxidants and of course flavor!
Low sugar energy bars are here! Unlike most energy bars you'll find maple syrup, grape sugar, honey, date juice, and Berry concentrate from real fruit instead of added sugars.
Quinoa is called a "superfood" because it is a complete plant-based protein. That means that you'll get all of your essential and non-essential amino acids in this protein bar. Besides that sorghum and brown rice for some satisfying slow-digesting energy.
Organic other ingredients include cocoa, chocolate, chocolate chips, cashew butter, peanut butter, and sesame butter.
About JAMBAR
While you could make DIY energy bars at home, they might not turn out quite as tasty as JAMBAR. Besides that you can count on a feel good vibe every time you snack as 50% of the net profit is donated to music and active living. Knowing that organic food is how we stay healthy and positive, JAMBAR puts its energy into reclaiming authentic human connections through music and an active lifestyle. JAMBAR philanthropy extends beyond nutritious snacks as the organization was designed to support partners including bread & roses, California jazz conservatory, jazz in the neighborhood, sticking up for children, elm group, music in place and more partners are reaping the benefits as we speak.
Why JAMBAR's Work?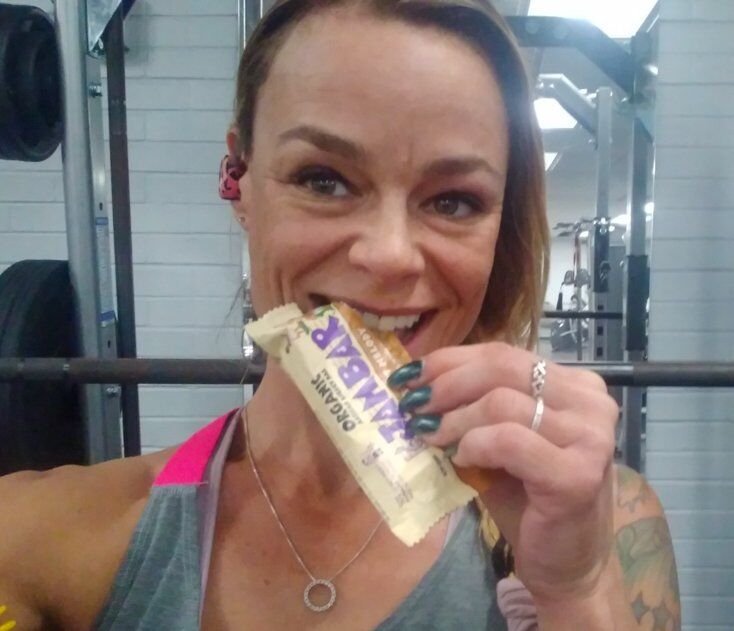 Protein shakes and energy bars are always in my gym bag, backpack and purse. There's no reason to build muscles in the gym if I don't eat for performance all week. Without protein powders and natural food bars with amino acids I wouldn't be able to build and maintain my strength. Outdoors I also stash drink mixes for energy and oftentimes make peanut butter protein bites to-go.
You might understand if you play sports, lift weights or even if you have growing kids. The bottom line is that muscles need protein to grow in specific amounts and even further amino acids come in 22 different forms. Without these building blocks of protein your body wouldn't be able to perform properly.
Overall Impression
Overall I've got to say that JAMBAR's are probably the best tasting organic food bars I have tried. They kind of remind me of fresh oven baked cookies, but at the same time don't taste dehydrated or baked. I can eat them even if I don't have water on hand. Or cut them into little squares and snack on them without worrying about them melting in the car.
They're an ideal pre or post workout snack under 300 calories or whole bar. Not only that but you can feel good knowing that you put only good things in your body, and back into the world around you.
Related Articles: