Long gone are the days of only 1 or 2 companies manufacturing splitboard bindings. The splitboard industry continues to grow as does the innovations in splitboading and splitboard bindings specifically. Check out our picks for the best splitboard bindings of the year below.
Best Splitboard Bindings 2024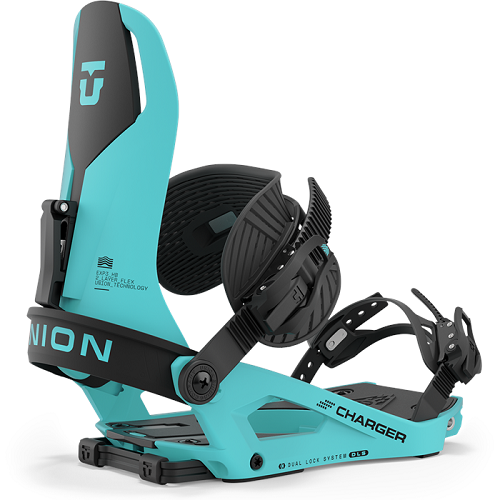 The best overall splitboard binding of the year goes to the Union Charger Splitboard Binding. If you snowboard for the turns, care about your style and really enjoy adding a little bit of freestyle riding into your backcountry laps there is no better binding on the market for splitboarding.
The Union Charger Bindings will allow you to ride your splitboard in any terrain the same exact way you would be on a solid board. Honestly, out of the 10 bindings on this list Union is one of only a handful of companies making a splitboard binding that can be ridden both inbounds and in the backcountry without sacrificing performance.
For straps, to lock your toes in Union uses their super-responsive Exoframe 5.0 Ankle Strap along with the lightest strap they have ever built, the TS 4.0 Toe Strap. The upgraded Charger Binding is now pinless and really easy to get on and off the board with a nice locking push down design on the heel that clicks into place when the board is ready to ride.
Sizes: S, M, L
Pucks: Interface Included for Splitboard and Solid
Not Compatible with Burton Channel System
Price: $499.95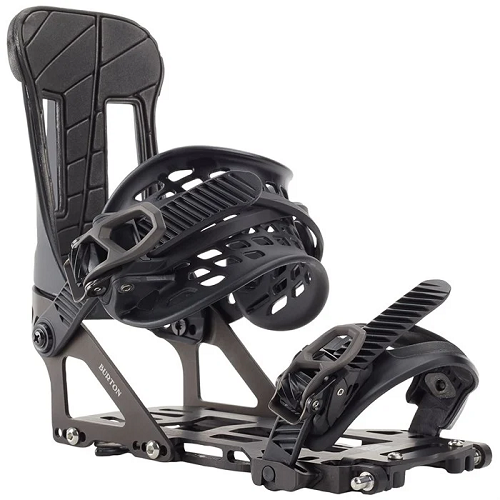 A close second place for best splitboard bindings of the year goes to Burton for their Hitchhiker binding that was built with the help of Spark R&D. So if the binding looks familiar it's because it's basically a Spark Binding made better by Burton Snowboards own team.
For anyone that loves Sparks and rightfully so this is an even better version of what Spark R&D currently makes. Burton added Hammock Straps for the ankle straps, along with a molded rubber Supergrip toe cap strap that really pulls your boot back into the binding nice and securely.
Toss in the tried and true Burton snowboard buckles and ratchets featuring Insta-Click and you have a powerhouse of a binding that's great on both the way up and down. These bindings slide over a set of Voile or Spark pucks and have been the go-to style of splitboard bindings for years and for good reason. The system works pretty flawlessly.
Sizes: S, M, L, XL
Pucks: Not Included, Voile, or Spark Compatible Pucks Available
Price: $489.95
Not Compatible with Burton Channel System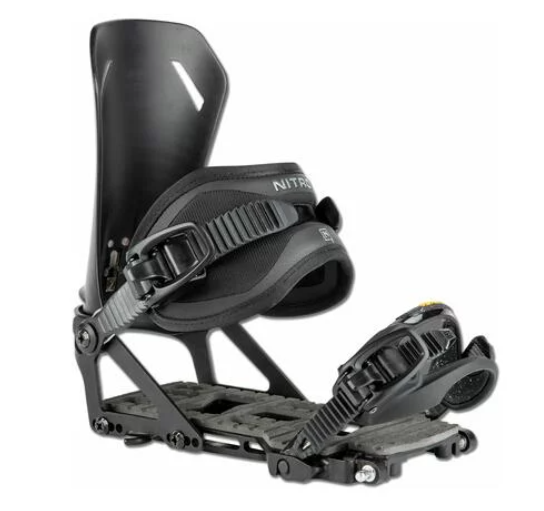 Rounding out the top 3 splitboard bindings of the year goes to Nitro for their Vertical Bindings. Which, like the Burton Hitchikers was also built in collaboration with Spark R&D. One of the things that stands out about this binding is its use of padding on the base plate. Something that I can't figure out why all splitboard bindings aren't being built around. The EVA Dampening on the Baseplate really helps to cut down on chatter. If you find yourself routinely riding in hardpacked snow, ice or over avalanche debri seriouslly consider these bindings.
The Ankle straps are uber comfortable which come from Nitro's years of making traditional snowboard bindings, while the Ubergrip Toe strap does a nice job of securing your foot in place.
Like the Burtons these bindings slide over a set of Voile or Spark Pucks to lock into place. What amazes me though is that both Nitro and Burton were able to make a binding better based off Spark R&D's design yet Spark hasn't stepped up with anything new in years?
Sizes: M, L
Pucks: Not Included, Voile or Spark Compatible Pucks Available
Price: $399.95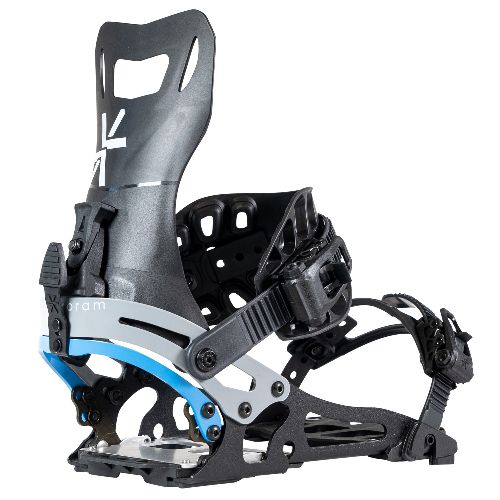 It's been a long time since we last talked about Karakoram on this website. Over the years their technology seemed almost too progressive, with lots of moving parts that could easily fail in the backcountry. Now thankfully Karakoram is bridging the gap between big mountain splitboarder and weekend warrior.
The Nomad was built around the Karakoram SL Frame and comes with a carbon highback, carbon buckles and a new open base design that allows the binding to have more torsional flexibility. Toss in the Airpod straps and you have a binding that's able to handle a ton of terrain. One of the things we like the most is the Active Joining connection that allows you to easily attach your Karakoram Splitboard Bindings to the board. Even on icy days the Active Joining System easily locks into place which in the past was the crux of Karakoram bindings.
Sizes: S, M, L
Pucks: Interface Included for Splitboard and Solid
Price: $699.95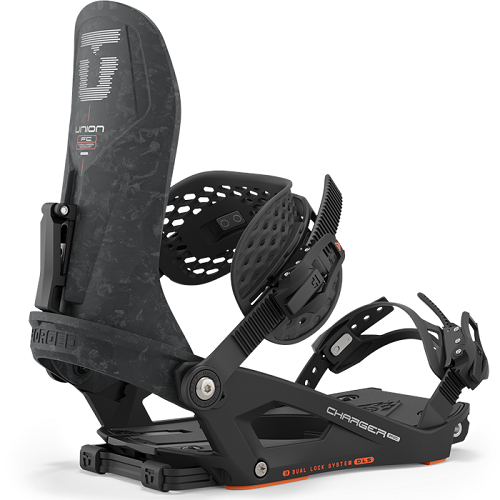 For someone wanting the freestyle performance of the Union Bindings on the way downhill but still want a stiffer feel while touring on the uphill the Union Charger FC Carbon Binding is a great pick and way to cut the distance between a pair of Unions and Sparks.
Union made the Charger much stiffer in the FC version with a 9/10 flex rating. Most of that stiffness is due to the use of the EXP3 Forged Carbon Highback. If you're not used to riding with stiff, carbon highbacks these might be a bit overkill. But for someone wanting to do more big mountain riding, someone that already has uber stiff boots the Union FC Carbon Version is a nice option.
Sizes: S, M, L, XL
Pucks: Interface Included for Splitboard and Solid
Price: $699.95
Not Compatible with Burton Channel System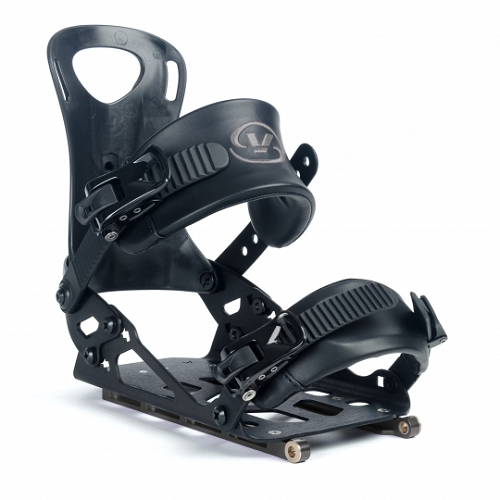 The next 3 bindings on this roundup are built off the Voile Splitboard binding frame. The Voile Light Rail Binding's aluminum splitboard-specific chassis mimics the way Spark Bindings work with the major difference being that their bindings slide on backwards vs forward. What stands out with the Voiles are their touring tech piece that locks the toe with a latch found in ski boot and binding technology. Voile makes skis too so it only makes sense that they took that tech and brought it to splitboarding.
Both the ankle and toe straps on the Light Rail Bindings look way more like a traditional snowboard binding and feel that way thanks in part to the heavier padded straps. Which is ironic based on the bindings name.
Sizes: S, M, L
Pucks: Not Included, Voile or Spark Compatible Pucks Available
Price: $325.99
The K2 Farout Binding is a binding we have reviewed a few times over the years. It's built around the standard Aluminum Splitboard Specific Chassis and includes a K2 Highback and K2 Straps with both being unpadded.
Where Voile went with more padding, K2 opted for less with the Sender Ankle straps that are paddles, combined with the PerfecFit toe straps. Less is more here, with K2 opting to make the binding as light as possible.
Sizes: S, M, L
Pucks: Not Included, Voile or Spark Compatible Pucks Available
Price: $400.00
In 2024 Ride decided to throw its hat into the splitboard ring and the legendary binding company nailed it. Like the Voile and K2 binding the base is built off the Aluminum Splitboard Specific Chassis where you can see Ride's years of snowboard binding manufacturing technology at work in the highback and straps. With an easy slide on and off design and locking push tab on the heel Ride's first take into the splitboard world works.
Ride throws in a super easy "slide on, slide off" design to get you going quick and easily. Add in the push tab and Ride's first toe into the splitboard binding world kills it
Sizes: S, M, L
Pucks: Not Included, Voile or Spark Compatible Pucks Available
Price: $459.95
Finally SP Bindings have teamed up with Rossignol to introduce the Rossignol Escaper Binding to the North American splitboard market. Now don't cringe too hard at the pin as Spark, Voile and Union all started as pin bindings, and they worked great. Pin bindings have been part of splitboarding since the beginning since it's about the most reliable technology there is. My first decade of splitboarding was on a pin binding, so they work. The majority of the interface is built off the tried and true Voile hardware.
This splitboard binding's rear entry design is called Fastec. It's a design that makes it easy to get in and to get out of these comfortable reclining-highbacked bindings. It also comes with comfortable straps, a tiny bit of padding on the base and toolless adjustments. Nidecker made waves in the snowboard industry with their rear entry binding last year and 2024 is seeing the release of the Burton Step On Splitboard Binding so things look to be changing rapidly on the splitboard front, especially when it comes to bindings.
Sizes: M, L, XL
Pucks: Not Included, Voile or Spark Compatible Pucks Available
Price: $499.95
Plum is a brand we haven't talked about in over 5 years. Mainly because it's really hard if not impossible to get their gear in N. America. With less restrictions on buying globally, Plum really oughtta be on your radar. Especially if you're not located in the United States of America. With the Eterlou model you basically get an older style Karakoram frame combined with NOW Snowboard Binding Straps.
The only downside to these bindings is they come with a lot of moving parts. Getting them set up is sort of a pain in the ass. Once put together, though, you have a very powerful big-mountain stiff splitboard binding. One feature you'll love it its built-in heel lock for when you're skinning distances. And that combines with a softer highback and more padding for next-level comfort.
Tal the founder and designer is clearly a splitboarder and heck of an engineer.
Sizes: S, M, L
Pucks: Interface Included
Price: $749.95