With splitboard bindings riding more like traditional bindings, shedding weight and becoming super durable as of late, gone are the days of having sub-par gear for splitboard touring.  One thing to note is splitboarding is about to get a major popularity boost. Everyone you know will be talking about touring, so if you're looking for a pair bindings this year. Get em' before they're gone.
Update: December 1st.  All the bindings on this list are sold out and new bindings will not be made this season. Check your local shops, ebay, classifieds..  Sorry team.
Here's our picks: best splitboard bindings of the year: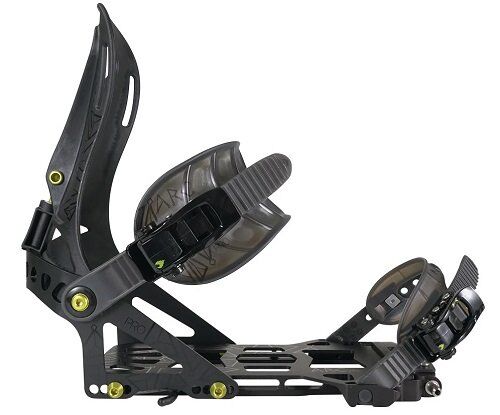 Spark R&D year after year makes the most reliable, durable splitboard bindings on the market.  What makes the Spark R&D Arc Pro Splitboard Bindings special is the weight, at only 1.23 lb per binding (557g) this the lightest soft boot splitboard binding on the market. For 2021 Spark's Arc Pro's feature Pebax Plastic in their pillow line straps.  These straps are comfortable, without bulk and easy to move around in the cold. For big mountain riders demanding performance the highbacks have been reinforced with carbon fiber stiffing up the ride a bit allowing for more response from the bindings.
Theses Spark Splitboard Bindings shed even more weight with lighter screws and nuts which are now adjustable via a hex key.  These are great splitboard binding for someone looking to shave ounces in their touring setup.
Best Use: Long days of touring.
Price: $540.00
The Union Expedition FC Binding is Union's newly updated lightweight splitboard binding. Union took a season off from making the FC Binding and re-introduced it with a carbon fiber highback that sheds weight making them lighter than the Expedition 2.0's.  Do keep in mind that Union Splitboard Bindings look and feel more like a traditional snowboard binding, with that comes a little added weight and the tried and true feel of a binding you're most likely accustomed to.
What I like about these bindings is if you add the Union Quiver Disk you can run these bindings on your solid too. When you put your boots inside the Union Expedition FC Bindings you just might forget your on a splitboard. Especially when you're flying down the mountain blasting off everything in your path.
Best Use: A splitboard binding that can be used in and out of bounds.
Price: $549.95
The Spark R&D Surge Pro Binding is the lightweight version of Spark's Surge splitboard binding built for larger more powerful riders.  At 5'11 155 lb I was able to handle this binding but it really likes to be ridden by someone with more bulk, someone that is hard on their gear but doesn't want to suffer with too much additional weight underfoot.  The Surge Pro Bindings for 2021 managed to shave additional weight at 1.33 lb per binding (603g) which super respectable for a binding designed to handle the needs of heavier dudes.
The stiffer Spark Surge Pro's also use carbon fiber in the highback and the comfortable, lightweight Pillow Line straps along with the upgraded nuts and screws adjustable via hex key.
Best Use: Long tours for bigger riders.
Price: $574.99
For someone new to splitboarding the Union Expedition Bindings will offer the most familiar feel.  The only hiccup is the interface is a little tricker than the Spark's to use at first.  Once dialed in though there is nothing that compares to the way these bindings work going downhill. Well aside from your traditional snowboard binding as that's exactly how the Union's perform.  Zero sacrifice on the way down.  Why is that? Union took parts from traditional snowboard bindings and incorporated them into a splitboard binding, including the baseplates, bushing, straps and heelcups.
For 2021 the Union Expedition 2.0 Bindings have an updated pin system for touring and riding that offers a tighter fit with less play then in the past.
Best Use: Surfing deep snow.
Price: $399.95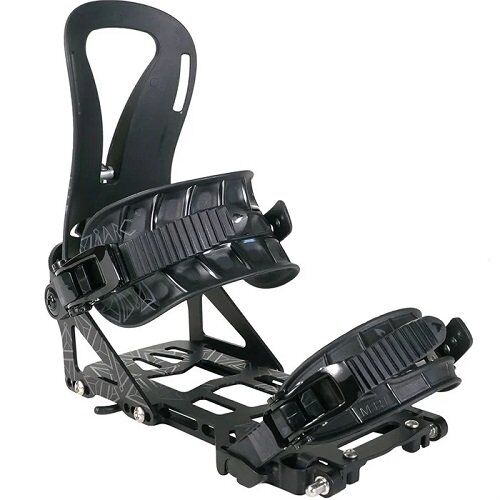 This is the binding that really got things moving for Spark R&D.  Most likely you have owned a pair of Spark R&D Arc Bindings, my guess is these are the best selling splitboard binding of all time?  What you get with this binding is a whole lot of reliability on the way up and fun on the way down.  Its the sort of binding you can clank together to get snow off without worrying about breaking anything. Incredibly durable, and pretty much as light as the Pro's. The Spark R&D Arc Bindings weigh only 1.38 lb per binding (626g).
These bindings forgo the carbon fiber highbacks (found in the Arc Pros) and use Spark's traditional screws and hardware instead. Toss in the Pillow Line straps and you have my favorite Spark R&D binding to date.
Best Use: Going up and down just about anything you can imagine.
Price: $385.00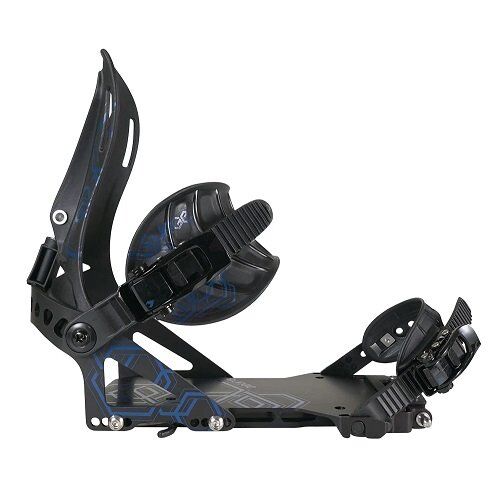 Spark's Surge Binding is the best splitboard binding for larger riders, dudes with big feet and that are hard on their gear.  Does that sound like you?  This binding can still be ridden by lighter riders but it's stiffer and more reinforced for powerful responsive riding styles.  Even though the Spark R&D Surge Binding is tougher, the weight is still respectful at 1.50 lb per binding (680g).
Just like all the other Spark Bindings, the Surge's come with Pillow Line straps, durable buckles and hardware.  The only real difference you'll notice between with this binding is the solid baseplate vs the Arc's that have cutouts in the baseplate design.
Best Use: Larger Riders that want reliable bindings.
Price: $415.00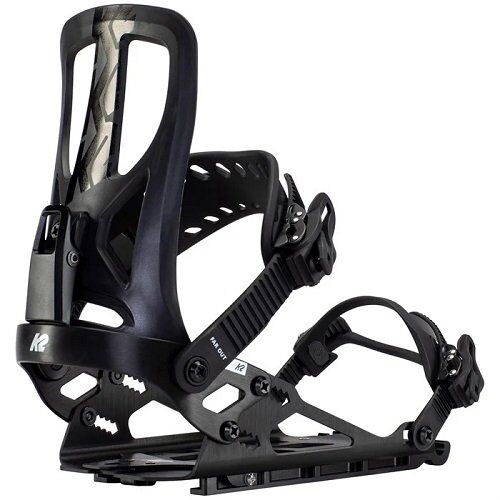 A new player in the splitboard binding game as of late is K2 Snowboarding. The K2 Farout Splitboard Binding may seem similar to Sparks, because they are. The bindings slides onto Voile pucks from the front vs Spark from the back. The main difference between how the K2 Far Out Binding is attached to the board in ride mode vs the Spark R&D system is you actually pull the bindings on the pucks toward you vs Sparks where you slide the bindings over the pucks. So it's similar in that regard.
The bottom of the Far Our Binding features a Pinless Speed-Rail Mountain System which is essentially 2 hooks that lock into place by wrapping around a metal bar.
Best Use: Just getting into splitboarding, or want to change up your current gear.
Price: $419.95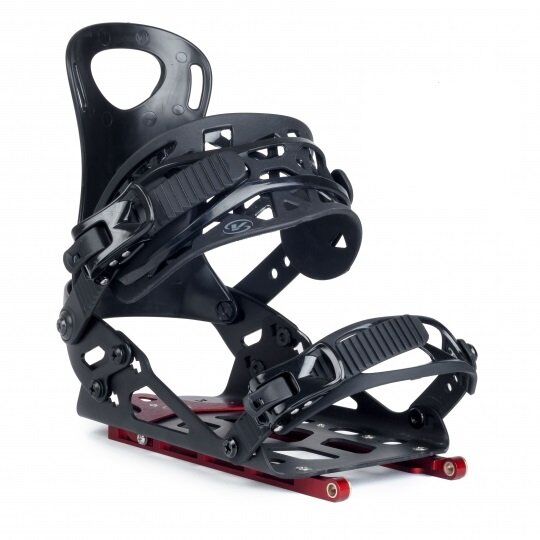 Voile is still in the splitboard game for now (?) with their Speed Rail Binding and Light Rail Women's Splitboard Binding that come with the new Quick-Lock touring bracket. Voile moved away from the Pinless Speed-Rail Mountain System use of hooks and instead designed a locker similar to AT bindings, something Voile desperately needed to do to stay relevant in the splitboard industry these days.  An added bonus is the torsional support the highbacks feature, which has cutouts designed to fit Voile straps to make your own power strap of sorts. Weight 1 lb 7 oz per binding.
Best Use: Someone wanting to switch up their binding interface.
Price: $375.00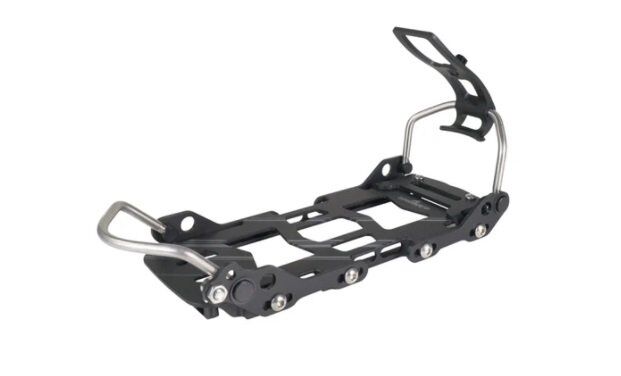 Splitboard Hardboots make touring much more efficient, especially valuable when the majority of our days are spent on the way up. For anyone considering splitboard mountaineering, Spark R&D Dyno DH is a solid splitboard binding from the guys over at Spark R&D. Keep in mind you will sacrifice a little on the descent in terms of freestyle abilities but you'll get to the top quicker
Best Use: Long tours in hardboots
Price: $250.00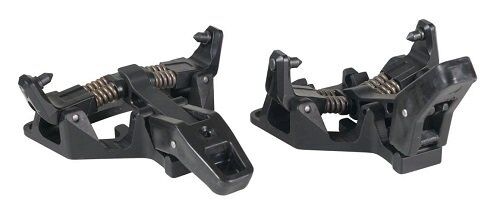 Also, while splitboard mountaineers previously had to use skiing toepieces to clip into for the ascent, Spark has come out with their own tech toepieces. Instead of having to adapt a pair of AT toepieces to your splitboard (which involves either drilling new holes into your topsheet and mounting them a la ski bindings or using adapters that add weight, height, and expense), Spark's Tech Toepieces have a split hole pattern built-in.
Best Use: Touring with Dynafit "Tech" Bindings
Price: $160.00
Splitboard Bindings for 2020