The Asolo Fugitive GTX Hiking Boots were a pleasure to wear around the mountains the past few weeks. Up until this point, I have always been someone who prefers to wear trail running shoes on all of my mountain excursions, but this hiking boot from Asolo may've changed that for me. The lightweight and non-invasive feel yet reliable traction of trail running shoes always appealed to me, and the Asolo GTX offers a balance of these qualities in a sturdier, more durable, and much more supportive shoe. The Asolo Fugitive GTX Boots lives up to the standard as a premier all-around hiking boot that is ready to take on pretty much any conditions you may find yourself in.
In a long and steep hike in Grand Teton National Park earlier this week, I found that these boots were comfortable enough for the mellower switchbacks yet lightweight and grippy enough in the more rugged, high-alpine terrain. The ground was still very wet during this early morning hike, and I was occasionally walking through puddles–– the combination of the water resistant suede on the exterior of the shoe and breathable GORE-TEX lining made sure that my feet stayed dry and at a great temperature throughout the entire hike.
Asolo Fugitive GTX Boots Weight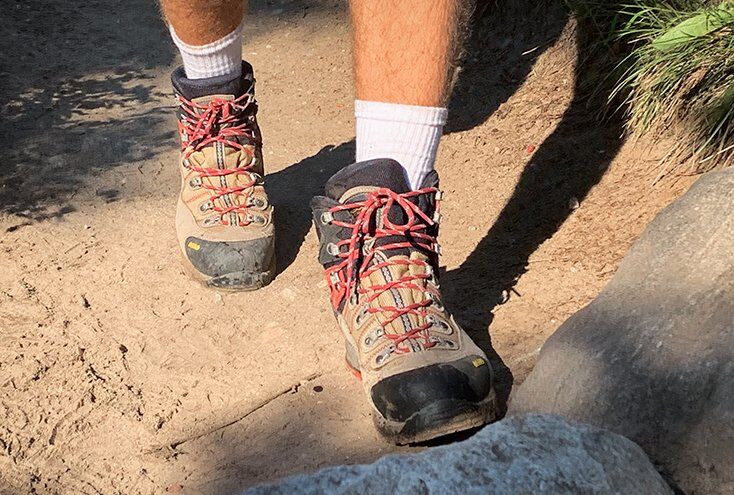 Like many others, I've always been someone who has ankle instability and was very prone to rolling my ankles. However, I could never bring myself to wear heavy and uncomfortable hiking boots even if it was at the expense of risking a rolled ankle. The Asolo Fugitive GTX extends to a perfect height above the angle to add extra ankle stability, which is extra important on long tiring days. These boots are lightweight and comfortable enough that I can finally start prioritizing my ankle support without sacrificing a super comfortable and lightweight feel. You can also tell that these boots are substantially more rugged and durable than a trail-running shoe.
Compare Prices
Last updated: 2023-06-03 06:45:07
Rubber Toe Cap
Some other great elements of the Asolo Men's Fugitive GTX Hiking Boots was the hardy rubber toe cap that protected my toes from rocks and the easy-to-use lacing system that allowed for easy adjustability on the tightness of the boots around my ankles. In rockier, sketchier terrain it was easy to tighten up the boots to ensure ankle support and overall stability, but I could easily loosen them for a more comfortable fit on the trails. The first time I used the boots I did get pretty severe blistering on the backs of my feet, but this is to be expected in any hiking boot. I'm sure that if I had gone for a shorter hike to break them in first I would have been fine.
Overall Impression
Overall, I have really enjoyed using this hiking boot over the last few weeks, and it will become my primary hiking shoe for longer, more rugged, and more demanding treks going forward. Although the Asolo Fugitive GTX Hiking Boots aren't quite as lightweight and non-invasive as your typical trail running shoes, they are light and comfortable enough that I am willing to sacrifice for a more supportive, durable, and rugged shoe. The Asolo Fugitive GTX ($249.99) is a top of the line hiking boot is hard to go past for anyone who is looking for a boot that can handle any conditions!
Related Articles: