Make a list of everything you want in the perfect shell for skiing or snowboarding. Done? Now go ahead and tear up that list, because the Black Diamond Recon Stretch Shell checks all the boxes. Black Diamond has a respected history of creating supreme gear for those of us who are obsessed with the mountains. They came through yet again with the Recon jacket.
Waterproofing
Black Diamond constructed the Recon Stretch Shell with 20k waterproofing and 20k breathability. Personally, when I'm shopping for snowsports outerwear, 20k is what I shoot for in both departments. Anything greater than that, (25k, 30k) is just gravy.
Mother Nature unloaded a moderate amount of precipitation during the review period. The Recon shrugged it off like it was nothing. And this was no blower powder either. It was those heavy, damp PNW flakes. I ended up doing a little more hiking than I was planning, but never came close to overheating. If I had, Black Diamond installed a pair of generous pit zip vents (no mesh) that look like they can cool things down in a hurry.
Big shoutout – impressively windproof. One of the test days had 40 mph gusts coming off the ridge at Mt. Hood Meadows. This shell stood strong and registered that wind as nothing more than a gentle breeze while the rest of my crew endured some shivers.
Technical Features
The helmet-compatible hood has a bit of a brim to keep your face clear and a drawstring in the back allows you to cinch it up for a snug fit. There is another drawstring at the waist and adjustable Velcro cuffs to really seal yourself off from the elements.
I say pockets can make or break outerwear. So let's talk pockets. First, you've got your standard chest zip pocket for the phone, goggle wipe, or whatever you like to hold near and dear to your heart. Dual interior stash pockets? Yes, please! No longer solely reserved for your goggles, the Recon shell gives you another mesh pocket to stow skins, another layer, or even the detachable powder skirt. The two front zip pockets are roomier than one might presume. You can load up on so many snacks! I had all my rations for the day in one pocket and there was still room for a chair beverage. Now what to do with that other front pocket…
If I had to nitpick something about this jacket, the only minor issue I could come up with is the position of the pass pocket on the left arm. It sits between the shoulder and elbow, which I found slightly awkward when nudging gate scanners and bending my arm in a certain direction. I prefer pass pockets to be situated at the forearm.
Look and Feel
It's got range! The classic color patterns of the Black Diamond Recon Shell not only look good on the hill, but I'm already prepared to reach for this shell on rainy spring days when I'm headed out around town.  I don't typically consider yellow to be one of the colors I wear well, but I'm going to have to reconsider as it didn't take long for the compliments to stack up.
But what good is looking fly if you don't feel excellent? Thanks to the 4-way stretch material, the fabric is nothing but A+ feels in the Recon. The fabric not only does a superior job of protecting you from anything the forecast could call for, but it delivers a very natural fit that never restricts or inhibits your movements.
Who is it for?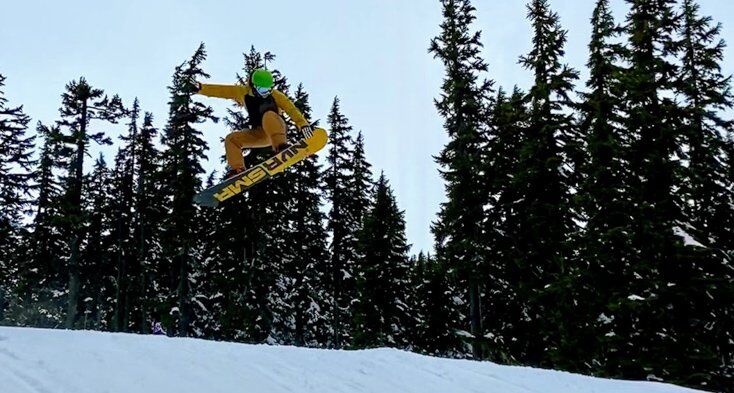 If you're searching for the intersection of comfort and performance, the Recon Shell is your destination. Black Diamond equipped this jacket to be just as effective lapping resort chairs as it is making a steep backcountry ascent. Find yourself often riding in windy conditions, ski touring or splitboarding? I'm convinced this coat could cut through a tornado.
Overall Impression
As a snowboarder, in the past I hadn't given Black Diamond much consideration when it came to their outerwear simply because I knew them as a ski brand. I won't be making that mistake ever again. The Black Diamond Recon Stretch Ski Shell ($399.99) is technically sound, includes features in all the right places, and has earned a place in my outerwear lineup. It deserves a shot in yours too.
Related Articles: