I tested out the Flyer L885 Electric Bike with the Cargo & Kid Carrier and quickly racked up miles zipping passed lines of traffic…which really does feel as good as everyone says it does. Admittedly, I've been slow to get into ebikes. I just knew I'd enjoy it way too much and have a hard time going back to doing all my own pedaling. I was right.
Electric Cargo Bike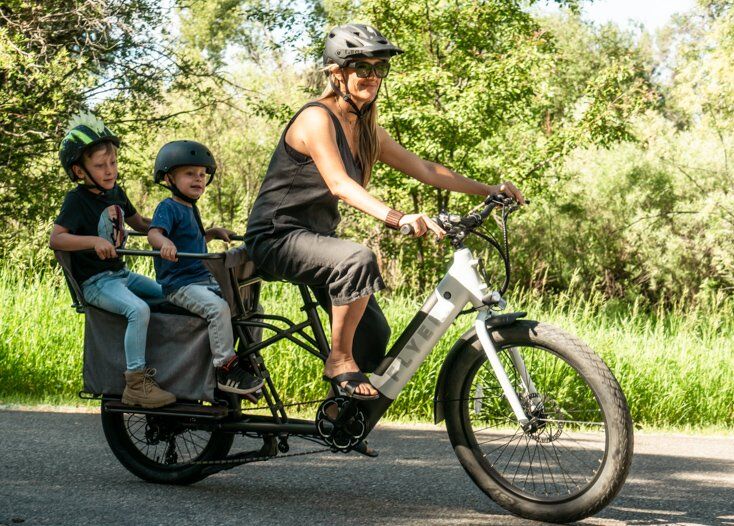 The L885 has an elongated design with a long tail that you can equip with a cargo carrier capable of carrying two kids or a week's worth of groceries (up to 150lbs). The total payload capacity of the bike is 400lbs, and even with the added weight, the bike's ergonomic design creates plenty of stability when maneuvering.
You get up to 50 miles on a single battery charge and, although I didn't experience this myself, a few reviews have warned about letting your battery get too low because the battery might be closer to dying than you think. Obviously the heavier your cargo load, the less distance you'll be able to travel.
The Flyer does have the option of a second battery port so you can add an additional 50 miles if you purchase another battery. The battery is secured with a key lock and charges using typical AC outlets.
5 Pedal Assist Modes
There are a few ways to ride this bike: pedal assist, throttle and shifting. The Flyer comes with a 5  pedal assist modes, which you can change the levels via an LCD screen. The buttons and screen are on the smaller side, which are fine in summer months but I think would be difficult to use with gloves on.
500 Watt Motor
A 500 watt hub motor gets you a max speed of 15mph (although I could easily hit 20mph when solo) that is controlled by twisting a throttle in your right hand. If you want to go into manual mode, a 7 speed derailleur is useful for chugging up any hills.
Cargo Kid Carrier Add On
The Cargo & Kid Carrier is multifunctional with durable canvas fabric and a cushioned seat. When in cargo mode, the sides of the carrier are extra high preventing your things from spilling over and a zippered pocket at the front is a great feature for stashing little items. When you want to convert it into kid carrying mode, you simply zip down the sides and tuck the fabric under the side rails.
OR don't tuck in the fabric and let the hanging side panels provide extra protection between dangling feet and spinning wheels. Foot fenders work well if you can reach them and are detailed with a wood finish. I particularly liked the burly zippers and the water resistant fabric of the carrier. In fact, I thought the bike looked pretty sleek overall.
Favorite Features
Multiple ways to ride (throttle/pedal assist)
Maneuverability thanks to big wheels and ergonomic design
Overall look
Multipurpose cargo system with durable fabric
Option for second battery
Functionality and speed
Downsides
Weight
Kickstand
Return policy
Weight
My initial impression was that this Radio Flyer E-bike was heavy (73lbs) and the kickstand was difficult to engage and disengage. Those two elements became my only two gripes about the bike.
I found the kickstand tricky once the bike was loaded up with some additional weight. The kickstand is dual leg, making it very sturdy but also requiring a bit of muscle to move the bike onto or off of it. I found it difficult to maneuver when parking it in tight spaces or on a bike rack with other bikes around.
The Flyer's wheels are fairly fat, helping with stability but a lack of suspension makes a bit of a bumpy ride – especially when you have cargo (or kids). Both wheels are equipped with a 3" puncture resistant liner. Front and rear disc brakes function surprisingly well considering the weight of the bike, although I never could get rid of the squeaking at each stop. I assumed this was because the bike was new but a few other reviews have also shared the same issue.
When you order the Radio Flyer Cargo Bike online from Radioflyer.com you have four colors to choose from and it arrives partially assembled. They provide the tools but you'll need to install the handle bars, fenders, front wheel, headlight, pedals, sideboards, and front fork spring.
If you opt for the Cargo & Kid carrier, you'll need to assemble and mount that as well. You can schedule with a local bike shop to help with the assembly but Flyer makes the DIY option pretty accessible.
Overall Impression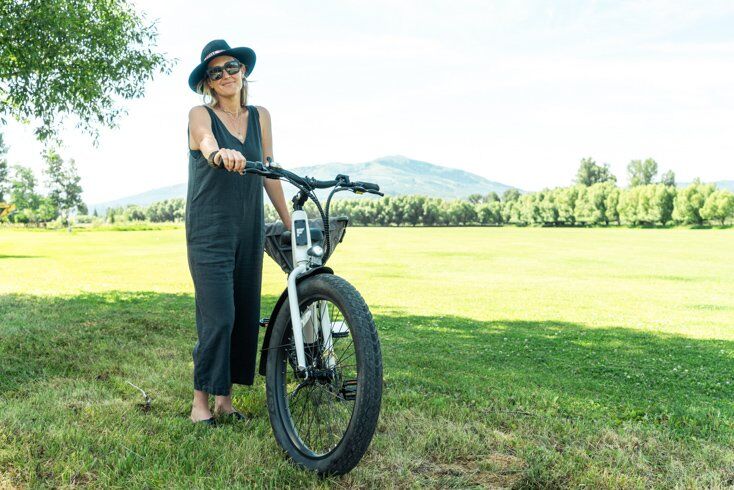 At its simplest, the Radio Flyer L885 costs $1,999. Add in the Cargo & Kid Carrier ($299.99) and some other fun components and this bike still remains as one of the more affordable eBikes on the market.  One last thing – be mindful of the return policy. Flyer won't accept the bike if it has been used, isn't in its original packaging, or has 10+ miles on the odometer.
73lbs
400lb total payload
500w motor
Throttle with 20mph Max Speed
5 pedal assist modes
Disc brakes
7 speed derailleur with Shimano shifter
Front and back fenders
3" puncture shield on both wheels
LED headlight
Tail light that doubles as a brake light
50 mile range on single battery
Battery key lock
Dual-leg kickstand
Related Articles: