The Flylow Kane Jacket is an excellent lightweight jacket designed for backcountry. Although it is only shell, you don't need many more layers to stay warm. For me, it was exactly what I needed for heat management in while touring.
Material/Performance
Flylow boasts of Perm fabric made by Intuitive. I found this material to be the sweet spot for keeping me cool while moving uphill and insulating my heat on the downhill. I am a naturally warm person, and normally I would be dripping sweat while in the backcountry. But I was surprised to find that I was perfectly warm while in below zero temps and perfectly cool when it was over 30F.
Armpit vents help to mitigate overheating and dump moisture fast. During resort days, I could wear a hoodie or puffy and the temperature control worked just as well while wearing this Flylow Ski Jacket.
Build Quality
The jacket is functionally well built. I didn't find any part of the stitching or zippers to be bothersome like some jackets. The hood also fits over large helmets, which I wore. There isn't much of a powder skirt on this jacket at all on this jacket, which can be problematic if you're not wearing a bib.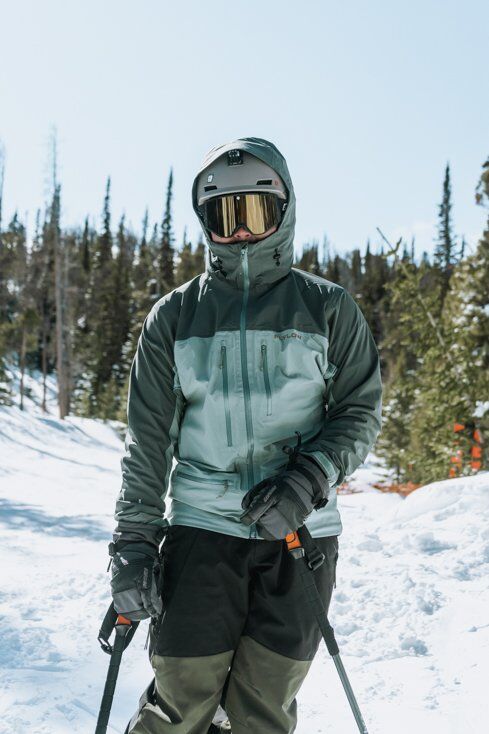 The chest pockets are large with long zippers. I found these useful in the backcountry for ready access storage. The belt line pockets are far smaller, but they were good for things like Chapstick or putting glove liners in. Flylow was thoughtful about the placement of the pockets since they can be accessed while wearing a backpack with hip and chest straps.
The only criticism I have is that the armpit zippers are a bit stiff to use at first. I needed a friend to get the last couple inches on zip downs.
Overall Impression
The Flylow Kane Jacket ($475.00) serves a need to those who want to stay dry in the backcountry. Even though it isn't a GORE-TEX jacket, I believe it actually works better for temperature and moisture control and regulation. It's incredibly light and very flexible, giving it a natural and unobstructed feeling while touring and skiing.
Related Articles: